The famous Pakistani Lawyer, advocate in Supreme Court and social worker. Asma Jahangir is born 27 January 1952. His father Ghulam Jhilani was a scientist. Asma Jahangir is working for humans rights. In 1978, she got it LLB degree. Asma Jahangir is the great women helper. She also awarded Human Rights Martan Ennels in 1995. Asma Jahangir writes the article for the womenand child.[1]Asma jahangir biograohy
| Title | Description |
| --- | --- |
| Personal | |
| Name: | Asma Jahangir |
| Nationality: | Pakistani |
| Residence: | Islamabad, Islamabad Capital Territory (ICT) |
| Education: | Punjab University (1982) (L.L.B) |
| Religion: | Islam |
| House Arrest: | On 5 November 2007, The Economist reported that |
| Email: | [email protected] |
| Alma mater: | London School of Economics (external) Punjab University (LL.B.) Kinnaird College (BA) University of St. Gallen (JSD) |
| Head of Human Rights Commission of Pakistan In office: | 1987–2011 |
| President of Supreme Court Bar Association of Pakistan Preceded by: | Qazi Anwar |
| President of Supreme Court Bar Association of Pakistan in offfice: | 27 October 2010 – 31 October 2012 |
| United Nations Special Rapporteur-designate for Human Rights in Iran Succeeding: | Ahmed Shaheed |
| United Nations Special Rapporteur-designate for Human Rights in Iran: | Taking office November 2016 |
| Profession: | Lawyer, Human Rights Activist |
| Height: | 5 ft 5 in (1.7 m) |
| Awards : | Hilal-i-Imtiaz (2010) Martin Ennals Award (1995) Ramon Magsaysay Award Leo Eitinger Award (2002) Four Freedoms Award (2010) alternative nobel |
| Born | |
| Date: | 27 January 1952 |
| Place: | Lahore Pakistan |
| Family | |
| Spouse: | Tahir Jahangir |
| Children: | 1 son and 2 daughters |
| Parents: | Malik Ghulam Jilani |
| Siblings : | Hina Jilani |
| Died | |
| Date: | 11 February 2018 |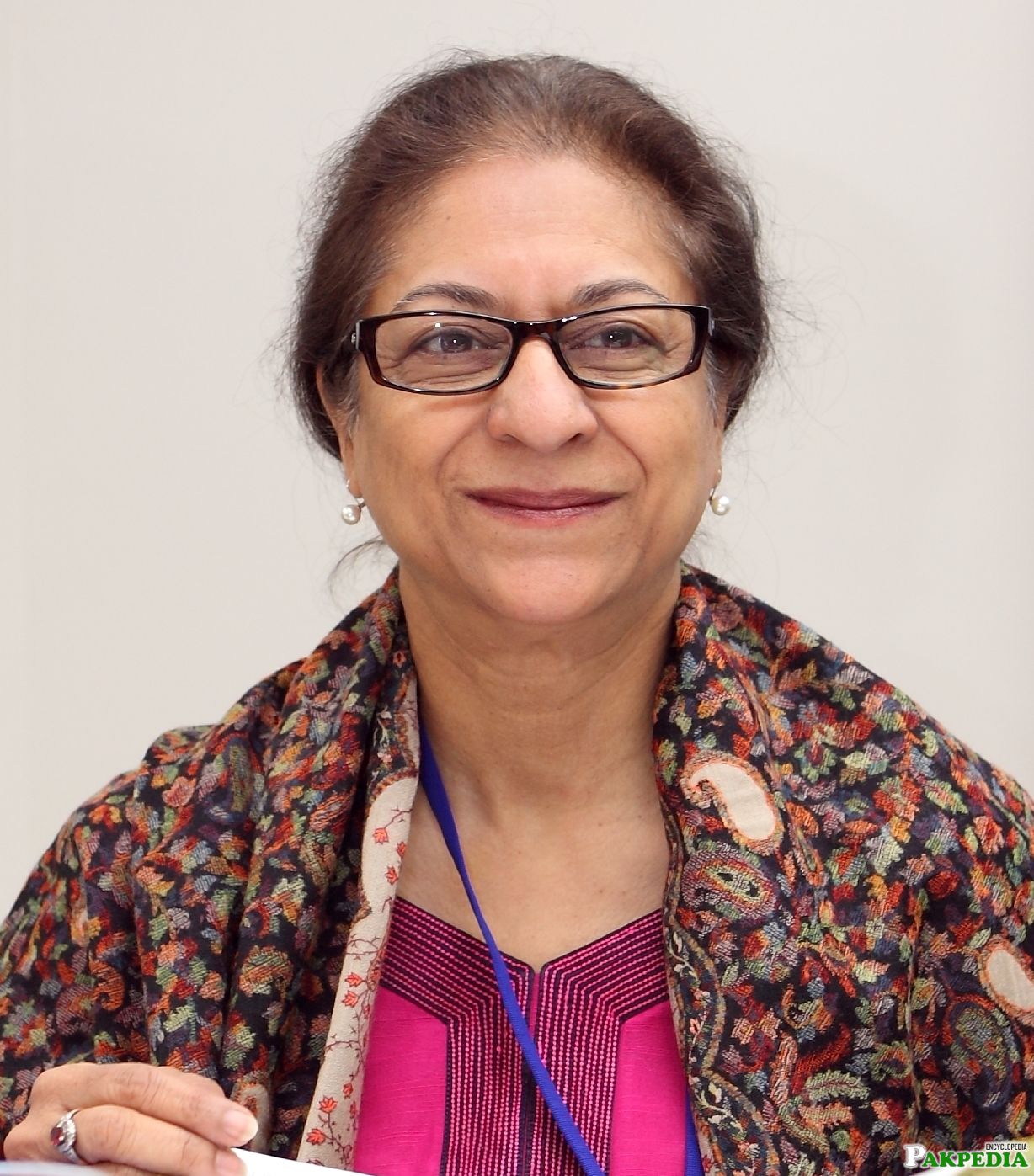 Background
Asma Jahangir serves as a Trustee at The International Crisis Group. Ms. Jahangir is an advocate of the Supreme Court of Pakistan is Chairperson of Human Rights Commission of Pakistan (HRCP) which was set up in 1986. Ms. Jahangir was also co-chair of South Asians for Human Rights. She was appointed United Nations Special Rapporteur on Extrajudicial, Arbitrary or summary executions and later as the United Nations Rapporteur of Freedom of religion or belief. She is Pakistan's leading human rights activist. She was put under house arrest and later imprisoned in 1983 for participating in the movement for the restoration of political and fundamental rights during the military regime. She was again put under house arrest in November 2007 after the imposition of emergency rule in Pakistan. She has represented several clients who were denied their fundamental rights, notably brick kiln workers. She was also successful in getting parliament to pass legislation in favour of bonded workers. She has defended cases of minorities, women and children in prisons. In her effort to secure justice for the disadvantaged, she has been frequently threatened by militant groups. She has authored two books: Divine Sanction? The Hadood Ordinance (1988) and Children of a Lesser God: Child Prisoners of Pakistan (1992). She is recipient of several national awards, including Sitara-I-Imtiaz in 1995. In recognition of her services in the field of human rights, she was awarded the American Bar Association International Human Rights Award in 1992, the Martin Ennals Award and the Ramon Magsaysay Award in 1995.[2] Asma Jahangir background
Asma JahangirChairperson of Human Rights Commission of Pakistan

Few Pakistanis have shown inspiring courage and perseverance to serve as role models. Abdul Sattar Edhi is one such individual, a world renowned humanitarian and philanthropist, and now, the first female president of the Supreme Court Bar Association (SCBA) Asma Jahangir also deserves this distinction for her tenacious struggle for human rights and her resolute stance on women's rights. Asma has been an advocate of gender equality and minority rights in a highly patriarchal society. She is also the Chairperson of Human Rights Commission of Pakistan (HRCP), and the Special Rapporteur of the United Nations on Freedom of Religion/Belief.
Over the years, Asma has been subjected to government oppression in the form of police harassment, public humiliation, even assault and arrests. She has been targeted by extremists through fatwas, life threats, and propaganda. Her family has equally suffered in the form of abductions, home invasion and consistent life threats, but she has continued her struggle for justice.She has been equally slandered by the military/ruling elite and the "designer patriots" (a term coined by George Fulton to refer to people of the upper middle class with vested business interests and apathy towards the living conditions of the majority of Pakistanis). The paranoia has reached such a ridiculous level that Asma is often labelled a mole working for the CIA, Raw, and Mossad to destabilize Pakistan.Thankfully, the propagandist and caustic defamation by the ruling elite cannot distort facts. Asma has dedicated her life towards human rights and upholding constitutional law.[3] Asma Jahangir mother of Pakistan 
Asma Jahangir Human Rights for All
In November 2016, Jahangir assumed her mandate as UN Special Rapporteur for Human Rights in Iran, bringing her unflagging support for human rights to monitoring and publicly engaging on issues of concern in Iran. For decades, human rights defender Asma Jahangir has numbered among the strongest voices for democracy and progressive policies in Pakistan and, more recently, around the world. Her career has spanned legal representation and reform, writing, and advocacy, all for the rights of communities left behind by their governments. Despite death threats, personal attacks, and even a plan by the Pakistani government to assassinate her, Jahangir stands tall for women, minorities, and all those without protection. She refers to these threats as simply "part of the work." In recognition of her courageous work building a movement for human rights in Pakistan, Jahangir has been appointed to other United Nations offices, including Special Rapporteur on Extrajudicial, Arbitrary, and Summary Executions (1998-2004) and Special Rapporteur on Freedom of Religion or Belief (2004-2010).[4]Asma Jahangir  Human Rights for All
Struggle for womens rights
In a society where women have no bodily autonomy, no reproductive rights, and are used as a tool in dispute settlement mechanisms, Asma has been an advocate for gender equality. Historically she has influenced major social and political issues in Pakistan.Pakistan had one of the most draconian, barbaric, and absurd set of laws, the Hudood Ordinance (Introduced by the Army only to appease Saudi Arabia so that they participate in Operation Cyclone). Due to this law, hundreds of innocent men and women had been wrongfully convicted and imprisoned. Women who dared to report rape were, and still are, often accused of zina and locked up while their offenders were never questioned and as a result walked free. Asma came as a saviour for most of these persecuted women some familiar names are Safia Bibi, Mukhtaran Bibi, Jehan Mina, Shahida Parveen.According to Robert Fisk, Pakistan has the grotesque reputation of being one of the leading 'honour killing' countries. Millions of women in Pakistan live under a constant threat of being shot, burned, or death by stoning for violating traditional norms. Judicial bias and gender discrimination adds to the affliction of women in Pakistan. Governmental response has been mostly indifferent. Thanks to Asma, many cases of injustice towards women have come to light and have resulted in international criticism of women's status in Pakistan.She has also proposed interactions on the civil society level through social exchange combined with efforts to uplift the status of women and at the same provide financial stability through business and job opportunities to poor Pakistani.The human rights violation in Afghanistan had never been a major part of any international discussion until 9/11. But Asma had highlighted the crimes against humanity committed by the Taliban well before. The Revolutionary Association of the Women of Afghanistan (RAWA) has also been praised her for her efforts towards the human rights situation in Afghanistan.[5] Asma jahangir struggle for human rights
Acknowledgements
In 1995, Jahangir received the Martin Ennals Award for Human Rights Defenders as well as the Ramon Magsaysay Award for "greatness of spirit shown in service of the people".
In 2000, she received the King Baudouin International Development Prize as chair of the Human Rights Commission of Pakistan
In 2001, Jahangir and her sister Hina Jilani were awarded the Millennium Peace Prize, by UNIFEM (the United Nations Development Fund for Women) in collaboration with the non-governmental organisation International Alert.
In 2002 she was awarded the Lisl and Leo Eitinger Prize.
In 2005, she was nominated for the Nobel Peace Prize as part of the 1000 Women for Peace project.
On 29 May 2010, at the International Four Freedoms Award 2010 Jahangir received the Freedom of Worship Medal for her Human Rights and Religious Freedom activism, in a ceremony held in the Nieuwe Kerk in Middelburg, Holland.
On 23 March 2010, for services in Human Rights, she was awarded the Hilal-i-Imtiaz, the second highest civilian award of Pakistan.
On 27 October 2010, she won the Supreme Court Bar Association election by defeating her competitor Ahmed Awais and securing 834 of total votes and became the first ever women President of SCBA in the history of Pakistan. .
On 10 December 2010, she was awarded with the 2010 UNESCO/Bilbao Prize for the Promotion of a Culture of Human Rights, recognising her efforts as a human rights defender.
In 2012, she received the North-South Prize of the Council of Europe.
On 13 April 2013, a video surfaced on the social media showing Asma Jehangir receiving "Friends of Liberation War Honour" award by the Bangladeshi Prime Minister Sheikh Hasina on behalf of her late father Malik Ghulam Jilani who had supported the liberation war for Bangladesh. The video created quite an uproar in Pakistan.
On 4 June 2014, she was awarded with the "Stefanus Prize", a Human Rights Prize emphasising the Freedom of Religion or Belief (Article 18 in the Universal Declaration of Human Rights.)
On 1 December 2014, she was awarded The Right Livelihood Award "…for defending, protecting and promoting human rights in Pakistan and more widely, often in very difficult and complex situations and at great personal risk.
Death
Senior Lawyer and social activist Asma jahangir passed away on 11th Feb 2018 just few minutes ago. According to media reports, she was also suffering from cancer and remained under treatment for years. She was rushed to hospital after falling ill but passed away.  Chief Justice of Pakistan Saqib Nisar, former President Asif Ali Zardari, President Mamnoon Hussain paid their tribute to Asma Jahangir and expressed grief.
"Asma Jahangir struggled for human rights and democracy," said Zardari.  [6] Death Death
United Nation Human Rights Award
Human Rights Activist Asma Jahangir who always focused on the rights of people has been awarded the United Nation Human Rights Prize 2018 and made herself in the list of 4th Pakistani woman to win this award. The announcement was made through the official Twitter account of President of the UN General Assembly Maria Fernanda Espinosa Garces.