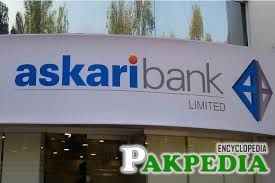 History
ABL was incorporated in Pakistan on October 09, 1991, as a Public Limited Company. It commenced operations on April 1, 1992 and is principally engaged in the business of banking, as defined in the Banking Companies Ordinance, 1962. The Bank is listed on the Karachi, Lahore & Islamabad Stock Exchanges and its shares are currently the highest quoted from among the new private sector banks in Pakistan. The Head office of Askari Bank, Limited is located at AWT
Rawalpindi
[2]
Askari Bank History
Mission Statement
To be the leading private sector bank in Pakistan with an international presence,delivering quality service through innovative technology and effective human resource management in a modern and progressive organizational culture of meritocracy,maintaining high ethical and professional standards, while providing enhanced value to all our stake-holders, and contributing to society.
[3]
Askari Bank Mission Statement
Islamic Banking Services
Askari Bank Limited opened its doors for Shariah compliant banking solutions in the year 2006 by establishing a dedicated Islamic Banking Services Division (IBSD). In a short period of time, Askari Islamic has grown considerably, and now provides a comprehensive range of products and services in personal banking, corporate banking, Islamic treasury, trade services and Banca-Takaful solutions. Our objective is to put in place an efficient banking system supportive to economic justice and welfare of society in line with the Shariah principles.
Askari Islamic serves the banking needs of the valued customers through its 78 dedicated Islamic Banking branches (including 3 sub-branches) in the major cities of the country. The Bank, under its new sponsors and the new management is actively pursuing the growth of Shariah compliant banking in Pakistan.
Compliance with the principles of Shariah is the cornerstone of our operations. We are driven by values, embedded in the ethics of Islamic society, established over 1400 years ago. Our ability to offer a wide array of products and services is a testament to the capacity of Islamic finance to serve all banking needs of the customers. All our products are developed under the guidance of our Shariah Board, comprising renowned Shariah Scholars namely, Mufti Muhammad Zahid, Mufti Ismatullah and Dr. Muhammad Tahir Mansoori.
Our customers enjoy the freedom to choose from a wide array of deposit product menu that offer flexible term deposit schemes, current accounts and savings accounts. On the consumer banking front, Askari Ijarah Bis Sayyarah allows the customers to drive a car of their choice, while the Askari Home Musharakah allows the customers to own a home. Our continuous efforts to provide a diversified range of Shariah compliant, innovative financial products and solutions to the corporate/commercial clients continue to win us new relationships.
Askari Education Plans
As your children start taking tiny steps, the path to their bright future lies in the steps you take now to provide them with the best education in future. Askari Bank in collaboration with Jubilee Life Insurance presents Askari Smart Life Education Plan, which would help you save on a regular basis so that you may have financial security and realize the dream that you have for your children future education.
[5]
Askari Education Plans
Askari Saving Plans
Askari Bank in collaboration with Jubilee Life Insurance presents Askari Smart Life Savings Plan, which is a comprehensive financial planning package exclusively designed to cater to your financial needs. This plan helps you accumulate funds on a regular basis while providing life insurance protection to your family. You can use the accumulated funds for buying a new car, a beautiful home for your family, children future education or your comfortable retirement.
[6]
Askari Savings Plans
Askari Retirement Plans
Every person desires peace of mind and financial security after a lifetime of work and hardship. Askari Bank in collaboration with Jubilee Life Insurance presents Askari Smart Life  Retirement Plan, which helps you reach new horizons and pursue other goals with confidence. By making regular contributions in this plan, you will not have to worry about where the next pay cheque will come from or you becoming a burden on your loved ones in retirement.
[7]
Askari Retirement Plans
Askari Wedding Plans
It may seem as if you have plenty of time before youll need to think about saving for your children wedding expenses. With rising inflation, it is important that you start investing today to ensure that the dreams you have envisioned for your children are taken care of in your lifetime or even after that. Askari Bank in collaboration with Jubilee Life Insurance presents Askari Smart Life Wedding Plan, which gives you an opportunity to save regularly and meet the anticipated future wedding expenses of your children.
[8]
Askari Wedding Plans
Board of Directors
Syed Majeedullah Husaini
Director
Mr. Farrukh Iqbal Khan
Director
Mr. Khurshid Zafar
Director
Mr. Samin Ahmed
Independent Director
Mr. Saqib Mukhtar
Director/CEO
Mr. Badr-Ud-Din Khan
Independent Director
Mr. Shafiq Ahmed Siddiqi
Independent Director [9]

Askari Bank Board of Directors
Awards and Achievements
The Best Annual Report Award for the year 2012 2nd Runner-up by ICAP & ICMAP
The Best Annual Report Award for the year 2011by ICAP & ICMAP
Best Presented Annual Report Award and SAARC Anniversary Awards for
Corporate Governance Disclosures 2011 by South Asian Federation of Accountants
Best Retail Bank in Pakistan by The Asian Banker
1st Consumer Choice Award by the Consumer Association of Pakistan 2004
Corporate Excellence Award by the Management Association of Pakistan (MAP) 2002, 2003 & 2004
The Best Bank in Pakistann by Global Finance magazine  2001 and 2002
Best Consumer Internet BankGlobal Finance magazine  2002 and 2003
Euromoney and Asiamoney Awards1994, 1996 and 1997
Best Presented Annual Account by (ICAP) and (ICAMP) 2000, 2001 and 2002
The Best Presented Annual Accounts by South Asian Federation of Accountants (SAFA), in the SAARC region
The Best Consumer Banking Award 2006 by the Consumer Association of Pakistan 2007
The Best Retail Banking Award 2008by Pakistan Guarantee Export Corporation Ltd 2008
Best Corporate Report Award for the year 2008by ICAP & ICMAP 2008
The Best Annual Report Award for the year 2010by ICAP & ICMAP
The Best Presented Accounts Award 2010 2nd Runner Up-Jointby South Asian Federation of Accountants [10] Askari Bank Awards and Achievements