Justice Asif Saeed Khan Khosa has the most remarkable educational and Judiciary background who also has an experience of teaching. He is appointed as the new chief justice of Pakistan which has been approved by president Arif Alvi.
| Title | Description |
| --- | --- |
| Personal | |
| Name: | Asif Saeed Khosa |
| Full Name: | Asif Saeed Khan Khosa |
| Famous As: | 26th Chief Justice of Pakistan |
| Nationality: | Pakistani |
| Education: | LL.M |
| Alma Mater: | University of Cambridge |
| Religion: | Islam |
| Profession: | Senior Justice of Supreme Court |
| Born | |
| Date: | 21st December 1954 |
| Place: | Dera Gazi Khan Punjab Pakistan |
| Family | |
| Ethnicity: | Khan |
| Spouse: | Married |
| Children: | 2 Daughters |
| Siblings : | Nasir Mehmood Khosa and Tariq Mehmood Khosa |
| Relatives: | Justice Naseem Hasan Shah |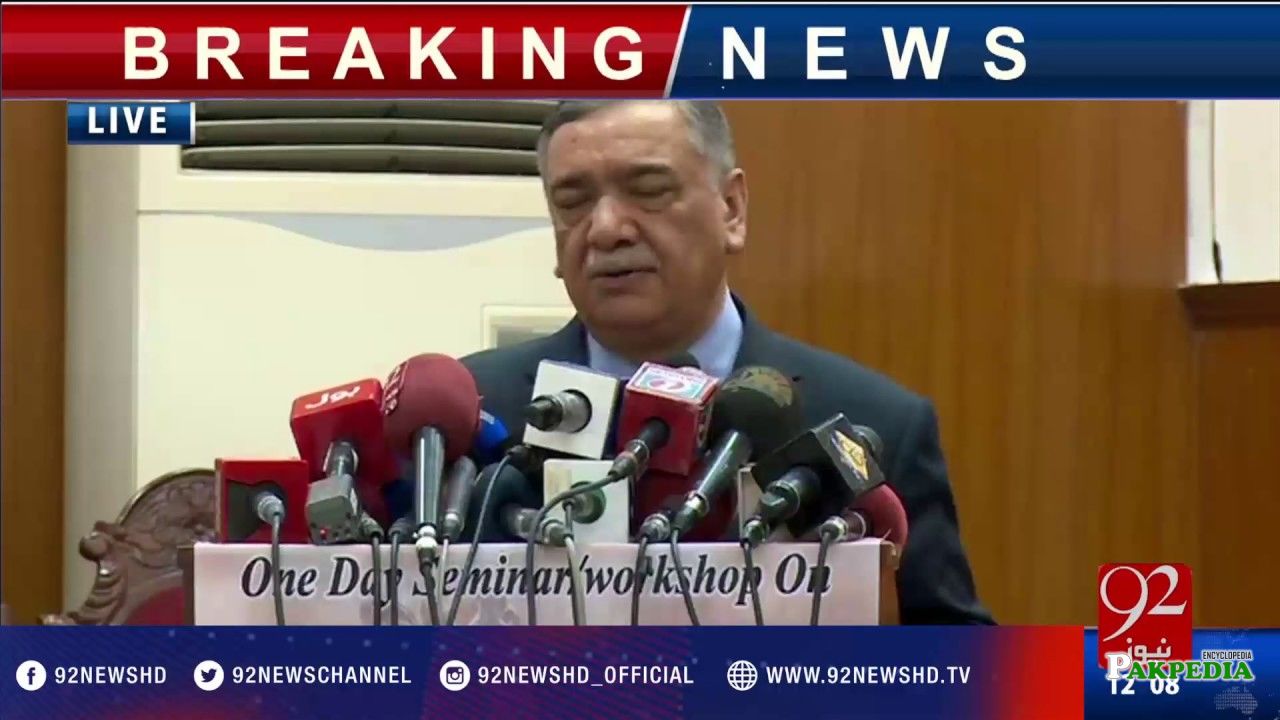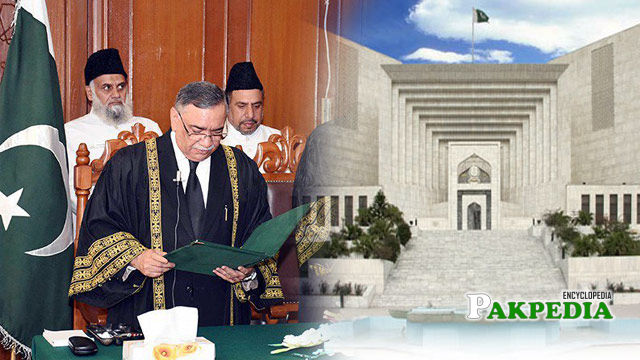 Asif Saeed Khosa Biography
Justice Asif Saeed Khan Khosa was born on 21st December 1954 in Dera Gazi Khan to Sardar Faiz Khan Khosa who was the chairman of Municipal board. He is the younger sibling of his family. His Elder brother Sardar Tariq Khan Khosa who was appointed as an IG Balochistan DG FIA Interpol. His other sibling Sardar Arif Khan Khosa is an engineer and has his private firm. While his other sibling Nasir Mehmood Khosa was the Chief Secretary of Commissioner Multan division and also the Executive director of World Bank. He got married to the daughter of Justice Naseem Hassan Shah. He has 2 daughters and 4 Grand Children.
Asif Saeed Khosa Education
Justice Asif Saeed Khosa has a remarkable educational background. He did his matric from the Multan board with the fifth position and was awarded the National Talent Scholarship in 1969. He did his intermediate from the Government College Lahore in 1971 with the First position and again awarded the National Talent scholarship. In 1973 he completed his B.A from the University of Punjab with the first position. In 1975 from the same university he did a Masters of Arts degree in English Language and Literature. In 1977 he did Law Tripos, Part I, from Queens' College, University of Cambridge, United Kingdom and in 1978 he completed the Masters of Law Degree from Queens' College, University of Cambridge, United Kingdom.
Asif Saeed Judicial Career
In May 1998 Barrister Asif Saeed Khosa was chosen as a judge at the Lahore High Court. At the point when General Pervez Musharraf announced a state of emergency in November 2007, suspending the constitution and requested the judges of the unrivaled legal executive retake their vow under the Provisional Constitutional Order (PCO), Justice Khosa like then-Chief Justice Iftikhar Muhammad Chaudhry, and numerous other senior judges, declined to retake the promise. They were suspended from their obligations. On 18 August 2008, he was reestablished to his earlier position as High Court Justice. In May 2012, the Supreme Court ruled against Gillani, precluding him from holding the workplace of the Prime Minister. Justice Khosa composed a different six-page note in which he, citing popular Lebanese creator Kahlil Gibran, expounded on the "Pity of the Nation". The note wound up the subject of media inclusion everywhere throughout the nation.
Asif Saeed Khosa Publications
First book: 'Heeding the Constitution'   (published in 1995 by PLD Publishers, 35-Nabha Road, Lahore, Pakistan)
Second book: 'Constitutional Apologues'   (published in 1997 by Kausar Brothers, I-Turner Road, Lahore, Pakistan)
Edited and compiled 'The Constitution of Pakistan, 1973' with all amendments up to date   (published in 1989 by Kausar Brothers, I-Turner Road, Lahore, Pakistan and reprinted every year)
Third book: 'Judging with Passion'   (published in 2008 by Kausar Brothers, I-Turner Road, Lahore, Pakistan)
Fourth book: 'Breaking New Ground'   (in the process of completion)
Chief Editor of Key Law Reports (KLR) from 1989 to 1998
Scores of articles and research papers on diverse constitutional and legal issues published in major law reports and newspapers of the country since 1988
Justice Asif Saeed As Chief Justice of Pakistan
Asif Saeed Khosa has been appointed as the new Chief Justice of Pakistan after Saqib Nisar. The appointment has been approved by the President of Pakstan Arif Alvi on 2nd January 2019. Asif Saeed will take an oath as a Chief Justice on 18th January 2019 while Saqib Nisar will retire on 17th January 2019. The law ministry had prior sent a recommendation of the appointment to the president.
Justice Asif Saeed Khosa to take oath as 26th chief justice
Justice Asif Saeed Khosa will accept pledge as the nation's 26th Chief Justice today on 18th January 2019. His vow taking function will be held at President House in Islamabad and will be regulated by President Arif Alvi. Justice Khosa will hold the situation for 11 months, as his residency reaches an end on December 20, 2019. The function will be gone to by sitting and previous judges of the Supreme Court just as visitors from different nations. The leader of the Turkish Cyprus Supreme Court, Justice Narin Ferdi Sefik, previous senior puisne judge of the Indian Supreme Court Justice Madan Bhimarao Lokura, Chief Judge of the Borno State of Nigeria Kashim Zannah, the establishing leader of the Commonwealth Judicial Education Institute, Sandra E Oxner, are altogether expected to go to the function.