While talking to Dunia news
While giving award to an actress in an award ceremony
Asif hashmi safely reached his home in lahore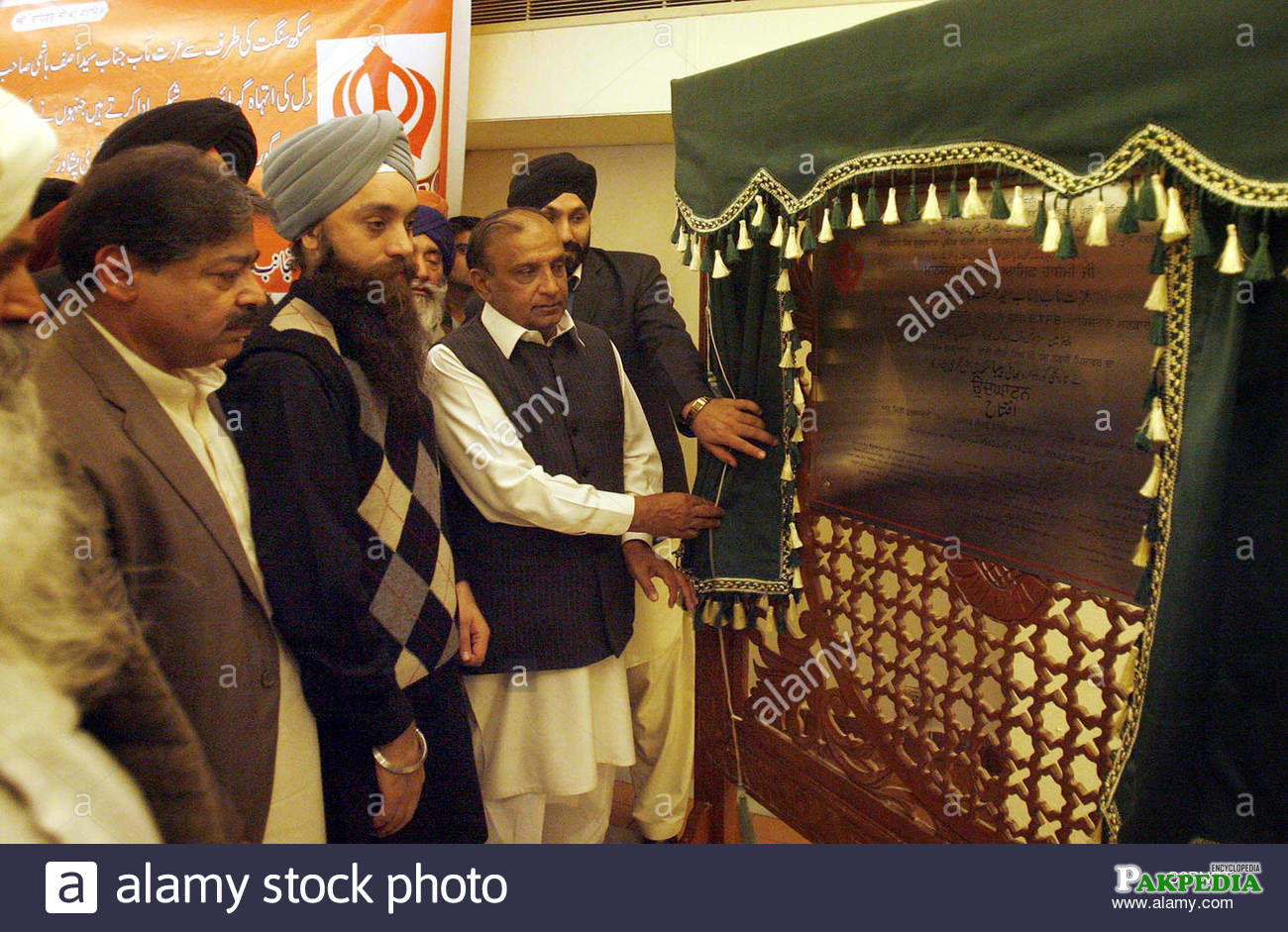 During an inauguration of gurdawara
With his Daughters
Biography
Syed Asif Akhtar Hashmi was born on 22nd September 1953 in
Lahore
Punjab, Pakistan. Hashmi, who sold the gurdwara-lands during his tenure as chairman of Evacuee Trust Property Board, (ETPB). Hashmi had sold approximately 807 acres out of 1,260 acres land belonging to Bebe Nanki Gurdwara Dera Chahal in village Mota Singhwala. Hashmi planned to construct private residential quarters, parking and plaza on the said land, with the collaboration of
Defence Housing Authorit
y (DHA), Highland Living Concept (HLC) and Elcium Concept. 
[1]
Biography Biography
Evacuee Trust Property Board
Evacuee Trust Property Board (ETPB), established in 1960, is a statutory board of the
Government of Pakistan
, which administers evacuee properties and shrines of Hindus and Sikhs attached to religious, charitable or educational trusts left behind by Hindus & Sikhs who migrated to India after 1947 partition of India. ETPB is responsible for managing sacred Hindu and Sikh shrines, but provides no jobs to Hindus. 20% or 20,000 cares of ETPB's Hindu Sinkh farm land was under illegal occupation by the powerful people and further thousands of acres of land was "hidden" (missing) from the ETPB records due to the corrupt employees, while no Hindus are employed by ETPB to manage their own land and shrines. 
[2]
ETPB ETPB
Corruption Case
The former chairman of Evacuee Trust Property Board (ETPB), Asif Hashmi, who had been arrested from Dubai, faced three corruption cases in National Accountability Bureau (NAB) for illegal investments of Rs985.56 million in stock exchange and making 716 illegal appointments. Besides, Hashmi also faces a case in Federal Investigation Agency (FIA) in which he was accused of selling ETPB land to Defense Housing Authority at cheap rates. Account of illegal transfer of ownership and possession of ETPB land (Property No.SE-36-R -140 & 142 vide Khasra No.170-171) measuring 2-K, 14 marla15 sq ft. Inquiry has already been approved in EBM dated 5th June, 2015 against the accused, other officers, officials of ETPB, Rashida Begum and Muhammad Ayyub. On examination of the matter it was found that a large number of witnesses and suspects are involved in each allegation. Illegal investment of Rs985.56 with M/s High Links Capital (Pvt) Ltd was to be dealt with as separate case. 
[3]
Corruption case
Reject Arrestment of Asif Hashmi
Exactly one year ago in 2017 the Pakistan embassy in the United Arab Emirates (UAE) planned to hire a Middle East-based law firm at a heavy fee for extradition of former Evacuee Trust Property Board (ETPB) chairman Syed Asif Hashmi to Pakistan from Dubai. An estimated Rs12 million was spent on legal minds and investigators pleaded the case. The years-long legal battle between Mr Hashmi and FIA ended up with these words: "The general secretariat of the International Criminal Police Organization (Interpol) hereby certifies that, as of today Mr Hashmi Syed Asif Akhtar,  is not subject to an Interpol's red notice or diffusion and is not known in Interpol databases. Interpol is aware that in the past the individual was subject of data recorded in Interpol's database, yet the data was later cancelled."  
[4]
Reject arrestment
Asif Hashmi wants to Return Back
Asif Hashmi, self-exiled former chairman of Evacuee Trust Property Board (ETPB), said that he wanted to appear before the apex court but he had been denied the Pakistani passport on the pretext that his name was on Exit Control List (ECL) I want to come to Pakistan and appear before the courts as my hands are clean and I have done nothing wrong. Despite my repeated requests, I have not been issued passport baring my right to return," said Asif Hashmi while exclusively talking to this correspondent from Dubai. Asif Hashmi appealed to Chief Justice Justice Saqib Nisar to issue an order of his return respectfully saying that some elements had misled the court regarding his conduct. He said each time he approached the embassy he was told that his name was on ECL so they could not issue him the passport. 
[5]
Return back
Escape Arrest on His Return
The FIA and NAB teams couldn't arrest former chairman of Evacuee Trust Property Board Asif Hashmi on his return from abroad at the
Allama Iqbal Airport
on Saturday 11th Feb 2018. Asif Hashmi, wanted by FIA and NAB in several cases of alleged corruption and corrupt practices, was allowed to go home after he handed them over an order of a Supreme Court bench hearing the matters related to ETPB, in which it restrained them from arresting Hashim. FIA Punjab Director Dr Usman Anwar confirmed to The News that the FIA team was at the airport to arrest Hashmi but couldn't do so as the accused had a restraining order from the apex court.  
[6]
Escape arrest
Award and Honor
Evacuee Trust property Board Pakistan Chairman Syed Asif Hashmi received Sitara-e-imtiaz in recognition of his services for serving minorities, according to a press release. He was handed the award at a ceremony at which took place at the presidency in 2013, the press release added. 
[7]
Award and honor