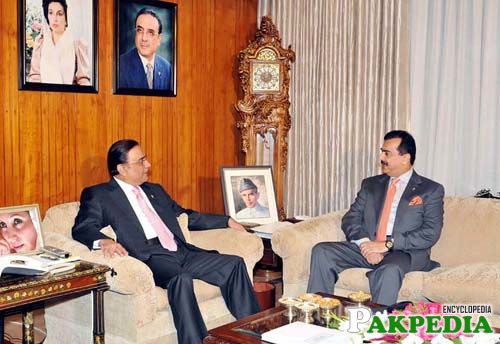 Asif Ali Zardari with Yousaf Raza Gillani
Asif Ali Zardari UN General Assembly Convenes In New York
Zardari and Hillary Clinton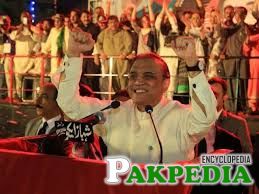 Asif Ali Zardari announces Rs 1b development package for Lyari, says will hold PPP's flag till Bilawal and Aseefa take the helm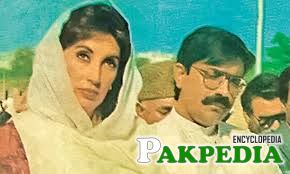 BB with Asif Ali Zardari
Early life and education
Asif Ali Zardari was born on July 26, 1955. He belongs to a Baloch tribe, set live in settled in Sindh. Hakim Ali Zardari and he is the only son of his father, Hakim Ali Zardari, who was the tribal chief of his clan. He received his early education from
Karachi Grammar School
. According to his official biography he graduated from Cadet College Petaro in 1972.
[2]
Asif Ali Zardari early education
Early political career
Zardari's initial political career was unsuccessful. In 1983, he lost an election for a district council seat in Nawabshah, a city north of Karachi where his family owned thousands of acres of farmland.He then went into real estate.
[3]
Early Political Career
Marriage to Bhutto
Asif Ali Zardari was married to
Benazir Bhutto
on 18 December, 1987. It was an arranged marriage, celebrated according to Pakistani culture. 100,000 people attended their marriage and it enhanced Benazir's political position in the country. The couple had three children two daughters Asifa and Bakhtawar and one son Bilawal.
[4]
Marriage to Bhutto
PPP leaders greet Zardari
Senior PPP leaders including
Yousuf Raza Gilani
, Raja Pervaiz Ashraf, Naveed Qamar, Khursheed Shah and Sindh Chief Minister Murad Ali Shah were present at the old terminal and met the former president at the VIP lounge.PPP Patron in Chief, Bilawal Bhutto Zardari also arrived in Karachi and was travelling on a different flight from his father.  Earlier, Bilawal Bhutto Zardari tweeted pictures of his father at the airport and also of his departure from the Dubai residence.
[5]
PPP geo.tv.com
Personal life
Family
Zardari and Benazir Bhutto had one son and two daughters. His son, 
Bilawal Bhutto Zardari
 , is the current Chairman of the Pakistan  Peoples Party. His older daughter, Bakhtawar, was born on 25 January 1990, and his younger daughter, Asifa, was born on 2 February 1993.After Benazir Bhutto's death, his sister Faryal Talpur became the guardian of his children and he changed Bilawal Zardari's name to  Bilawal Bhutto Zardari . He also has a second sister, Azra Peechoho.
Coalition government
In spite of the pressure of the joint opposition, Zardari not only decided to contest the elections of 2008, but also persuaded 
Nawaz Sharif
to participate in the 8th Parliamentary elections. PPP emerged as the leading party with PML-N as the runners up. Nawaz Sharif  and Zardari agreed to form a coalition government. In mid- March Yousaf Raza Gillani was unanimously elected as the Prime Minister. Zardari promised Nawaz that his party would reinstate the sixty judges, previously sacked by Musharraf, latest by 30th April 2008. However, PML-N withdrew its support for the government in May and all the minsters of the party resigned.
[6]
Coalition government asif ali zardari
Major Works
In December of 2007, he became co-chairman of the 'Pakistan People's Party' and made his son the chairman. His personal political career was significantly shifted by this change when the following elections proved successful for the PPP. This party's influence and commitment to him allowed him to easily win the presidential elections the following year.
[7]
Major works Asif Ali Zardari
Awards Achievements
In 2008, he was elected president of  Pakistan . During his five year term, he dealt with economic default, a bailout from the IMF, the ongoing war in Afghanistan, and the 2010 Pakistan floods. He was the first democratically-elected president of Pakistan.
In 2013, he received the 'Guard of honour'. It was given to him for serving as the first democratically elected president.
Completion of Presidential Tenure
Zardari tenure as President came to an end on September 8, 2013. Before leaving the president house he made it clear that he would no more be interested in becoming President or Prime Minister in the future. He would reorganize the party and would help his son Bilawal to regain power.
Asif Zardari and Faryal interim Bail extended
The former President Asif Ali Zardari and his sister Faryal Talpur have been in hot water these days due to ongoing money laundering case. Both the siblings appeared before the court today on 21st December 2018 for the hearing of interim bail which has been extended till 7th January 2019. Many PPP leaders gathered outside the court including  Khursheed Shah and Rehman Malik as there were high chances of their arrestment today.