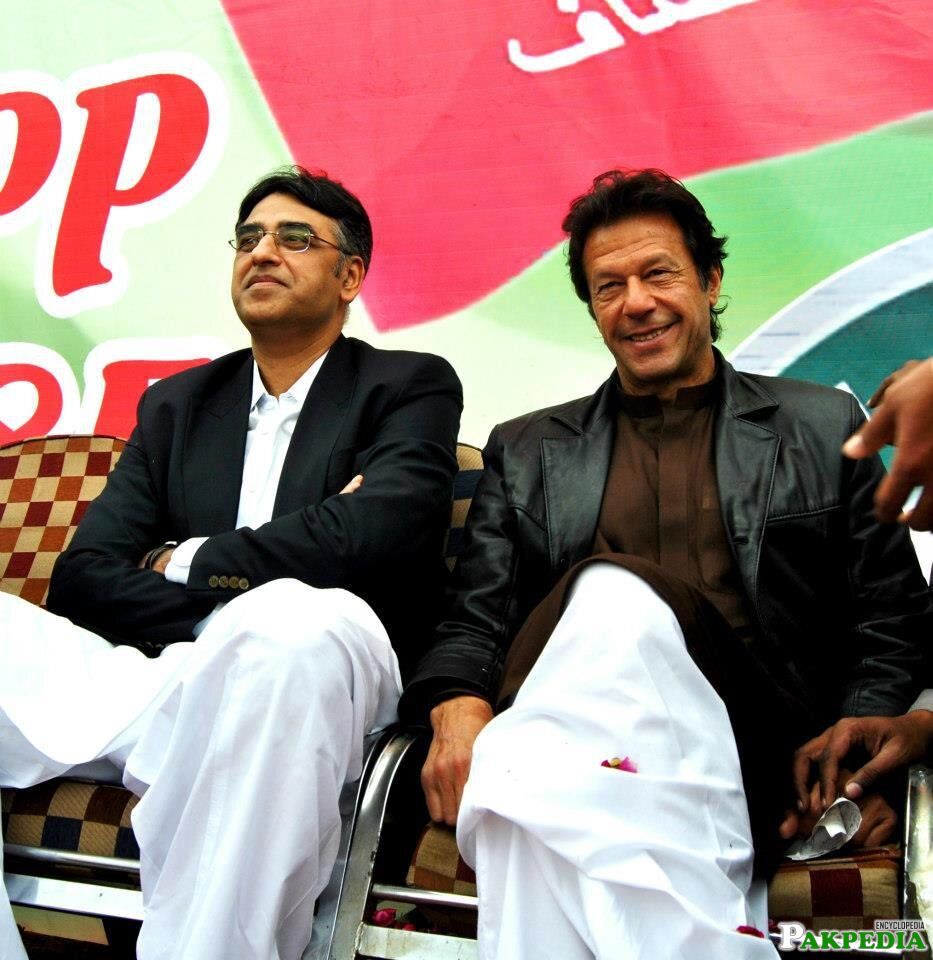 Asad Umar with Imran Khan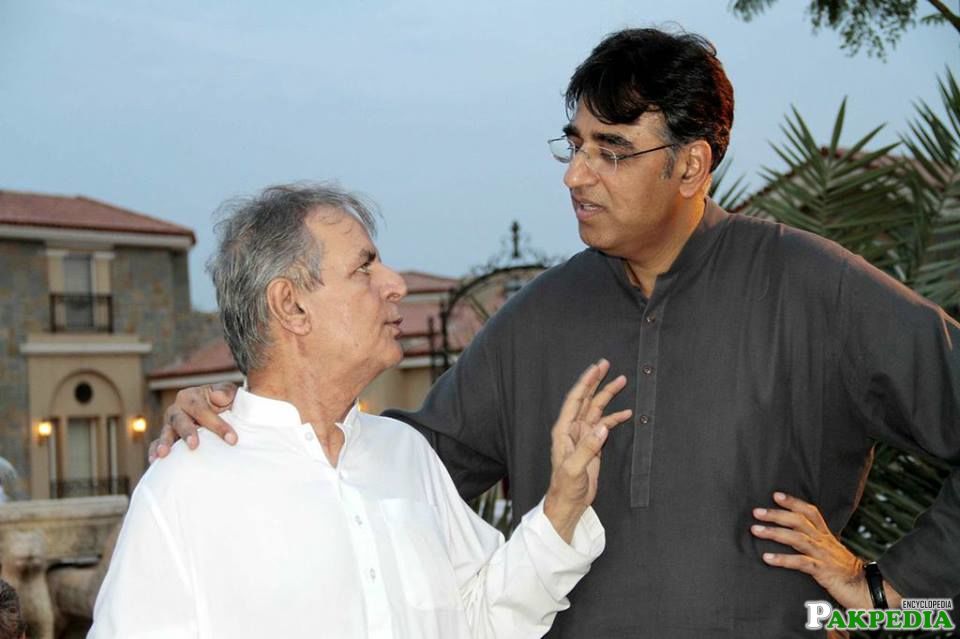 Asad Umar standing with Javed Hashmi
Asad Umar PTI Member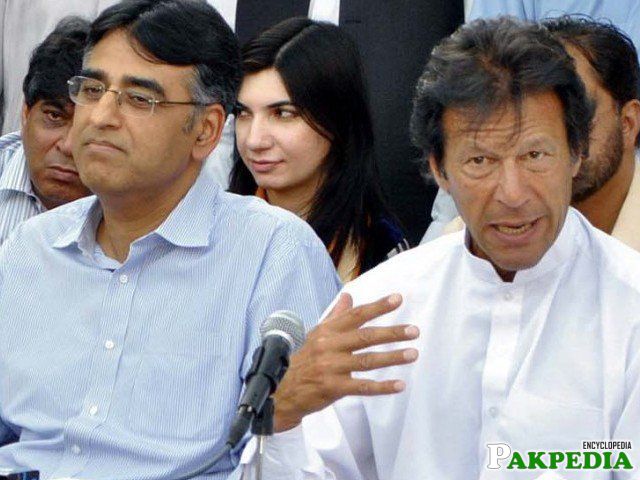 Asad Umar in a Press Confrance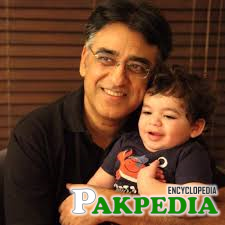 Asad Umar in a plasent mood
Early Life and Education
In an interview, Umar said he was born in Rawalpindi in 1961 and is the youngest of six brothers and one sister. His father was an army officer. After his father's retirement from military, he moved to
Karachi
 along with his family. He is the youngest brother of Mohammad Zubair.Umar received a degree in Commerce (B.Com) at the Government College of Commerce & Economics.Umar graduated from IBA Karachi in 1984 from where he received an MBA degree.
[5]
Early Life and Education
Professional Career
He worked in HSBC Pakistan after graduation for seven months.
He joined Exxon Chemical Pakistan in 1985 as a business analyst and was based in Canada. He was the only Pakistani employee of the company.
Umar came back to Pakistan to join Engro Corporation in 1985.
In 1997 was appointed the first CEO of Engro Polymer and Chemicals, the petrochemical company of the group.
He became the President and CEO of Engro Corporation in 2004.
In 2009, he was awarded Sitara-i-Imtiaz for his public service.
He took early retirement as president and CEO from Engro in April 2012 at the age of 50.
Umar is being credited for turning a chemical company into a major conglomerate and is considered one of the most popular and highly paid CEOs in Pakistan.[6]  Professional Career 
Political Career
He joined Pakistan Tehreek-e-Insaf in 2012 and was made senior vice president of PTI.He was elected as a Member of the
National Assembly of Pakistan
for the first time for Constituency NA-48 on PTI ticket in by-election held following Pakistani general election, 2013.In 2014, Lahore University of Management Sciences cancelled a scheduled speech of Umar due to being political in nature rather than educational.
[7]
Political Career
How Asad Umar Join PTI
Asad Umar, recently took early retirement at the age of 50 amid rumours of joining
PTI
, made the announcement at a press conference with party chief Imran Khan in Islamabad. He was long rumoured to have harboured political aspirations. In recent months, the blogosphere had been increasingly vocal about Umar's political leanings, which he had hinted at strongly by participating in the Pakistan Tehreek-e-Insaaf's "Professionals Forum". 
[8]
How he join PTI
Asad Umar Brother
Mohammad Zubair Umar
  is a Pakistani politician who served as 32nd Governor of Sindh. A member of the Pakistan Muslim League (N), he had served as the Chairman of Privatisation Commission of Pakistan with the status of junior minister from 2013 to 2017. He also served for almost 18 months from Feb 02, 2017 to Aug 03, 2018. On September 2018 the government decided to give him a pension after his retirement which Asad Umar denied by saying that according to rule pension is given to those who complete their 2 years under the same capacity so my brother is not eligible for that.
Winner of NA 54 Islamabad
Asad Umar who joined Pakistan Tehreek e Insaf a long time ago has won the General Elections of 2018 from NA 54 Islamabad by securing 56945 votes. His competitor Anjum Aqeel who is the member of Pakistan Muslim League secured 32991 votes and remained at the second position, while the third position was gathered by an Independent candidate. He was also the CEO of Engro Pakistan and was the highest paid CEO and according to the source, he will be the next Finance Minister. On 18th August 2018, Imran Khan appointed him as a Minister of Finance, Revenue and Economic affairs.
Resignation of Finance Minister Asad Umar
There is a hot news on the internet these days about the resignation of finance Minister Asad Umar which he completely denied by calling it a propaganda against Pakistan Tehreek-e-Insaf. Rumors are circulated that the performance of Asad Umar is not satisfactory due to which the inner circle ôf the government is also not happy. However, the Prime Minister house sources have shut down the rumors and clarified that Asad Umar has a full brace of PM and he will continue his services as he was doing before.