Met With Former Prime Minister Nawaz Sharif
With Shah Mehamood Qureshi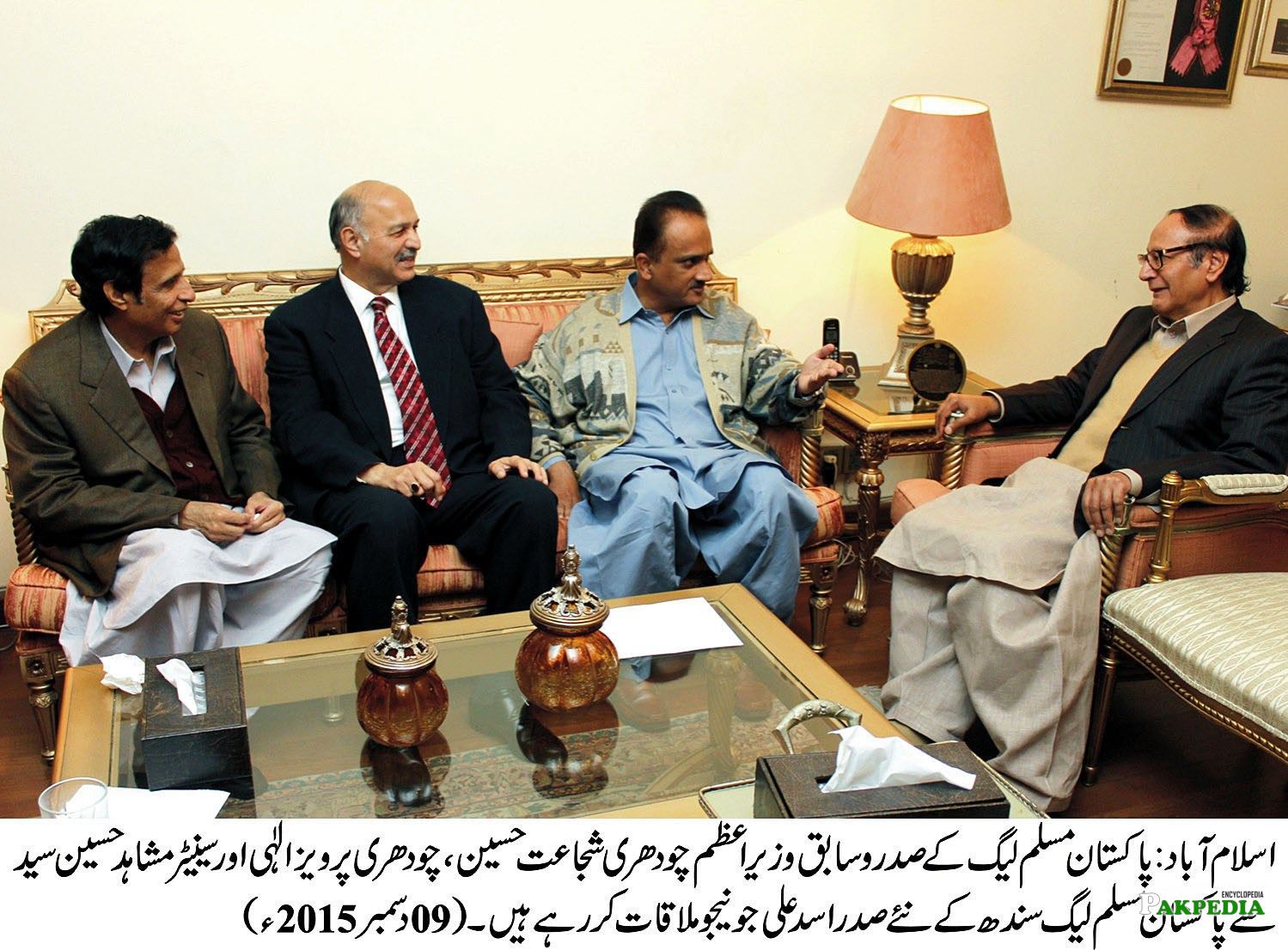 In Meeting
In a Jalsaa
Joined PML(n)
Joined PMLN
Asad Junejo met Nawaz Sharif at his Raiwind residence and announced his decision to join the PML-N.Governor Sindh
Mohammad Zubair
, Railways Minister
Khawaja Saad Rafique
, Senator Pervaiz Rashid, Senator Asif Kirmani and others were also present on the occasion.
[1]
Joined PML(N)
Accepted the Invitation
Asad Khan Junejo said on the occasion that the people of
Sindh
are looking towards
Nawaz Sharif
because they consider that the country's solidarity is linked with stability of the PML-N. He reposed full confidence in the leadership of the PML-N. He also invited Nawaz Sharif to undertake tour of Sindh. Nawaz accepted the invitation saying he would soon visit Sindh from where he has always received support and love. During the meeting, views were exchanged over current situation in Sindh and matters of mutual interest.
[2]
 Accepted the Invitation 
Asad Junejo said that stability of Pakistan linked with the stability of the PML-N and Nawaz Sharif is surety of progress, prosperity and stability.He counted the achievements Sharif government had secured on energy, development, transport and security fronts in the country.
Former Prime Minister Nawaz Sharif
Sharif welcomed Asad junejo in the party and eulogized the services rendered by Muhammad Khan junejo for the country.
[3]
services
Nawaz said Sindh was very close to his heart like other federating units, adding that he had great love and affection for the people of Sindh which was a land of Sufis."I love Sindhi people and whenever I visited Sindh, the people of the province welcomed me with love and respect," said Nawaz Sharif.He said that Sindh is land of Sufis and Qalandars.Nawaz Sharif said that Junejo's joining to PML-N would help strengthen the party.He lauded the services of late Muhammad Khan Junejo and said the PML-N would win the 2018 elections in Sindh province also.
[4]
 Former Prime Minister Nawaz Sharif 
Election 2018
Nawaz appreciated the services of Muhammad Khan Junejo for the country and expressed the confidence that the PML-N would achieve a big success in the 2018 elections. Sindh Governor M Zubair, Punjab CM  
Shahbaz Sharif
were also present.
Senate Election Results 2018
Independent candidate backed by PML-N
Mushahid Hussain
elected as Senator on Technocrat seat from Islamabad.PML-N-backed independent candidate Asad Junejo elected on General seat from Islamabad.PML-N-backed candidate have gained the majority of seats in Senate polls with at least 15 seats to their name. PML-N won majority of its seats from Punjab while 
PPP
 won largely from 
Sindh
, getting 12 seats in total.20 candidates from 
Punjab
 contested the polls for 12 seats reserved in Senate for the province. Governing PML-N won 11 seats through independent candidates in Senate polls held at Punjab Assembly.
[5]
Senate Election Results 2018
Winning candidates are
Ishaq Dar elected on Technocrat seat
Asif Kirmani elected on General seat
Independent candidate  Haroon Akhtar elected on General seat
Sadia Abbasi elected on Woman seat
Nuzhat Sadiq elected on Woman seat
PML-N-backed  Kamran Michael elected on Minority seat
Hafiz Abdul Kareem elected on Technocrat seat
Maqbool Ahmed on General seat
Musadik Malik on General seat
Shaheen Khalid on General seat
PML-N-backed independent candidate  Rana Mehmood-ul-Hassan elected on General seat