Childhood Photo
Arisha Razi
In Show
At promotion
Early Life
Arisha Razi  is a Pakistan television actress and commercial ad model. Razi was born in Karachi on 3rd April 2002.Arisha Razi started her career from her childhood.. Her family includes her parents (father & mother) and elder sister Sara Razi.
Career and Profession
Arisha Razi began her vocation from her youth. She represented a few brands advertisements and plugs. Razi is one of the celebrated on-screen characters in the Pakistani dramatization industry. She has worked in such a variety of well known show serials, for example, Kitni Girhain Baaki Hain, Mastana Mahi, Omer Dadi Aur Gharwale, Astana and considerably more. Arisha Razi's outstanding work was her character in Hum Sab Umeed Say Hain. Being an insightful understudy in her school she adores to discover data and acting.
Education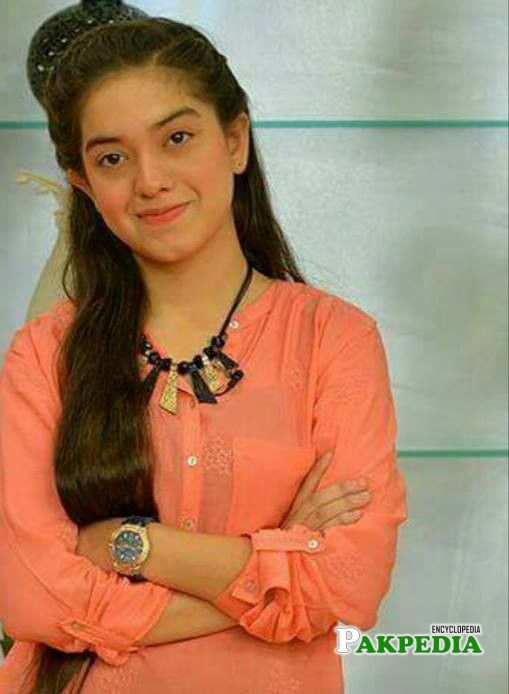 For her education, Arisha went to Dawood Public School. There, she took her studies seriously in spite of being already famous in commercials and TV industry.
Hobbies
Arisha finds pleasure in various hobbies and activities. She loves acting and singing. Arisha is also a fan of dancing and swimming. She also admits to like watching the WWE wrestler Roman Reigns.
[2]
EARLY   LIFE
Television Debut
At a very tender age, she was chosen to do a TV commercial. She was so young then that probably she did not know what she exactly was doing.She was chosen to take a role in the show 'Hum Sab Umeed Sai Hain.' That is where she got all her childhood fame. She instantly became a celebrity. 'Hum Sab Umeed Sai Hain' is a comedy and employs satire as a mode of exposing and reviewing the political issues that surround the Pakistani political system. The show is written by Dr. Younis. It tackles serious political issues about the Pakistani government.
List Of Television Dramas
|  Year |  Serial |  Role |  Channel |
| --- | --- | --- | --- |
| 2010–2011 | Main Abdul Qadir Hoon |   | Hum TV |
| 2011 | Mastana Mahi | Sohai (young) | Hum TV |
| 2011–2012 | Na Kaho Tum Mere Nahi | Humaima | Hum TV |
| 2013 | Omer Dadi Aur Gharwale |   |  ARY Digital |
| 2013 | Tanhai | Sabeen | Hum TV |
| 2014 | Malika-e-Aliya | Rida | Geo Entertainment |
| 2014–2015 | Sadqay Tumhare | Shanno's Sister | Hum TV |
| 2014–present | Mr. Shamim | Zainab | Hum TV |
| 2014–2015 | Abro | Aima | Hum TV |
| 2017 | Kitni Girhain Baaki Hain 2 |  Bibi | Hum TV |
Hosting
Being a young and talented TV host, Arisha was chosen to co-host 'Wah Wah Subhan Allah'. This was a competition for children aired as a naat . A naat is a religious prose presented in a poetry form. It is common in Pakistan and mostly dedicated to giving praise to Prophet Muhammad.
[3]
TELEVISION
Movies
Arisha has appeared in several other films as well. She starred in 'Mastana Mahi' and 'Omar Dadi aur Gharwalay'.