Aqibullah Khan also known with Aqibullah is a Pakistani politician from Khyber Pakhtunkhwa.He was elected as a member of the National Assembly of Pakistan (MNA) from August 2013.He is associated with Pakistan Tehreek-e-Insaf (PTI).
| Title | Description |
| --- | --- |
| Personal | |
| Name: | Aqibullah |
| In Urdu: | عقیب اللہ |
| Famous As: | Politician |
| Nationality: | Pakistani |
| Residence: | Islamabad Pakistan |
| Religion: | Islam |
| Profession: | Politics |
| Owner: | Private Schools |
| Oath Taking Date : | 30-08-2013 |
| Province : | Khyber Pukhtunkhwa |
| Email : | aqibullah.na13@na.gov.pk |
| Contact Number : | +92 302 5680500 |
| Family | |
| Parents: | Sardar Bahadur (Father) |
| Siblings : | Asad Qaiser (brother) |
| Career | |
| Political Party: | Pakistan Tehreek-e-Insaf (PTI) |
| Serve As: | Leader |
| In Office | |
| Role: | Member of the National Assembly of Pakistan |
| Dates: | 30 August 2013 |
| Constituency : | NA-13 (Swabi-II) |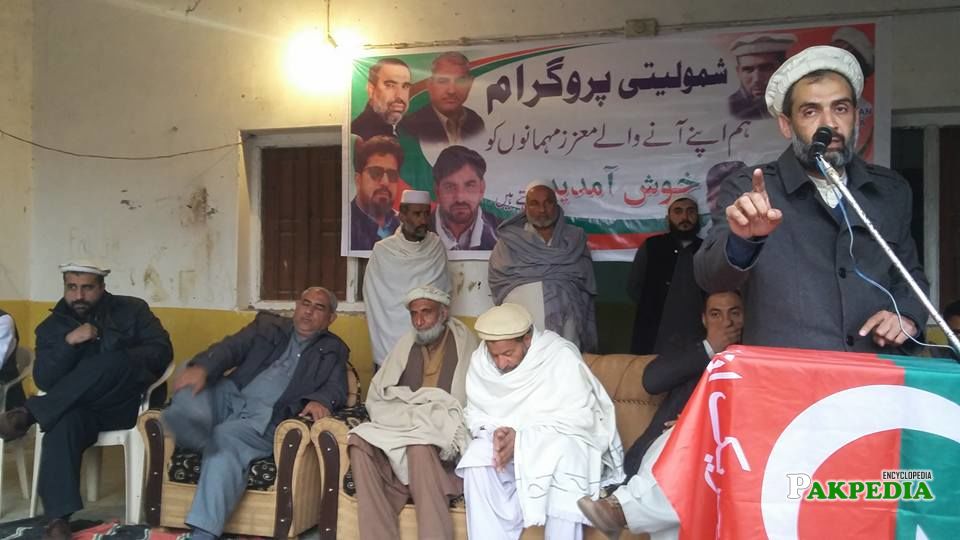 Biography
Mr Aqibullah hails from Khyber Pakhtunkhwa.His father name is Sardar Bahadur.Asad Qaiser Khan is a brother of Aqibullah.Asad Qaiser is the 14th speaker of the Khyber Pakhtunkhwa Assembly.
Political Career
Aqibullah was nominated for National Assembly of Pakistan (MNA) as a candidate of Pakistan Tehreek-e-Insaf ( PTI) from Constituency NA-13 Swabi in a by-election general election, 2013.The seat was fell vacant after his brother Asad Qaiser chose to retain his Provincial Assembly seat that he won in the 2013 general elections.He was assigned PTI ticket to run in August 2013 by-election despite concerns in the party.[1]  Political Career 
Election 2013
Pakistan Tehreek-i-Insaf (PTI) named Aqibullah Khan, brother of Khyber Pakhtunkhwa Assembly Speaker Asad Qaisar, as its candidate for NA-13, Swabi by-election.However, the nomination was not sat well with many in the party, who insist it will do more harm than good.A local PTI leader told Dawn that the naming of unpopular Aqibullah for the by-election had split the party and thus, lowering its chances of retaining the seat in the by-election."It is not a fair decision. If the party is unable to dispense justice to own activists, then how it could provide justice to others," he said.Another PTI leader said the award of ticket to the brother of the provincial assembly's speaker had landed the ruling party in a very difficult situation and there was a likelihood that the party would not retain the seat, which it had secured in the May 11 election."We must understand that the candidate's personality matters a lot in the election," he said.He said it was unfortunate that those, who had long worked for the party, were ignored during the NA-13 nomination.[2]  Election 2013 
NA-13 Nomination
A local PTI office-bearer said Asad Qaisar had maneuvered to get brother named for by-election."This is no good politics and shows the leadership lacks maturity," he said.When contacted, PTI district vice president Anwar Haq Dad said he along with Asad Qaisar and district general secretary Yousaf Ali interviewed Rangaiz Khan, Abdul Sattar, Mohammad Sohail Yousufzai, Sohail Khan and Aqibullah Khan and considered their recommendations in case of failure to clinch the ticket."Three proposed Mr Aqibullah and two Mr Sohail Yousufzai, so we decided to award the ticket to the former in light of democratic traditions," he said.An insider said PTI chairman Imran Khan, who interviewed aspirants, had given full authority to Mr Asad to decide about the NA-13 ticket."Imran Khan told Mr Asad in plain words that he wanted the party to retain the won at all cost," he said. 
Contact Information
Permanent Address: Aka Khel, Marghuz District Swabi
Local Address: A-01, Parliament Lodges, Islamabad
Contact Number: +92 302 5680500-+92 346 9243790
Email: aqibullah.na13@na.gov.pk[3]  Contact Information