Biography
Shemza is one of Pakistan's most well known modern artists, in addition to being a poet and playwright. A leading member of an artists' collective known as the
Lahore
Art Circle, Shemza's work fused Western principles of modernism with those of traditional Islamic art forms. His works show great attention to geometry and perspective, with strong verticals and horizontals highlighted by his choice of palette. Also a talented printmaker, Shemza produced an important series of paintings and graphic works based on traditional calligraphy as well.
[1]
Biography
Born Education and Family
Anwar Jalal Shemza was born Anwar Jalal Butt into a Kashmiri family in Shimla India in 1928. His grandfather owned a carpet business in Lahore.His father Khaja Butt was a government worker. He was educated in schools in Shimla, Ludhiana and Lahore.Semza in 1944 transfers to Mayo School of Arts, Lahore due to a growing interest in art.He studied Persian, Arabic and (way of thinking/related to learning about how people think) at
Punjab University
in 1943.Shemza get to art in the following year enrolling at the Mayo School of Art and getting a diploma in 1947.In 1958 Married fellow artist Mary Taylor first daughter Tasveer is born a year later.In 1981 Second daughter Hannah is born.
[2]
Born, Education and Family
Career
Establishes a design studio in Lahore. Simultaneously works for the Government of Pakistan Public Relations Department, designing propaganda pamphlets, cinema slides, press layouts and magazine illustrations, and for the Visual Aids Section of the Education Department, creating a series of posters that promote adult education.
195053
Designs and edits Ehsas, an
Urdu
fortnightly periodical on art and literature.
195356
Four of Shemza's novels are published in Urdu during this period. Achieves widespread recognition for literary and artistic endeavours as a member of the Lahore intelligentsia. Founding member of the Lahore Art Circle, which is concerned with modernism and abstraction. Participates in several solo and group exhibitions throughout Pakistan. Appointed head of the art department at Lawrence College, Public School for Boys, Ghora Gali and Cathedral High School, Lahore. Writes scripts for various stations of Radio Pakistan in the form of art and architecture programming and productions for children.
Moved to London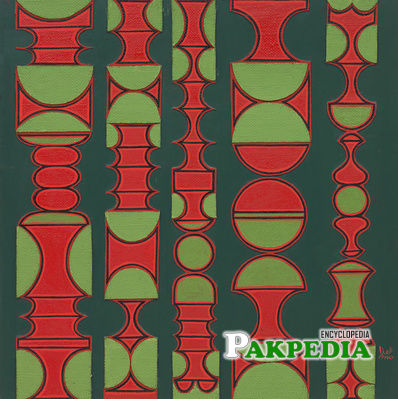 When he moved to London in 1956 to study at the Slade School of Fine Art, Shemza's Pakistani artistic achievements were not recognised. He was so disheartened by one of Ernst Gombrich's lectures in which the historian dismissed Islamic art as purely functional that he subsequently destroyed all his work and began an exploration of the modernist abstraction of Klee, Mondrian and Kandinsky.
[3]
 Moved to London 
Diploma in Fine Art
195960
Earns a Diploma in Fine Art. Receives a British Council scholarship to study on an advanced course in printmaking at the Slade School of Fine Art, which concentrates on etching and is led by Anthony Gross. Included alongside Francis Newton Souza and Avinash Chandra in a number of group exhibitions in London. Exhibits in solo displays at New Vision Centre, London (1959) and Gallery One, London (1960). A new series, City Walls, attains a new compositional density by using layers of squares and circles.
Relocates to Pakistan
1960
Relocates to Pakistan where the hope to undertake a senior position at his former alma mater, the National College of Arts (renamed from Mayo School of Arts in 1958), does not materialise. Despite some exhibitions and critical acclaim, Shemza is forced to work for an advertising firm in
Karachi
. Dissatisfied, Shemza returns to the UK with his family within the year.
Settles in Stafford
1961
Settles in Stafford. Employed as an art teacher and continues with own practice during evenings and weekends. Following an introduction to John Coleman, colour printmaking becomes a major focus. Begins working on the Magic Carpet and Chessmen series.
International Exhibitions
1962
A number of international exhibitions over the next decade focus on following:
Drawing (Yugoslavia during 1963–70)
Printing (Japan during 1962–68; Austria in 1963; Switzerland in 1967) 
Engraving (Argentina during 1968–72)
Major Bodies of Work
1963
Starts to form two major bodies of work: Fingerprint and Square Compositions. Writes a major statement on his development as an artist, which is published in the catalogue accompanying a solo exhibition, A J Shemza: Paintings, Drawings, 1957–1964, at the Gulbenkian Museum of Oriental Art and Archaeology, Durham.Uses pyrography in his work for the first time, which he returns to once more in his career during 1983.
Script for the First Time
1967
Embarks on the Meem series, which engages entirely with script for the first time by transforming the first letter of the Prophet Muhammad's name into a simple composition.In 1969 begins working on the Love Letters series.In 1971 Experimentation with silkscreen becomes a major focus in the Women series.In  1977 Develops the Roots series by embellishing the calligraphic abstraction of the earlier Meem paintings.
Death
1985
Dies of a heart attack in Stafford, unable to fulfil wish of returning 'home' and retiring to the foothills of Kashmir. This desire is reflected in the drawing, Dream Home (1984–85; p.216), that Shemza worked on the day before he died. Solo exhibitions of the Roots series tours at venues in
Islamabad
, Karachi, Lahore and
Peshawar
.
Afro-Asian Artists
1989
Included in The Other Story: Afro-Asian Artists in Post-War Britain, a major exhibition demonstrating an alternative to the mainstream Western artistic canon of modern art, curated by Rasheed Araeen, at the Hayward Gallery, London. The cover of the exhibition catalogue includes a reproduction of The Wall (1958; p.99).
First Major UK Retrospective
1997
The first major UK retrospective of the artist's work opens at Birmingham Museum and Art Gallery, Birmingham.
Represent the Estate
200712
Anita Dawood and Hammad Nasar of Green Cardamom, London represent the Estate of Anwar Jalal Shemza. The gallery presents two solo exhibitions Calligraphic Abstraction, curated by Iftikhar Dadi (2009), and The British Landscape, curated by Rachel Garfield (2010). Included in the group exhibition Migrations: Journeys into British Art, at Tate Britain, London in 2012, which revisits the themes of The Other Story: Afro-Asian Artists in Post-War Britain.
Jhaveri Contemporary
201215
Jhaveri Contemporary, Mumbai represents the Estate of Anwar Jalal Shemza. A selection of Square Compositions is displayed at the gallery's solo stand at Art Dubai (2014). Shown in numerous international group exhibitions, including Burning Down the House, 10th Gwangju Biennale, Gwangju and Trajectories: 19th–21st Century Printmaking from India and Pakistan, Sharjah Art Museum, Sharjah (both 2014). A solo BP Spotlight display opens at Tate Britain in October 2015, which includes paintings and prints drawn from the Tate's collection.
Shows of Shemzas Work
Selected solo shows of Shemza's work include those at the following:
Pakistan National Council of the Arts, Karachi, Rawalpindi and Lahore
In 1960-2, the Gulbenkian Museum of Oriental Art, Durham
In 1963, the Commonwealth Institute, Edinburgh
In 1969, the Ashmolean Museum, Oxford 
In 1972, Indus Gallery, Karachi
In 1985 Manchester Metropolitan University in 1992 
The Birmingham City Museum, in 1997-8
Calligraphic Art in Pakistan
For calligraphic art in Pakistan, this publication can prove to be a splash in still waters. Shemza's unique fusion of post-war geometric abstraction with Arabic calligraphic forms is a case study that needs to be scrutinised not just for the inherent inventiveness within it, but also for the artist's fidelity to the muse, the nature of his engagement with calligraphy abstraction and above all the possibilities it offers to new generation artists.
[4]
 Calligraphic Art in Pakistan