Anwar Ali in Long Hiars
Anwar Ali on Air
Anwar Ali in Action
Anwar Ali After Batting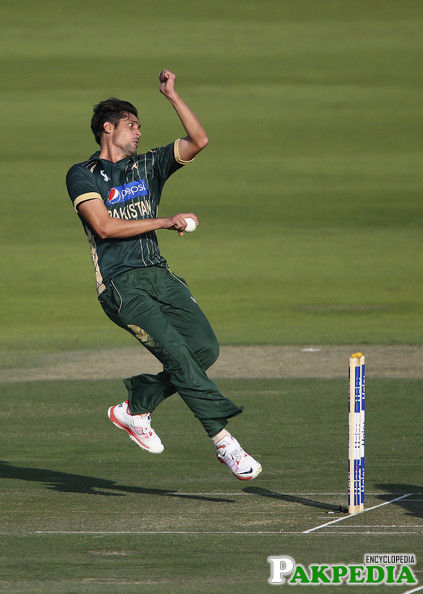 Anwar Ali in Bowlling Action
Career
Early Career
Anwar Ali (born 25 November 1987 in Swat) is a Pakistani cricketer who guided Pakistan to win the 2006 U-19 Cricket World Cupfinal in Sri Lanka by securing 5 wicket for 35 and was declared man of the match. He represents Karachi Zebras and Sindh Dolphins in domestic circuit. He is inspired by Wasim Akram and Imran Khan.Anwar Ali has been settled in Karachi, Sindh since long. He belong to Khatana Gujjar family. His family migrated to the city from Swat in
Khyber Pakhtunkhwa
when he was young. He spent his early years as a factory labourer, ironing socks.
[1]
Anwar-latest star- tribune
He is playing as a professional for Colne Cricket Club in Lancashire, England, in the Lancashire League. He has joined North Down Cricket Club in Northern Ireland for the 2012 season as the club professional. He is currently part of Pakistan Senior cricket team. He belongs to a middle-class family living in the area of Orangi Town Mominabad. His early efforts in first-class cricket also brought some success and not only with the ball as an unbeaten century showed that he is more than able to contribute down the order. He was pushed a closer to a full international opportunity shortly after his 20th birthday (belated compared to some
Pakistan
players) when he was named in a training squad ahead of the one-day series against Zimbabwe early in 2008. An impressive tour of Zimbabwe and Kenya with the Academy team - he took 29 wickets at 16.31 - earned him a spot in Pakistan's squad for the four-nation Twenty20 tournament in Canada in October.
International career
He made his T20 debut for Pakistan on 12 October 2008 against Zimbabwe. He bowled 2 overs and went for 19 runs without taking a wicket. Anwar made his comeback against Zimbabwe as well, where he took 2 wickets in both matches. Pakistan won the series 2-0. After good form against Zimbabwe and in domestic, he got an ODI cap and scored 43 not out; he also took 2-26 in 6 overs. Together he and Bilawal Bhatti defeated South Africa. He also made a fine 41 not out in an ODI against Sri Lanka and took a wicket in the match. Only in his first One Day International, Anwar Ali promised to be a good player as he was able to win the Man Of The Match award. During the T20I series against Sri Lanka on 2015 August, Ali smashed a match-winning knock of unbeaten 40 runs, where Pakistan won a game that they nowhere in a winning margin. Sri Lanka batted first and scored 172 runs in 20 overs. The score showed a win for the Sri Lankans, due to difficulty to bat in the second innings in their home soil of Colombo. Pakistan came on to bat and first five wickets gone for just 40 runs on the board. For the sixth wicket, skipper Shahid Afridi smashed a quick 45 runs off 22 balls and the match turned again in to Pakistanis. After Afridi's wicket, Lankans were back in the game, when Ali came in to the crease. He showed immense talent and hard hitting against Sri Lankan pace attack and scored blistering 40 runs off 17 balls with 3 fours and 4 huge sixes. Ali got out in the score of 165 runs and finally Pakistan won comfortably with 1 wicket. This is Pakistanis first T20I win in a narrow margin of wickets. Ali named the man of the match award and Pakistan won the series 2-0.
[2]
sri-lanka-v-pakistan- 2015/content
[3]
Narrow wins- espncricinfo
World Cup Under-19
Anwar Ali led a great come-back win for Pakistan against India in the 2006 Under-19 Cricket World Cup. He took five wickets including Rohit Sharma with an inswinger that bowled him. He also took the wicket of Ravindra Jadeja. Both of these players have played for the senior national side in the One Day Internationals.
[4]
Under-19- India vs Pakistan