PML(N) member Anusha rehman
Anusha Rehman and Saad Rafique
Anusha Rehman and Marvi Memon
With Queen Rania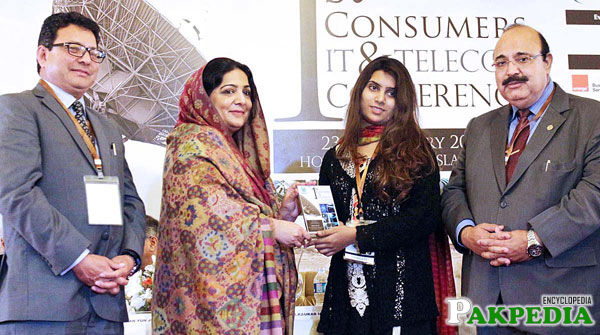 While giving shields
Bipgraphy
Anusha Rahman Khan is politically affiliated with
Pakistan Muslim League
(Nawaz) and is a Member of the National Assembly of Pakistan since 2008. She is a member of National Assembly Standing Committees on Law, Justice and Parliamentary Affairs, Information Technology and Communication and Science and Technology. She is General Secretary of the Young Parliamentary Forum of the National Assembly, and a founding member of the Parliamentary Caucus Against Corruption. She is on the Board of Punjab Education Endowment Fund and Government Fatima Jinnah College for Women, Lahore. Anusha has been Central Vice President of the Lawyer's Wing of Pakistan Muslim League (Nawaz) and Deputy Convener, Legal and Anti Rigging Wing of the Pakistan Muslim League (Nawaz). During Elections 2008, she co-authored an election publication 'Corrupt and Illegal Practices-A New Pardigm of Blatant Violations'. 
[2]
Biography Biography
Early Life and Education
Rehman's family hails from Gawalmandi,
Lahore
and is the only parliamentarian from her family. In 1992, Rehman graduated with a LLB and received an LLM from University College London specializing in Law and Economics of regulated industries, networks and markets. In early 90s, Rehman worked as a lawyer in her uncle's chambers. Her uncle handled the legal matters of the businesses owned by the Sharif family. During working at uncle's chambers, Rehman became a member of the PML-N. She is a professional corporate lawyer by profession. According to Rehman, she had been working with the telecom sector since the 1990s. 
[3]
Early life
Political Career
Rehman began her political career in 2006 or 2007, when she was made senior vice president of the lawyers' wing of PML-N. She played an active role in the lawyers movement for the restoration of the judiciary following Pakistani state of emergency, 2007. She was elected as a member of the National Assembly of Pakistan for the first time in Pakistani general election, 2008 on a reserved seat for women. In 2009, Rehman was a key member of the PML-N's steering committee, which was tasked with dealing with legal matters. She was re-elected as a member of the National Assembly of Pakistan for the second time in Pakistani general election, 2013 on a reserved seat for women. In 2013, Rehman was appointed as the Minister of Information Technology and Telecommunication with the status of minister of state. In 2015, Rehman was awarded "GEM-TECH Global Achievers 2015" award by UN Women and the International Telecommunication Union in recognition of her work to empower women through technology. She had ceased to hold ministerial office in July 2017 when the federal cabinet was disbanded following the resignation of Prime Minister
Nawaz Sharif
after Panama Papers case decision. Following the election of Shahid Khaqan Abbasi as Prime Minister of Pakistan in August 2017, she was inducted into the federal cabinet of Abbasi. She was appointed as the Minister of State for Information Technology and Telecommunication. 
[4]
Political career
Reviews about Panama Case
Minister of State for Information Technology and Telecommunications, Anusha Rehman has said Joint Investigation Team (JIT) was probing Panama Papers case and everyone needed to wait for verdict of Supreme Court on the matter. Although name of prime minister was not mentioned in Panama Papers but he had presented himself and his family for accountability, she told a private news channel. She said comments of Ishaq Dar had irritated Imran Khan and his party members. Who was Sita White and why Imran Khan was not responding, she asked. Anusha Rehman alleged that PTI Chief Imran Khan had   gambled with the charity funds he collected from the public. She said not a single rupee related to Hudaibia Papers Mills was sent abroad. To another question, she strongly rejected any signing of National Reconciliation Ordinance (NRO) between Pakistan Muslim League (PML-Nawaz) and former President General (R)
Pervez Musharraf
, rather it was signed between Pakistan People's Party (PPP) and Pervez Musharraf. 
[5]
Reviews Reviews
Resignation of Anusha Rehmans Husband
Prime Minister Nawaz Sharif has accepted resignation of Pakistan Telecommunication Mobile Limited Board of Directors member Shabir Khan, husband of Minister of State for Information Technology and Telecom Anusha Rehman. The resignation comes two days after Daily The News and Daily Jang reported that Khan has been appointed at the time when the country is about to hold the mega auction of US$2.5 billion 3G and 4G spectrum. The news reported on March 31 that Khan has been appointed as a member of the Board of Directors of a leading cellular company, which is jointly owned, by the government and a private group. The News senior reporter Ahmed Noorani reported that Shabir Ahmed Khan had also made an international trip after his appointment. Anusha Rehman didn't receive the call from the reporter when he tried to discuss the matter.  
[6]
Resignation Resignation