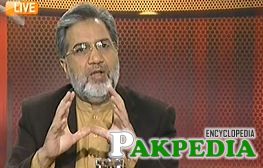 Introduction
Abbasi was born in
Murree
and did his early education in his native village. After taking early education he accomplished his matriculation in Rawalpindi from Sir Syed School Rawalpindi. Then, for intermediate and graduation he joined Government College Asghar Mall. Ansar Abbasi took his master's degree from Baluchistan University Quetta. From Goldsmiths College University of London, he attained another Masters degree for higher education. His experience is Journalism is vast and talented, he chose this field on account of Masters in Mass Communication. In 1991, for the first time Ansar Abbasi selected to be a journalist. Presently he is an editor of The News International and has been famous all over the country as well as outside the country through his English Journalism and courageous way to express in journalism.
[2]
Ansar Abbasi Introduction
Family
When his father died Ansar was in Matric. His father used to do business in the wheat market and during the days of food rashioning in the 1970s the contract of distribution in Murree was with him.His father also had an interest in the property business. He spent his childhood in the hills of Murree and his family has also been maintaining a house in
Islamabad
ever since his birth. Therefore, his familiarity with the twin cities is also good.
[3]
Ansar Abbasi Family
Career in Journalism
A career in journalism, for him, was not a matter of chance but of choice. It was a planned career move. After doing his Masters in Mass Communication, Ansar opted to be a journalist in 1991. He wanted to join the popular Urdu daily 'Jang'. However, as a matter of what he now regards as good luck, he got his first career appointment with an English Daily: 'The Democrat'. He later served for two months at 'Pakistan Times' as well, before he finally joined 'The News' – of which he is now an Editor. He regards English Journalism better than Urdu, as he feels that mostly an Urdu Journalist does nothing but dealing with Statement Journalism. His own experience tells him that English Journalism in Pakistan gives a journalist more growth opportunities and more chances to learn. He feels good that he landed in English Journalism from the very start.
[4]
Ansar Abbasi Career
Experiences Abroad
While pursuing his Masters degree from the United Kingdom, he learnt a great deal from his School and from the exposure otherwise as well. He believes that he learnt more from travelling and visiting places than what he did from the curriculum at school. He acknowledges the system of education and research over there and finds the standards of labs and libraries really up to the mark. He feels a dire need that the authorities look into the dilapidated state of government universities in Pakistan and to equip them with what the student of today needs. His research thesis there included one on 'Child Labor' and for that particular one he found more than enough data on it, more than what he would have ever dreamt of in any university's library in Pakistan; given that
Pakistan
is a developing country and faces the menace of Child Labor to an much more alarming extent as compared to the UK.
[5]
Ansar Abbasi Experience Abroad
Pakistan through success
He believes that the most crucial problem of Pakistan is the prevalence of the 'Rule of Jungle'. This must be converted into the 'Rule of Law' in order to solve all the problems this nation is facing today. He is of the view that the judiciary must be independent and all the big shots must obey the law. Only that is how justice can be dispensed. In his 18 years of experience in Journalism, he has learned that whosoever came into power in Pakistan he or she never concentrated on building institutions. He believes that we lack pride and confidence in being a Muslim. He praises the Iranian President Ahmedinejad as the only Muslim Leader who takes real pride in being a follower of the greatest religion. Among other international leaders, he feels that Mahatir Mohammad has worked really well in building Institutions. Ansar Abbasi is very much against the Muslims' Genocide all over the world. He condemns all the contemporary leaders from the western world and admonishes the former President of Pakistan General
Pervez Musharraf
for letting the country real down, and he feels that the current regime of Peoples Party is a continuation and facilitation of the former big wigs. He maintained a positive stance throughout the remarkable movement for the restoration of judiciary, and feels a strong desire that journalists must perform their constructive role in molding the society into a more civilized and strong one.
[6]
Ansar Abbasi Success through Pakistan
Chief Justice Choudhray
Abbasi was among the first to bring forth allegations against Chief Justice Iftikhar Choudhray for gross misconduct in 2002, accusing him for admitting his son Dr. Arsalan to the Federal Investigation Agency undermining all merits. Primarily based on this allegation the establishment moved a reference to Supreme Judicial Council against Chief Justice Iftikhar Choudhry.
President Musharraf
Abbasi has published work critical of the regime of former president Pervez Musharraf accusing him of building a multi-million rupees residence at Chak Shehzad, equipped with utilities at much cheaper rates with differential subsidized by the government. He was critical of the former general for removing the Chief Justice of Pakistan Iftikhar Muhammad Choudhry and submitting his case to the Supreme Judicial Council.
Maulana Fazl ur Rahman
In November 2008, Abbasi published a story on the award of acres of military land worth millions of rupees to the family members of the leader of Jamiat Ulema-e-Islam,
Maulana Fazl ur Rahman
. Abbasi alleged that the regime of the then president general Pervez Musharraf attempted to buy off Maulana's opposition to the general Musharraf's assumption of two public offices at a time. The issue was silenced when Maulana Fazl ur Rahman publicly questioned how the multi-billion empire of Geo/Jang Group grew from a single room.
Justice Dogar
"Our Special Daughters", an investigative report by Abbasi in Daily News, found out that Justice Dogar's daughter Farah Hameed Dogar's examination paper for F.Sc. were reassessed in violation of a previous Supreme Court ruling. While the results of 201 candidates were revised, only for her were the examination papers re-marked and the numbers increased. In the other 200 cases, only errors in adding the total marks were corrected. The case later went on to the parliamentary committee for education.
Life threats
Abbasi is alleged to have received death threats for which he blamed different groups, including those associated with the ruling coalition. His claims first appeared in The News on December 25, 2008.
[7]
Ansar Abbasi Investigative About