Advocate
PSP Leader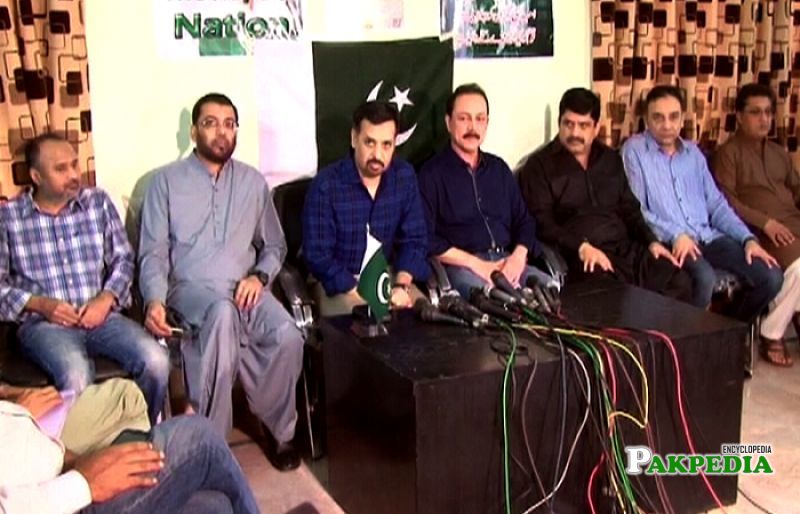 Announcement for Joining PSP
At News Channel
PSP Flag
Political Career
Anis Ahmed who served as a member of the MQM's Rabita Committee between 2003 and 2012 was sacked from his party post over 'violation of organisational discipline'. Anis, who said he served with
Altaf Hussain
for 32 years, claimed to have left
Pakistan
in 1998. After leaving the MQM, he said he spent his time traveling and resting."I mentally joined this group three years ago," he said, adding he was waiting for the day "when the locks on people's tongues would break and they would speak openly".
[1]
Political Career
Left the MQM Party
"I left the MQM on 19 May 2013. I was among those who believed the wrong thing was happening.The international secretariat can attest to this. I said, 'This is the final nail in the coffin. You have ruined your party'," Anis said.Wishing MQM supremo Altaf Hussain well, he said: "I wish for Altaf to live a long life and see with his own eyes that the ground is crumbling beneath his feet," he said.
Joined the PSP Party
Former Muttahida Qaumi Movement (MQM) senior leader Anees Ahmed Khan Advocate announced that he was joining former Karachi mayor
Mustafa Kamal
 the party Pak Sarzameen Party (
PSP
) and his group of MQM dissidents."Anees Khan Advocate is a very senior leader. I welcome Anees Advocate to this caravan," said Kamal, sitting alongside Anees Khan at a press conference at Kamal House.Speaking about his time with MQM, Anees said he had left the party and "mentally joined this caravan three years ago".He said that Kamal had rattled the conscience of MQM workers.
[2]
Joined the PSP Party
Syed Mustafa Kamal
"We welcome Anees Advocate Bhai in this 'national convoy'," Kamal told news men during a press conference at his residence in Karachi's DHA neighbourhood before turning the microphone to advocate.
[3]
Syed Mustafa Kamal
Questioned about Nine Zero
When asked a question about the details of an incident outside the MQM's Nine-Zero headquarters on May 19, Anees said that those who were 'roughed up' that day were the people who are active on Twitter today.Speaking about the MQM's alleged links to Indian spy agency RAW, Anees said that there was some evidence but it is up to the state institutions to investigate. He urged the government to investigate the alleged MQM-RAW links.
Loyal Activist
Anees spent decades working as a loyal activist of the MQM and a member of its Rabita (Central Coordination) Committee. But the party's top leadership sacked him from his position as member of the Rabita Committee in 2012 over alleged violation of the party's code of conduct.Since then, the senior leader developed differences and became estranged with the party leadership.