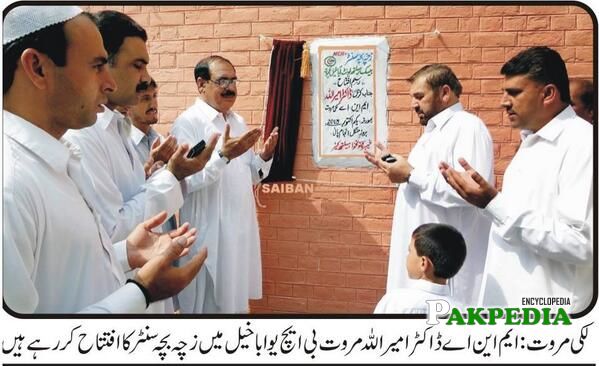 Biography
Amirullah Marwat is one of the recent joining members of the Pakistan Tehreek e Insaaf (
PTI
) and proved his worth almost immediately in his first elections. He is well respected amongst the party members.Amirullah Marwat is a well learned and respected person. His background as a retired Colonel is proof enough that he has the required education and knowledge for the position of MNA.
[1]
Biography
Political Career
His career in politics still a young one that began in 2013 when he was given the opportunity by Pakistan Threek-e- Insaaf (PTI) to contest in by elections on NA-27 seat after it had fallen vacant when the previous candidate who held it decided to vacate it inorder to take the other seat which he has also won.Being his first time in elections he was able to win and got himself a seat in the National assembly. He is a retired army officer of the colonel rank and thus well disciplined person. His military background has surely gone well with the voters as the army personnel are held in high regard by the general public, hence helping his political cause.
National Assembly of Pakistan
Marwat was nominated as the National Assembly of Pakistan (
MNA
) as a candidate of Pakistan Tehreek-e-Insaf (from) from Constituency NA-27 (Lakki Marwat) in by-elections held following the general election, 2013.The seat was earlier won by
Maulana Fazal-ur-Rehman
in 2013 general elections and after that vacated in order to retain the seat won in his home constituency NA-24 (
D.I.Khan
).
[2]
MNA
Col (R) Amirullah Marwat is PTI candidate from NA-27 (Lakki Marwat). Humayun Saifullah Khan of PML-Q was the previous MNA from this constituency.
[3]
PTI
Contact Information
Permanent Address: Mohallah Mian Khan Khel, Village Dallo Khel, Tehsil & District Lakki marwat
Local Address: House#559, St No.21, Sector A-14 Adiala Road Rawalpindi
Contact Number: +92 300 3152315, +92 51 9207017
Email: marwat.na27@na.gov.pk[4]  Contact Information