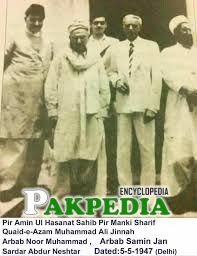 Details
Mini Bio
Their was no uncertainty that religious leader like the Pir of Manki Sharif withhis followers of more than two millions could take recognition for havinginjection into the Muslim League a new spiritual and political passion. An effort has been made to reinvigorate the facts and atender attempt with a new language.He inherited a large number of followers and hisinfluence was particularly strong in the Pakhtun-belt spread all over thefrontier Province.
In 1947
He played a pivotal role in securing thumping success for the Muslim League in the Referendum held in NWFP in 1947, which decided the of the NWFP to Pakistan.According to Maulana Zafar Ahmad Osmani, it was Jinnah himself who requested the ulama to help the League in these campaigns. Maulana Zafar Ahmad Osmani went to Sylhet and Maulana Shabbir Ahmad Osmani was assigned the Frontier referendum.
Support for the Muslim League
Soon after joining the All-India Muslim League in 1945, Hasanat toured the NWFP to win support for the Muslim League. He invited the Muslim League leader Mohammad Ali Jinnah to tour the Province. In one of Jinnah's letters to Hasanat, he promised that sharia law would be applied to the affairs of the Muslim community. On October 1, 1945, Hasanat organized a historic meeting of the Ulema and Mashaikh at Peshawar, which passed resolutions expressing full loyalty with the Muslim League and reposing complete confidence in Jinnah's leadership. Hasanat was active in campaigning for the Muslim League in the referendum held in NWFP in 1947, which decided the accession of the NWFP to Pakistan.
[1]
 support for the Muslim League 
Role of Opposition
In the post partition period, however, Pir Sahib severed his relations with the Muslim League due to his ideological differences with Khan Abdul Qayum Khan the first league premier in NWFP and launched his own Awami Muslim League that started to play the role of opposition in the Provincial Assembly. He was of the view that Opposition is the spirit of democratic set up and that it was essential to attain the aims and objectives, which were being overlooked by the Muslim League. He is duly considered as the pioneer of the Opposition in
Pakistan
.
Legacy
Both in Sylhet and in the Frontier religion played the most important role. Muslim voters in Sylhet were told that anyone who voted for Sylhet to stay in Assam was an `unbeliever'. As regards the Frontier, as pointed out earlier, the Muslim League could not have won the referendum without the intervention of the Pir of Manki Sharif and the help accorded to it by the ulama like Maulana Shabbir Ahmad Osmani and Maulana Abdul Sattar Khan Niazi. The sort of logic that these leaders used was best summarized in one of the speeches of Maulana Abdul Sattar Khan Niazi.
Death
He died on January 28, 1960 shortly after a car accident near Fateh Jang on January 05, 1960. He was buried at Manki Sharif..