Ameer Haider Khan Hoti
IN JAlSA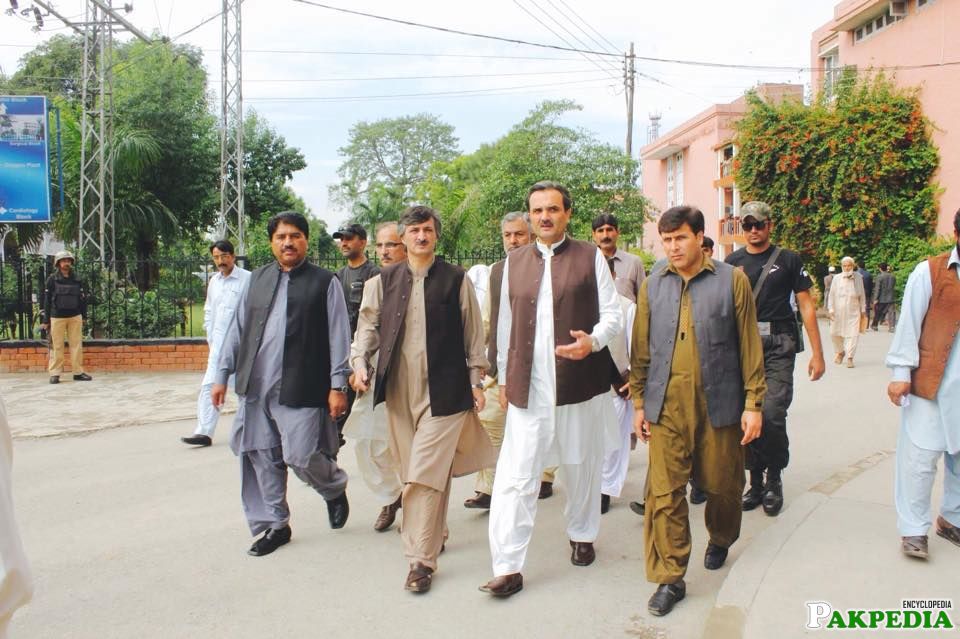 Return from Confrence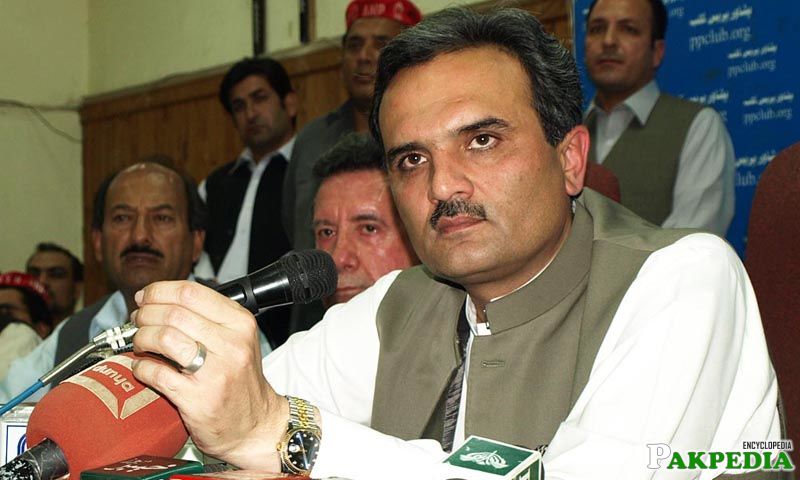 Ameer Haider Khan Hoti
Ameer Haider Khan Hoti ANP
Brief Profile
Haidar Khan Hoti is the grandson of two stalwarts of Freedom Movement and Pakhtun Nationalist Politicians. His maternal grandfather is Khan Abdul Wali Khan and paternal grandfather is Amir Muhammad Khan Hoti, who used to be called Khan Lala out of respect and love, a close colleague of
Baacha Khan
and active participant of Khudai Khidmatgar Movement. 
[2]
University of Swabi
Family History
He is the son of former federal Minister Azam Khan Hoti and the nephew of present ANP president Asfandyar Wali Khan.. His father Azam Khan Hoti remained federal minister twice in the Nawaz Sharif government, while his maternal uncle
Asfandyar Wali
Khan is the central president of the ANP. Hoti married Mehr Dil Khan, granddaughter of founding leader of Khudai Khidmatgar Tehrik and daughter of ANP leader Sareer Khan. 
[3]
Marital status
Educational Track
He passed his Secondary and Higher Secondary School examinations from Aitchison College (Lahore) and graduated from
Edwardes College (Peshawar)
in 1992. He started his political career as an organizer in the Awami National Party (ANP) in Mardan city and later became senior vice-president of the party in the District.
[4]
ANP : Leaders
Political Career
He was also elected joint secretary and then deputy secretary general of the provincial chapter of the Awami National Party. He was defeated in the 2002 provincial elections and elected for the first time to the provincial assembly of
Khyber-Pakhtunkhwa
province in 2008 from PK-23 Mardan constituency by getting 11009 votes and was elected as chief minister shortly afterwards. He was unanimously nominated by the Awami National Party (ANP) legislators for slot of the chief minister of the province, was elected unopposed on March 31 and took oath of his office on April 1, 2008 with coalition of Pakistan Peoples Party. During his service in office, besides other contributions, his main focus was on education and development and nurturing of three new universities Abdul Wali Khan University Mardan, Bacha Khan University Charsadda,University of Swat with more than 10 campuses in the province bespeak of his dedication to education. Also his government for the first time in the history of Pakistan, provided scholarships to send the scholars abroad for higher education and started schemes for students to provide them with free laptops on the basis of merit/finance with famous logo of Naway Sahar
[5]
Political Phases
21st chief minister
Hoti is the 21st chief minister of the province after creation of
Pakistan
and the 25th since 1937. Elected to the Frontier Assembly for the first time from PF-23 Mardan, Hoti was nominated for the chief minister slot at its parliamentary party meeting on February 29. The opposition parties  Jamiat Ulema Islam, Pakistan Muslim League-Q and
Pakistan Peoples Party-S
, in the NWFP Assembly  did not field its candidate for the slot of chief minister after the ANP and PPP leadership requested them through a jirga to get their candidates elected unopposed for the speaker, deputy speaker and chief minister offices.
[6]
Successive release
ANP views regards PANAMA
ANP fully supports a transparent, credible and comprehensive investigation of the Panama Leaks and would support the efforts of democratic political parties in this regard. However we will request political forces to show patience, tolerance and restraint until the final results of the investigation process. Democratic political parties also need to vigilantly guard the democratic constitutional system. As per its historical traditions, ANP will oppose any effort aimed at derailment of democratic system.
[7]
PANAMA Views