Established in December 1942 as the Australasia Bank at Lahore with a paid-up share capital of PKR 0.12 million under the Chairmanship of Khawaja Bashir Bux, and his business associates, including Abdul Rahman Malik who was amongst the original Board of Directors, the bank had attracted deposits, equivalent to PKR 0.431 million in its first eighteen months of business. Total assets then amounted to PKR 0.572 million. Today Allied Bank's paid up Capital & Reserves amount to Rs. 10.5 billion, deposit exceeded Rs. 143 billion and total assets equal Rs. 170 billion. The Allied Bank's story is one of dedication, commitment to professionalism, adaptation to changing environmental challenges resulting into all round growth and stability, envied and aspired by many[1] Established –  December 1942
| Title | Description |
| --- | --- |
| Details | |
| Type: | Public (KSE: ABL) |
| Industry: | Finance and insurance Commercial bank |
| Founded: | From the name of Australia Bank in 1942, Lahore, India (Current Pakistan) |
| Headquarter: | Lahore, Pakistan |
| CEO: | Tahir Hassan Qureshi (1 Jan 2017–) |
| paid-up share capital: | PKR 0.12 million under the Chairmanship |
| attracted deposits, equivalent: | attracted deposits, equivalent |
| Total assets then amounted: | PKR 0.572 million. |
| Capital & Reserves amount: | Rs. 10.5 billion, |
| deposit exceeded: | Rs. 143 billion |
| Board of Directors: | In 1974, the Board of Directors of Australasia Bank |
| Allied Bank ,2005 : | In May 2005 Ibrahim Leasing Limited |
| privatization : | September 1991 |
| Corporate Values : | We believe that a strong corporate culture |
| corporate culture that motivates: | moves us forward in the 21st century |
| Core Values : | Integrity .Excellence in Service . High Performance .Innovation and Grow |
| Internet Banking : | Allied Direct Internet Banking offers you the convenience |
| Allied Bank ATM : | Allied Cash+Shop Visa Debit Card for use at ATMs |
| Parent organization: | Ibrahim Holdings (Private) Limited |
| Product: | Financial services |
| Revenue: | 75 billion PKR |
| Subsidiaries: | ABL Asset Management Company Limited, more |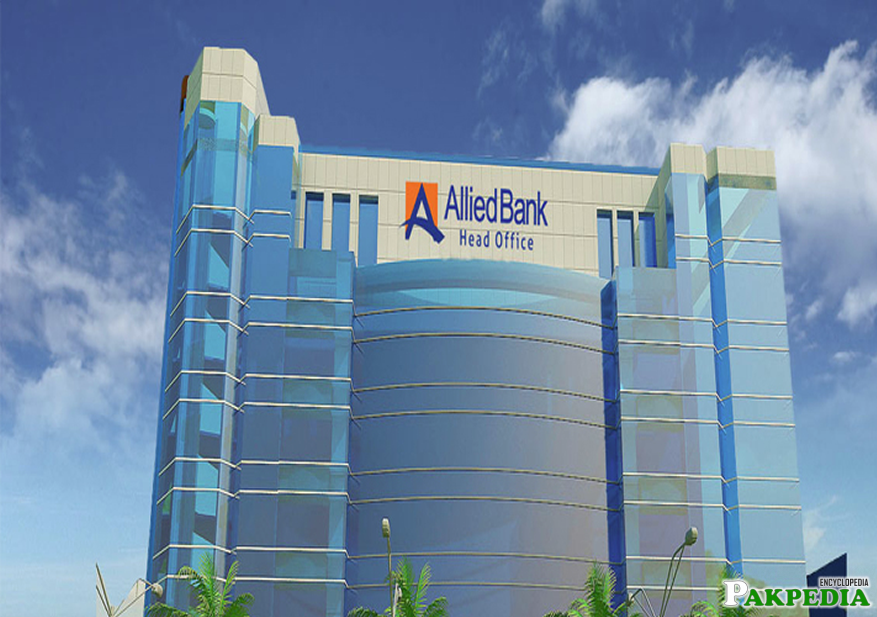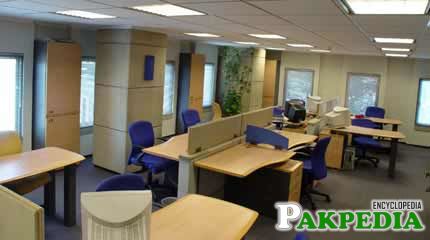 About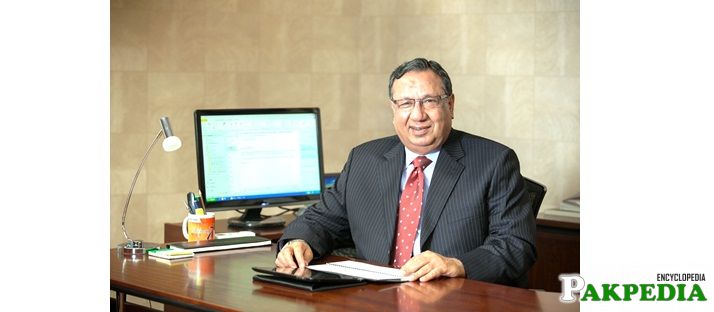 History
In 1974, the Board of Directors of Australasia Bank was dissolved and the bank was renamed as Allied Bank. The first year was highly successful one: profit exceeded the Rs 10 million mark; deposits rose by over 50 percent and approached Rs 1460 million. Investments rose by 72 percent and advances exceeded Rs 1080 million for the first time in bank history. 116 new branches were opened during 1974 and the Bank started participation in the spot procurement agriculture program of the Government. Those seventeen years of the Bank saw a rapid growth. Branches increased from 353 in 1974 to 748 in 1991. Deposits rose from Rs 1.46 billion, and Advances and investments from Rs 1.34 billion to Rs 22 billion during this period. It also opened three branches in the UK[2] In 1974 –  The Board of Directors
1947 to 1974 Australasia Bank
Australasia Bank was the only fully functional Muslim Bank on Pakistan territory on August the 14th, 1947.
It had been severely hit by the riots in East Punjab. The bank was identified with the Pakistan Movement. At the time of independence all the branches in India, (Amritsar, Batala, Jalandhar, Ludhaina, Delhi and Angra (Agra)) were closed down. New Branches were opened in Karachi, Rawalpindi, Peshawar, Sialkot, Sargodha, Jhang, Gujranwala and Kasur. Later it network spread to Multan & Quetta. The Bank financed trade in cloth and food grains and thus played an important role in maintaining consumer supplies during riot affected early months of 1948. Despite the difficult conditions prevailing and the substantial set back in the Bank's business in India, Australasia Bank made a profit of Rs 50,000 during 1947-48.
By the end of 1970 it had 101 branches. Unfortunately it lost 51 branches in the separation of East Pakistan which became Bengladesh. The bank did well in despite losing lot of its assets. By the end of 1973 the bank had 186 branches in West Pakistan.[3] Australasia Bank –  1947 to 1974
Allied Bank 2005
In May 2005 Ibrahim Leasing Limited was amalgamated by transfer to and vested in with and into Allied Bank Limited. ILL shareholders were issued ABL shares in lieu of the ILL shares held by them. Application for the listing of ABL shares in all the Stock Exchange Companies of Pakistan was made. ABL was formally listed and trading of the shares of the Bank commenced w.e.f. the following dates.
Islamabad Stock Exchange – 8 August 2005
Lahore Stock Exchange – 10 August 2005
Karachi Stock Exchange – 17 2005 August
faisalabad Stock Exchange- 26 August 2008[4] Ibrahim Leasing Limited –  Amalgamated by transfer
1991 to 2004 Privatization
As a result of privatization in September 1991, Allied Bank entered in a new phase of its history, as the world's first bank to be owned and managed by its employees. In 1993 the First Allied Bank Modaraba (FABM) was floated.[5] Privatization –  Allied Bank Pakistan
After privatization, Allied Bank registered an unprecedented growth to become one of the premier financial institutions of Pakistan. Allied Bank's capital and reserves were Rs. 1.525 (Billion) and assets amounted to Rs. 87.536 (Billion) and deposits were Rs. 76.038 (Billion). Allied Bank enjoyed an enviable position in the financial sector of Pakistan and was recognized as one of the best amongst the major banks of the country.
In August 2004 as a result of capital reconstruction, the Bank's ownership was transferred to a consortium comprising Ibrahim Leasing Limited and Ibrahim Group.
Today the Bank stands on a solid foundation of over 63 years of its existence having a strong equity, assets and deposits base offering universal banking services with higher focus on retail banking. The bank has the largest network of on-line branches in Pakistan and offers various technology based products and services to its diversified clientele through its network of more than 700 branches
Corporate Values
We believe that a strong corporate culture inspires passion among employees in carrying out their business tasks. In order to reach a higher level of business performance, new vibrancy has to be injected into our corporate culture. After careful formulation and thorough discussion, the Board approved the Bank's Vision, Mission and Core Values. With this initiative, we have embarked on building a coherent and bank-wide corporate culture that motivates us and moves us forward in the 21st century.
Allied Bank Limited operates by the following Vision, Mission and Values:[6] Corporate Values –  Allied Bank
Mission
   To provide value-added services to our customers.
   To provide high-tech innovative solutions to meet customers' requirements.
   To create sustainable value through growth, efficiency and diversity for all stakeholders.
   To provide a challenging work environment and reward dedicated team members according to their abilities and performance.
   To play a proactive role in contributing towards the society.
Core Values
Integrity
Excellence in Service
High Performance
Innovation and Grow
Allied Direct-Internet Banking
Allied Direct Internet Banking offers you the convenience to manage and control your banking and finances – when you want to, where you want to! It's Simple & Convenient, Secure and Faster. So, just get clicking.
Key Features
Account Statement
Cheque-book Request
Interbank and Intrabank Funds Transfer
Utility Bills Payment
Credit Card Payment
Mobile Top-ups
Pay Anyone
SMS Alerts
Donation[7] Key Features –  Allied Bank
The Allied Bank story
KARACHI, July 31: The chequered story of the Allied Bank of Pakistan took another turn on Monday when the State Bank Pakistan issued a Letter of Acceptance (LOA) to the consortium of Ibrahim Leasing Limited Group who had offered the highest bid of Rs14.2 billion for acquisition of 325 million additional shares.
Under the deal, the per share price of ABL comes to a little over Rs43. The bank was first offered to the Allied Management Group, representing 7,500 employees in September 1991, at a negotiated price of Rs70 a share. The employees had offered Rs30 a share as the Muslim Commercial Bank was earlier sold out in March 1991 at Rs56 a share. The employees were persuaded to buy 26 per cent of the shares for which an overwhelming majority was offered house building and motorcycle purchase loans.[8] The chequered story –  Allied Bank of Pakistan
branches services
   Open a new account
   Withdraw, deposit and transfer funds
   Apply for Debit/credit card
   Convert one currency into another
   Request bank statement
   Request a bank draft
   Make a bill or credit card payment
   Rent a safe deposit locker, and more.
Allied Bank ATM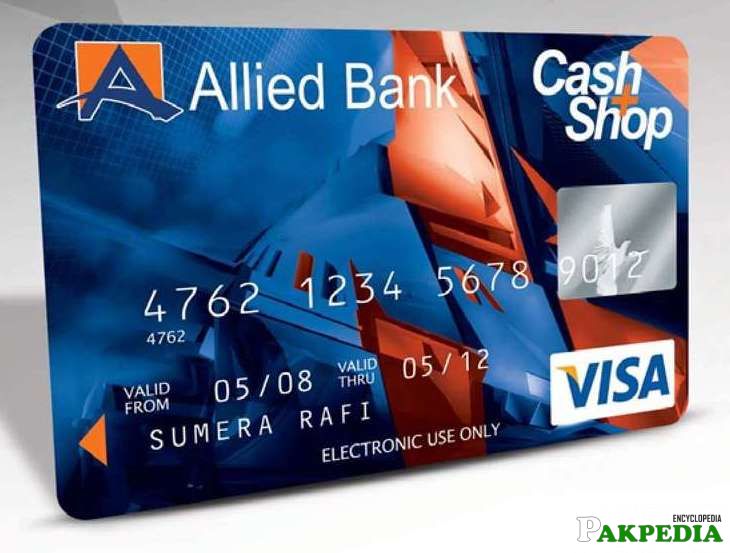 Account holders of all online branches can obtain Allied Cash+Shop Visa Debit Card for use at ATMs as well as at POS terminals. By using your Allied Debit Card at ABL ATM, you can perform the following activities:
   Withdraw cash (up to your daily limit)
   Transfer money between your accounts
   Make bill payments, and credit card payments (for ABL Credit Cards only)
   Make deposits (through selective 4 ABL ATMs only)
   Get mini-statements for your bank and credit card accounts, and more.
Extended Hours Banking. ABL
ABL is pleased to offer Extended Hours Banking Services for its valued customers, with an aim of accommodating their busy schedules and making their modern-day banking tasks even simpler & easier. 25 selected branches will remain open from 9:00am to 8:00pm from (Monday to Friday) and from 9:00am to 5:00pm on Saturdays across the country. The branches offer regular banking services (except FX transations) during extended hours, which may include:[9] Extended Hours –  Banking Services
   Cash receipt transaction
   Cash payment transaction
   Online transactions
   Collection of utility bills
   Issuance of demand draft / pay order
   Clearing of cheque and other related instruments, and other banking services