Sufi Singer
Cover of Allan Faqeer's album
Folk Singer allan Faqir
Allan sang with Shehki
Allan was inspired by Bhittai's poetry
Allan Faqeer Biography
Allan Fakeer was born in 1932 in the ancient village of Aamari in
Jamshoro
District, taluka Manjhand,
Sindh
. His mother died soon after his birth. He spent his childhood in Manjhand, a town between Sehwan and
Hyderabad
. Allan Faqeer belongs to the Mangrasi tribe the Mangarhars are believed to bring happiness and welcomed on festive occasions for their gift of melody. According to the traditions of this caste, Allan Fakir's father used to beat the drum and sing traditional songs at weddings and Faqir's brothers still do the same job.   
[1]
biography
Meaning of Faqeer
Allan Fakir is an Arabic word, and implies a Sufi or a mystic. Thus in the real sense of the word, a Fakir is a person, who leads an independent life marked by piety, abstinence from material needs, and contentment in the available resources. It must not be confused with the rather loose usage of the same word implying a begger, in the local languages
Urdu,
and Sindhi.
Allan in his Teenage
When Allan Fakir was only a teenager, Allan Fakir developed a habit of singing melancholy songs which his father did not like. Deprived of a mother's love, he went off in search of someone who could replace that love. Allan Fakir arrived at the tomb of
Shah Abdul Latif Bhitai
in Bhit Shah and started living there.Faqir's memory was sharp even though he could not read and write. Hearing the traditional Latifi Raag sung every night touched his heart.
Career Information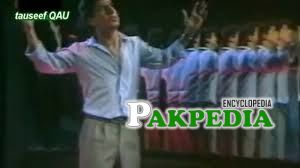 Encouraged by Allan Faqir Zawar Qurban Ali Lanjwani and Moolchand Maharaj, he began singing Bhitai's poetry at the shrine and ultimately spent twenty years there until meeting Mumtaz Mirza, who introduced him to
Radio Pakistan
and
PTV
in Hyderabad and helped him to learn the correct pronunciation of Bhitai's poetry. Eventually, he became a performing legend.  
[2]
career,songs
List of Songs
His songs, mostly in Sindhi language except a few in Urdu, usually revolve around Sufism and the devotional philosophy. But the characteristic which distinguishes him from many other folk singers, is the depth of his feelings, which is very expressive in all of his songs. 
One of his famous songs is a duet with pop singer Muhammad Ali Shehki, "Allah Allah Kar Bhayya, Humma Humma" which became a huge hit and tremendously increased his popularity.
A patriotic song "Itne bare jeewan saagar mein tu nein Pakistan diya, O' Allah, O' Allah" Sung by Allan Fakir, lyrics by Jamiluddin Aali, music by Niaz Ahmed- A Pakistan Television Corporation, Karachi production (1973)
Allan was offered a job
In appreciation of his services to folk culture, he was given a job and a small house at the Institute of Sindhology. Allan Faqeer was originally appointed as an officer to help promote Sindhi culture, but due to his illiteracy, he was eventually demoted to the post of peon.
Death ofAllan Faqir
Allan Faqeer breathed his last on July 4, 2000, in Karachi's
Liaquat National Hospital
after he suffered a paralysis attack. The tomb of Allan Faqeer situated at
Sindh University
Housing Society Phase-II Jamshoro. 
[3]
death
Tribute on his Death Anniversary
The 17th death anniversary of Alan Faqir, an exponent of Sindhi folk music, was observed in Jamshoro, on 4th of July,2017. The programme was organized by Jamshoro Action Committee (JAC) at the tomb of Alan Faqeer. Paying rich tribute to the Sindhi artist, the leader of JAC Sagar Almani said that Alan Faqeer had introduced Sindhi folk music throughout the world. He said the late Faqeer's services to Sindh in the field of folk music could never be forgotten. "Alan Faqeer was not only singer of Sindh but he was a global artist with innumerable qualities", he said.  A large number of fans of Alan Faqeer, artists and students under the umbrella of Jamshoro Action Committee attended the programme whereas Sughar Muhammad Ayoub presented a ghazal on the occasion to highlight the contributions of Alan Faqeer.   
[4]
Tribute
Legacy Details
Fahim Allan Faqeer
Faheem Allan Fakir is son of the sufi legend from Jamshoro, Allan Fakir. Faheem has previously sung a few songs with the Sufi legend including the one which also featured Shehki called "Allah Allah Kar Bhaiya". It is expected that Faheem might be collaborate with The Sketches, who are themselves pretty much inspired by Fakir and interestingly reside at the same place. 
Wahid Allan Faqeer
Sufi teaching isn't something merely to sing or recite; it's meant to be lived, and that's what traditional performer Wahid Allan Faqir does. Strumming the one-stringed kingh, singing devotional songs based in centuries-old poetry, Wahid has taken up the torch of one of Pakistan's best-loved Sindhi folk singers. Wahid loved Allan Faqir so much, he took his name as an homage. Wahid hails a small village on the border of Pakistan's provinces of Punjab and Sindh, culturally distinct regions that influence his music. As a young man, he went to a celebration at the shrine of Shah Abdul Latif Bhittai, a revered 18th-century poet and mystic. There his life changed as he watched Allan Faqir perform. Allan Faqir, one of the leading proponents of waee (a lively form of Sufi poetry and music performance popular in Sindh), broke into the Pakistani music mainstream with a big pop hit in the 1980s. Devoted to Allan Faqir's work, Wahid quietly began singing and dancing on his own. Wahid served in the military and would often lighten up his fellow soldiers' evenings by performing Allan Faqir numbers, mirroring the renowned singer's signature moves and attitude, his peacock-tail turban and engaging antics. After his idol's passing, he was determined to carry on his legacy.   
[5]
wahid
Honors and Awards
In appreciation of his services to folk culture, Allan Fakir received the following awards: 
[6]
awards
President's Pride of Performance award in 1980
Shahbaz Award in 1987
Shah Latif Award in 1992
Kandhkot Award in 1993