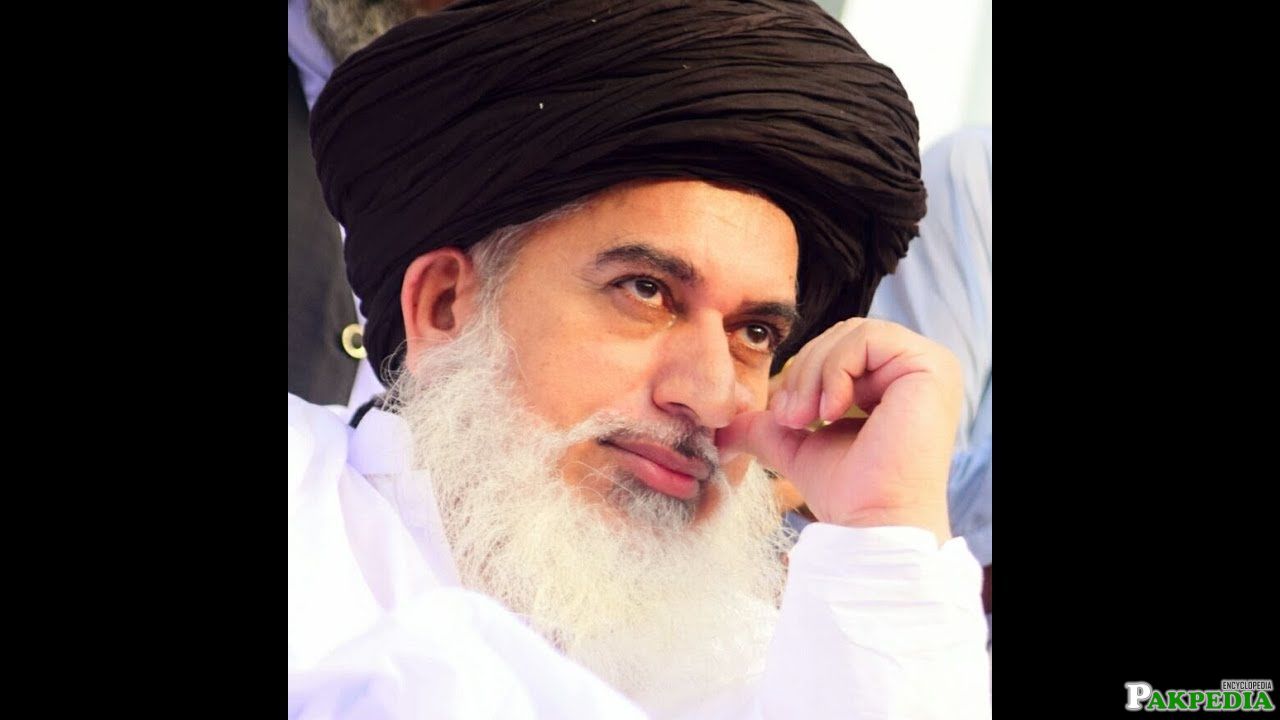 Allama khadim Hussain Rizvi Islamic Scholar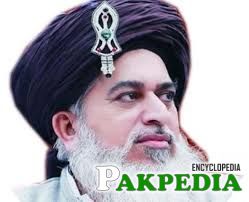 Islamic Scholar
khadim Hussain Rizvi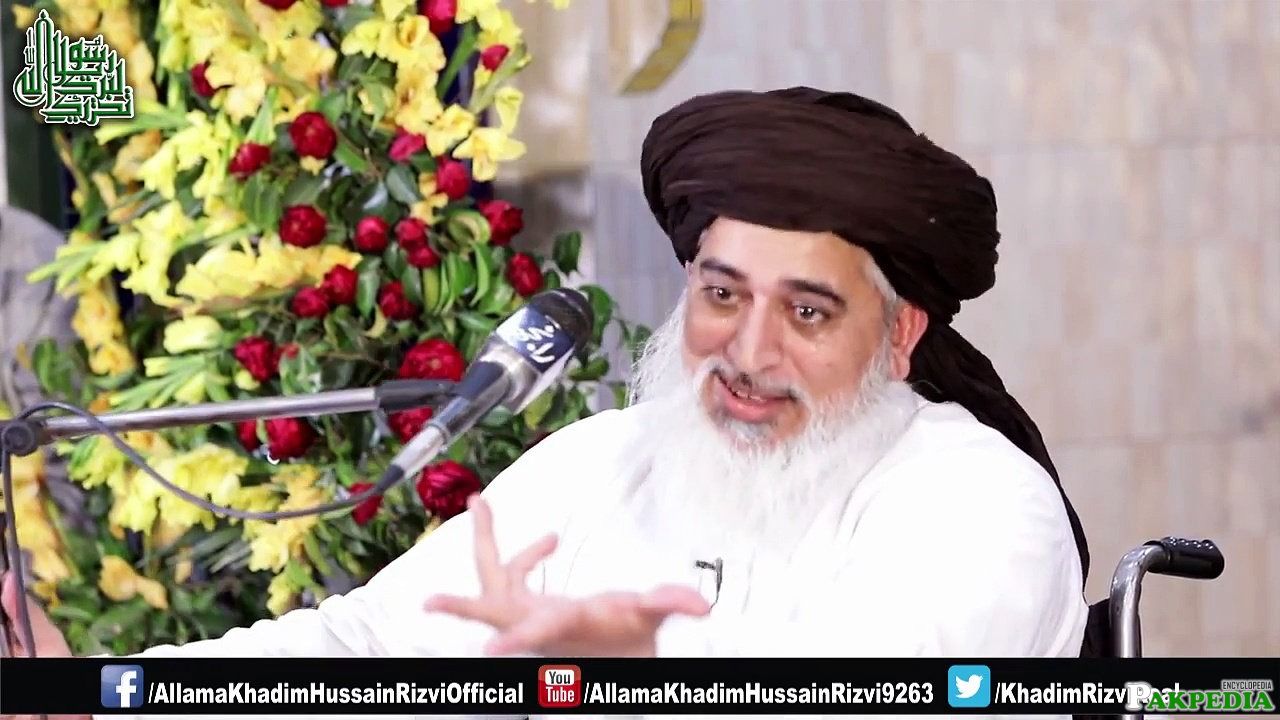 Allama khadim Hussain Rizvi
Allama khadim Hussain Rizvi At TV Channel
Biography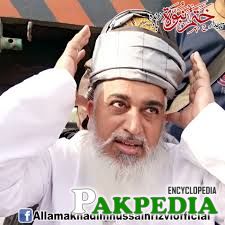 Allama Khadim Hussain Rizvi is an Islamic scholar. He used to deliver sermons at Pir Makki Masjid, near 
Data Darbar
Lahore. When Ghazi Mumtaz Hussain Qadri Shaheed killed Slaman Taseer (The governor of Punjab who termed 295C as black law) with 27 bullets, Allama Sahib showed open support for Mumtaz Qadri. It annoyed the government of Mian Nawaz Sharif and resulted in his job  being terminated, confiscating all benefits of a long service with Aukaf department. Allama Sahib happily accepted this punishment for speaking his mind out and refused later attempts of government to pay his dues and job offer for his son. His resolve to side with Mumtaz Qadri grew only stronger. 
[2]
Biography
Paraplegic on Wheelchair
Allama Sahib is a paraplegic on wheelchair due to an accident few years back. Despite his physical conditions he is one of the most traveling scholar,  delivering sermons in width and breadth of Pakistan.
[3]
 Paraplegic on Wheelchair 
Fatihah Prayer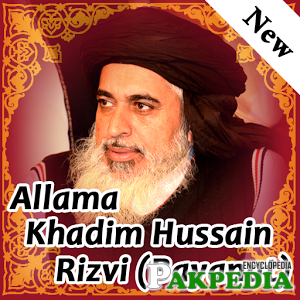 On 9-November-2016 Allama Sahib organized a Fatihah prayer at the Dr. Iqbal Mausoleum 
Lahore
. He and his followers were being restricted by the rangers deployed at grave. Allama Sahib made a small speech in the shape of a dialogue with Iqbal and asked him the question why he stood up with the Ghazi Ilam ud Din Shaheed and be considered a hero but Molvi Khadim Hussain stood with Ghazi Mumtaz Qadri .Allama Sahib is included in fourth schedule, a clause to restrict the movement of highly dangerous criminals who need to inform of their movements. Allama Sahib often say, "Look I am a disabled person on wheel chair and I am on fourth schedule for my crime being taking a stand for the respect of the Holy Prophet Muhammad (Peace and countless blessings of Almighty Allah be upon him)". 
[4]
Fatihah Prayer
Quotes by Allama Khadim Hussain Rizvi
If someone opts to not serve the cause of Islam, Islam does not kneel before him for help. Instead it empowers the weak to stand before aggressors and awards them victory.
The Islamic clerics, scholars and leaders who saved their mosques, madrasas and  turbans instead of coming out to save the respect of the Holy Prophet Muhammad (Peace and countless blessings of Almighty Allah be upon him), their services are no more wanted by Islam.
Islam preaches peace as well as self-respect. People teach Islam is peace and mean it to give out the message:
O daughters of Kashmir; you can jump in river Jehlum as there is no Shah Mehmood Ghaznavi coming to save your respect from Hindus, do not expect help from us as Islam teaches peace now.
O daughters of Syria, no Salahud Din Ayyubi will come to save you as Islam preaches peace now a days.
O daughters and sons of Burma, don't expect help from us as Islam teaches peace.
The judges of supreme of court refused to accept eleven verdicts of the Holy Prophet Muhammad (Peace and blessings of Almighty Allah be upon him) when the blood of blasphemers went wasted and no qisas or blood money punishment was imposed on killers. (Referring to judicial murder committed by the supreme court of  Pakistan in case of Ghazi Mumtaz Qadri Shaheed).
The judges of supreme court laughed and mocked, "Is it possible for someone to hurt Allah?", when the verse was recited to them, ان الذين يؤذون اللہ ورسولہ لعنہم اللہ في الدنيا والآخرۃ واعد لہم عذابا مہينا (الاحزاب-57). It is the worst thing that can happen in Islamic  Pakistan. It is the result of counterfieted version of Islam preached by us, the clerics and the peers (spiritual guides).
On the day of conquest of Mecca, the Holy Prophet Muhammad (Peace and blessings of Almighty Allah be upon him) found a bitch with cubs in the path of his ten thousand followers. He instructed a man to stand by her and divert the followers so as no one mistakenly harms her or her cubs. On the other hand a blasphemer poet by name of Abdullah ibne Khattal was killed in the Holy Kabba when he tried to get protection in its curtains. (Blasphemy is such a big crime that not even Kabba protects such a person. Had he came to the the Holy Prophet Muhammad (Peace and countless blessings of Almighty Allah be upon him), asking for forgiveness, he would surely have met a different fate as it happened to Ka'b bin Zuhayr.).[5]  Quotes by Allama Khadim Hussain Rizvi 
Personal Interests
اب تو زندگی کا ایک ہی مقصد ہے "پیارے آقا حضرت محمد مُصطفیٰ ﷺ کی ناموس پر پہرہ دینا"۔
Latest News Khatam e Nabuwat Long March Lahoreto Islamabad
Allama Khadim Hussain Rizvi 7C khatam e nabuwat long march 
lahore
 to Islamabad 7C 6 november 2017.
Khadim Hussain Rizvi Protest in Islamabad 25 Nov 2017
Thousands of Pakistani police officers in riot gear fired tear gas on Saturday as they tried to clear out supporters of a firebrand cleric who have paralyzed the Pakistani capital for weeks with a protest on a main highway.At least 200 people were injured in the violent confrontation and protests spread to other cities in response to the confrontation in Islamabad, where supporters of the cleric, Khadim Hussain Rizvi, have been camped at the Faizabad Interchange, blocking the main road from Rawalpindi.Mr. Rizvi, who leads the Tehreek-e-Labaik Pakistan party, is demanding the resignation of Pakistan's law minister 
Zahid Hamid
 over a change to electoral laws that amended the wording of an oath sworn by lawmakers.The move was quickly reversed, but his supporters had denounced the initial change as blasphemy a highly combustible issue in Pakistan, and one that has repeatedly led to acts of violence.
[6]
Protest in Islamabad 25 Nov 2017
Agreement Signed betweenGovernment of Pakistan and Tahreek Labaik Ya-Rasoolullah TLYRA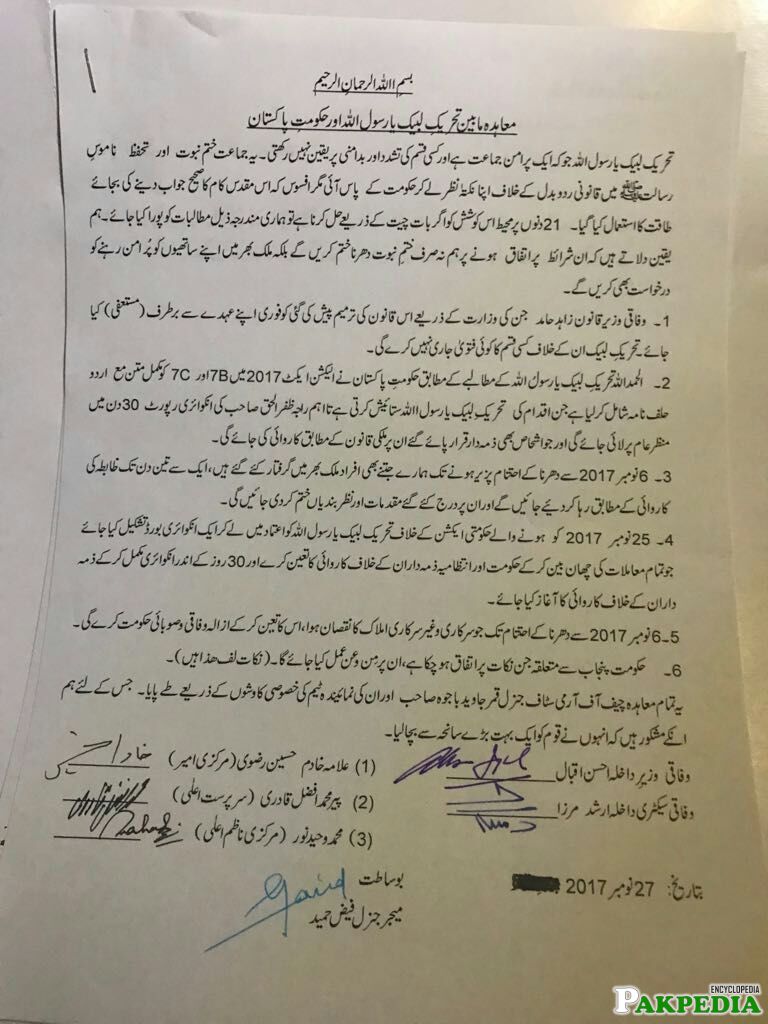 Federal Interior Minister 
Ahsan Iqbal
 and Federal Interior Secretary Arshad Mirza signed the agreement from government's side while Allama Khadim Hussain Rizvi, Pir Afzal Qadri and Muhammad Waheed Noor signed the agreement from on behalf of the religious parties.
[7]
Agreement Signed with Protesters
The Federal Law Minister should resign through whose ministry amendment in the law relating to Finality of Prophethood was made. The TLYRA would not issue any Fatwa (verdict) against the minister.
TLP appreciates the amendment (inclusion of 7B, 7C) made in Election Act along with the affidavit by the government on demand of TLYRA, however, report of Leader of the House in Senate, Raja Zafarul Haq committee will be made public within 30 days and action will be taken against the responsible for the earlier controversial amendment as per law of the land.
All activists of TLYRA, who have been arrested/detained since start of Dharna (sit-in) from November 6, should be released within three days while cases against them be withdrawn.
An Inquiry Board should be constituted in consultation with TLP to probe November 25 action of the government against the protestors. The Board should investigate, fix responsibility and propose legal action against those responsible for the operation.
The damage to public and private properties from November 6 to until now (during Dharna time) should be compiled and financial loss in this regard be borne by the Federal government.
Both the government and representatives of protestors also reached an agreement that the points relating to government of Punjab, upon which consensus had been made, should be implemented in letter and spirit.
Zahid Hamid resigned as Federal Law Minister in face of countrywide protests and Faizabad sit–in by religious parties over the Khatam-e-Nabuwwat clause fiasco.
[8]
resigned
Protest against Asia Bibiby TLP
All the supporters of PakistanTehreek-e-Labaik which was founded by Khadim Hussain Rizvi came on the streets after the court rescued Asia Bibi ( a Christian woman who was in the jail from 9 years in allegation of blasphemy) yesterday on 31st October 2018. They are doing fuss in different cities of Pakistan including Lahore, Faisalabad, Karachi, and Islamabad and have blocked all the roads. Network service has also been suspended for the safety.
Khadim Rizvi Arrested in Lahore
The head of Tehreek-e-Labaik Khadim Hussain Rizvi has been arrested by the Police along with his members in Lahore from his Hujra. According to the Police sources, several TLP leaders from different cities will be in our custody soon. The crackdown of the police occurs soon after his announcement of 25th November rally where he made a call to several leaders for a Sit in in Faizabad.
Khadim Hussain booked under terrorism charges
The leader of TLP Khadim Hussain Rizvi has been reserved under provocation and terrorism charges yesterday on 1st December told by Information Minister Fawad Chaudhry. He added that other top leaders of the religiopolitical party have also been reserved under terrorism and provocation charges including Pir Afzal Qadri, Inayatul Haq Shah, Hafiz Farooq ul Hassan and many more. While the people who were directly involved for causing the damage and loss of 50 million during the protest are also being booked.