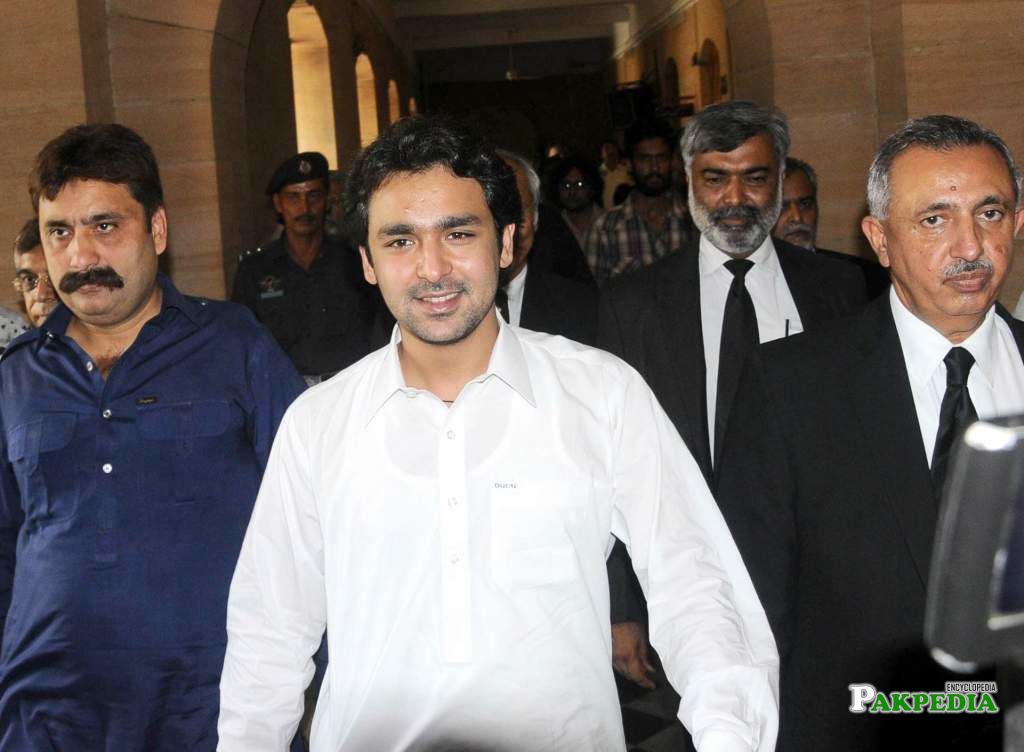 In Lahore High Court
While talking to Reporters
With Ibtihaj Hazara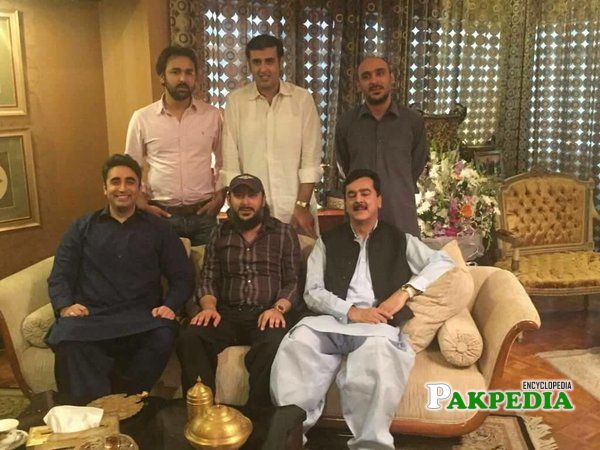 With Bilawal and Yousaf Raza Gillani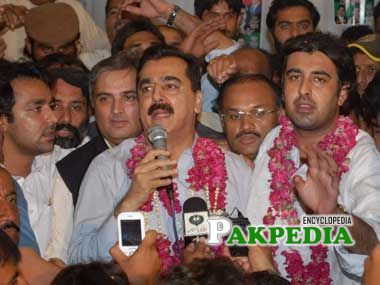 After the victory of Ali Musa Gillani
Biography
Syed Ali Musa Gillani is a son of Pakistani Politician Yousaf Raza Gillani who served as Prime Minister of Pakistan in 2008. He belongs to an influential Sufi Muslim Family of Multan. He is a grand son of Makhdoom Syed Ghulam Mustafa Shah who  served as the Chairman of Municipal Corporation Multan and later got elected as a member of the legislative assembly in 1945–46 General Elections. He actually belongs to a political family having many family members in Political field. He has 3 brothers and 1 sister including Abdul Qadir Gillani, Qasim Gillani, Haider Gillani. He is married and has a son. 
Elections 2013
Former PPPP MNA, Syed Ali Musa Gilani son of former Prime Minister of Pakistan, Syed Yousaf Raza Gilani was candidate from NA-148 (Multan-I). He contested election against
Makhdoom Shah Mehmood Hussain Qureshi
, Vice Chairman of PTI and Malik Abdul Ghaffar Dogar of PML-N and lost his seat against both of them.  Malik Abdul Ghaffar Dogar of PML-N remained victorious with 81830 votes under his belt, Makhdoom Shah Mehmood Hussain Qureshi as runner-up with 64763 votes and Syed Ali Musa Gilani was able to obtain 49918 votes from the residents of his constituency.  
[1]
Elections 2013
During Flight
A brawl took place between the PIA air crew members and Prime Minister's son and MNA Ali Musa Gilani who was on board PIA flight PK305 from Lahore to Karachi. Ali Musa insisted that his guard, who had an economy class ticket, would sit with him in the business class. The matter could only be solved when the captain of the flight came to intervene and told Gilani that if he continued his demand that was against the rules, he (captain) would turn the flight back to Lahore. The threat worked and Gilani decided to give up after which the flight continued and landed at Karachi airport.  
[2]
During Flight
Seizure of Bank Account
In September 2017 all the bank accounts of Ali Musa Gillani had been freezed by Anti Narcotics Force for which An anti-narcotics court has ordered the Anti Narcotics Force (ANF) to submit a report regarding this freezing. Judge of the Special Court for the Control of Narcotics Substance (CNS), Iram Niazi, directed the ANF to submit the report by the next date of hearing – September 28. .The direction came after the court was told that the ANF had written to different banks to freeze accounts of the suspects. Previously, the court had indicted Musa, Shahabuddin and others in the case. The suspects had pleaded not guilty and decided to stand trial. Subsequently, the court had directed the prosecution to present witnesses and evidence in the case.  
[3]
Seizure of Bank account
Attacked By PTI Supporters
Ali Musa Gillani, the son of former prime minister Yousaf Raza Gillani, claimed to have been attacked by a group of
PTI
supporters when his vehicle was allegedly hit by a jeep of Imran Khan's motorcade near Lahore. During a press conference, he alleged that a white Jeep, belonged to PTI chief 's motorcade, banged into his car, adding that  a group of  people was the part PTI Chief  Imran Khan's convey attacked him, whereas police took him to Lahore. The son of former prime minister Yousaf Raza Gillani claimed that, upon inquiry,  police informed him that the vehicle which had hit his car was the part of the motorcade of PTI chief Imran Khan, coming from Okara.  
[4]
Attacked by PTI Supporters
Reconciliation With PTI
Pakistan Tehreek-e-Insaf (PTI) senior leader Fawad Chaudhary  told that Former Prime Minister Yousaf Raza Gillani's son Ali Musa Gillani and PTI have reconciled following the obscure firing incident that occurred few days back. Ali Musa Gillani and members of PTI had blamed each other over the incident. According to the details, Ali Musa Gillani informed that PTI's leadership had contacted him and cleared the misunderstandings. On the other hand, PTI's Fawad Chaudhary said that differences have been settled between both parties over the issue and both will now back down from following the matter on legal grounds. 
[5]
Reconciliation with PTI