Ali Mohammad during a discussion in a national assembly
Ali Muhammad with his daughter
Ali Mohammad with Murad Saeed while coming from the office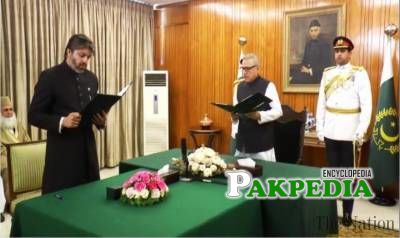 Ali Muhammad Khan sworn in as a Ministry of state
Ali Muhammad Khan Biography
Ali Muhammad Khan is an advocate by profession as well as a Pakistani politician and a member of Pakistan Tehreek-eInsaf since 2013. Ali Muhammad was born on 30 November 1977 to a respectable family and according to him, his grandfather Muhammad Wakeel who was also elected Federal Minister twice was a fixed supporter of Muslim League who also attended the Pakistan Resolution 1940 which means that he has quite a political background. 
Political career
Ali Muhammad Khan started his political career in 2013 when he contested the general elections from the constituency NA-10 (Mardan-II) and won the seat by winning 46,531 votes against the member of  Jamiat Ulema-e-Islam. Because of the clear General elections, he was first chosen as an area leader of the party. Further, party laborers upheld him to get the party ticket for the elections. For the Election campaign his party supported him and gave him funds four lac rupees (0.4 million) after which he was able to do the campaign.
Arrestment of Ali Muhammad
Back in 2014, Police  registered a case against Pakistan Tehreek-i-Insaf MNA Ali Mohammad Khan and six of his supporters after they allegedly stormed Shergarh police station, resulting in injuries to three policemen and two PTI activists. The police high-ups also suspended the SHO of the police station, Khadimeen Khan, after the occurrence and ordered an inquiry into the incident. Sources said that the incident took place over a petty issue of delay in verification of certain documents of a resident, which annoyed some local PTI leaders. 
[1]
arrest
General Elections 2018
Pakistan Tahreek-e-Insaf (PTI) member Ali Muhammad has won the race from National Assembly from the constituency NA-22 Mardan-III by anchoring 58,577 votes. As indicated by informal outcomes declared by the Election Commission of Pakistan, Muttahida Majlis-e-Amal Pakistan member Muhammad Qasim stood second by anchoring 56,318 votes. The third position was gotten by Pakistan Muslim League-N applicant, Jamshad Khan who anchored 36,625 votes.
Ali Muhammad Khan sworn-in as State Minister
Ali Muhammad Khan who served as a member of National Assembly since 2018 has been appointed as a Minister of State for the Parliamentary Affairs. President Dr. Arif Alvi controlled the pledge of office to Minister of State Ali Muhammad Khan at the Aiwan-e-Sadr on 17th September 2018 while the ceremony was attended by many politicians and senior officials. Ali Muhammad thank Prime Minister Imran Khan in his tweet with the aim of fulfilling his duty with full honesty.