Ali Moeen Nawazish was born in Rawalpindi and was an ordinary student with great dreams to do something for his country. He graduated from Cambridge University in Politics, Psychology and Sociology. He got his fame among Pakistan's people when he was interviewed by Kamran Khan on Geo TV for his achievement of getting 23's in A levels. He then decided to stay in Pakistan and opened a school for providing the best possible education to the Pakistan's youth. He writes columns to help people see the bright side and provides a hope to become the change. [1] Ali Moeen Nawazish
| Title | Description |
| --- | --- |
| Personal | |
| Name: | Ali Moeen Nawazish |
| In Urdu: | علی موین نوازش |
| Nick Name: | Moeen |
| Famous As: | first in the world to do 23 A Level subjects |
| Nationality: | Pakistani |
| Mini Info: | Personal Information |
| Residence: | Rawalpindi |
| Education: | St Mary's Academy Lalazar, Rawalpindi Roots School System Trinity Hall, Cambridge Columbia Journalism School |
| Religion: | Islam |
| Profession: | Ambassador, Columnist |
| Awards : | Pride of Performance, Agha Hassan Abedi Gold Medal, PMA Gold Medal, Nazriyati Pakistan Council Award |
| Designation: : | Guinness Book of World Record Holder |
| Years active: | 2011 |
| Born | |
| Date: | 21 February 1990 |
| Place: | Rawalpindi, Pakistan |
| Family | |
| Siblings : | Hisha Mehwish |
Personal Information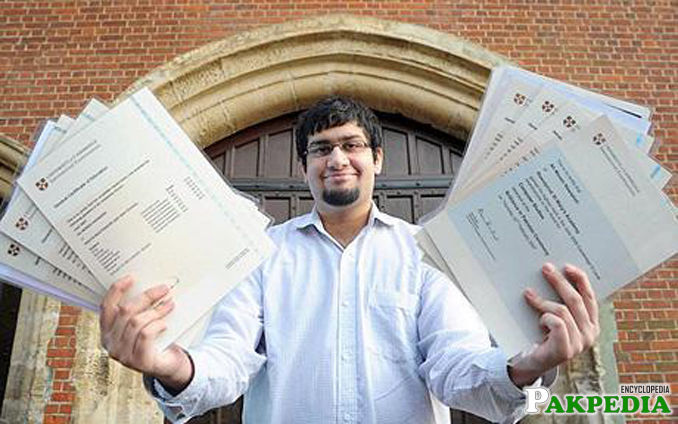 Personal Information
"A young student of Pakistani descent, Ali Moeen Nawazish was the first in the world to do 23 A Level subjects. Moreover, he achieved the highest mark in 22 of them. This student has set a new definition for the word "perfection" by being a source of inspiration to the masses in the world. He is also recipient of one of the highest civil awards of Pakistan – the President's Award for Pride of Performance. Ali is deeply humbled by this paramount achievement and longs to contribute positively to the world, particularly his home country of Pakistan." 
His vision for Pakistan inshALLAH will bring a change for the  better. [2] Personal Information
Early Life
Born in Rawalpindi, Pakistan, he lived most of his life there. He is the youngest child and both his parents work as doctors.He studied at St Mary's Academy (Rawalpindi), Roots School System during his General Certificate of Education. Ali's academic performance oscillated as a child and some times barely passed. He has claimed that he wishes to achieve greatness and elevate his homeland. He received 9 As in his O Level, along with a Top in World award in computer studies. Then he continued studies at A Level.
Media attention
In 2009, Ali completed his A Levels in a staggering 23 subjects, a world record at that time. The subjects he took include Physics, Chemistry, Biology, Math, Further Mathematics, Sociology, Urdu Literature, Travel and Tourism, General Further Mathematics, Computer Studies, ICT, Psychology, Critical Thinking, Marine Sciences, English language, Thinking Skills, Geography, Pure Mathematics, General Paper, Business Studies, Applied Geography, General Studies and Human Biology. He also received awards for the highest marks in the country in Computing and ICT. [3] Early Life & Media attention
One ambition

One ambition was fixed in Ali Moeen Nawazish's mind as he made his way through school in Pakistan. He wanted to win a place at Cambridge.Sitting seven A-levels might easily have done the trick, even though he had started to study some of the subjects only three days before the exam.But he was determined to get some good grades. So he sat another three, and three more. Then another nine. Just in case, he took a couple of AS levels along the way.
The remarkable young student, who modestly explains he has 'quite a thirst for knowledge', secured 22 A grades, one B and a C.When he filled out his university application forms at home in Rawalpindi there was barely enough space to list his qualifications.His Cambridge dream came true four months ago when he embarked on a computer science degree course at Trinity Hall. Now he is due to win another place – in the Guinness Book of Records. [4] Guinness Book of World Record Holder
Pride of Performance
Who could have believed that a young Pakistani boy could do something no one in the World thought of trying … And above all he did it just because he needed to prove to himself, that he could do it
After deciding he had to do something extra-ordinary, Ali burnt midnight oil and studied for up to 12 hours a day admitting that sometimes he had to use energy drinks to stay active and to focus on studies … the result? A world record that is hard to beat for sure!
His meritorious performance was lauded around the globe and he made the cover stories in many reputed national and international newspapers and magazines, including BBC, The Telegraph and The Independent. Mr Yousaf Raza Gillani, Prime Minister of Pakistan personally contacted him on telephone and congratulated him on his success. Ali was also awarded one of the highest civil awards, the President's Award for Pride of Performance. [5] Ali Moeen Nawazish – Pride of Performance!
Ali Moeen Nawazish Sets A-Levels World Record

]
The Urdu, English and Punjabi speaking wiz-kid is due to win another place  in the Guinness Book of Records. His Cambridge dream came true four months ago when he embarked on a computer science degree course at Trinity Hall. Ali also achieved a top score in the U.S. admissions test and was accepted by most Ivy League institutions, including Harvard and Yale.
When he filled out his university application forms at home in Rawalpindi there was barely enough space to list his qualifications. Ali finished all the exams within 12 months at Rawalpindi's Roots College International. His entry was organized through accredited boards Ed-Excel and Cambridge International Examinations. [6] Ali Moeen Nawazish Sets A-Levels World Record