Al-Fateh (LOGO)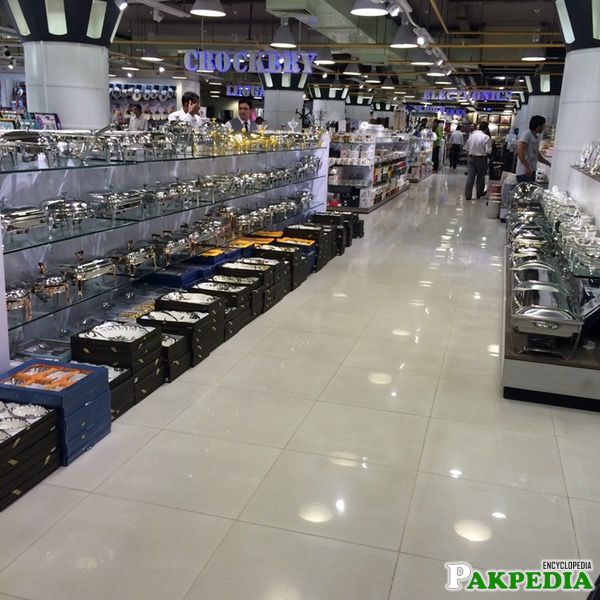 Al-Fateh Crockery AREA
IRFAN IQBAL CHAIRMAN AL FATAH
Al-Fateh Shopping Mall Building
Al-Fateh grocery Images
About
History
The journey of success began in 1941, when Al-Hamra Store was established in Tolington Market at Mall Road Lahore.
[3]
  Al-Fatah Store -  the prestigious super store of that era
It was refurbished to Al-Fatah Store, the prestigious super store of that era, in 1958. In 1974, the second branch of Al-Fatah was established in Liberty Market, Lahore. Owing to renovation and rehabilitation process of historical places of Lahore by the government of Punjab, Tolington Market Branch had to be shifted to Shadmaan
Lahore
in 1990. The duration of 1985 to 1998 was quite significant in the history of Al-Fatah. In order to meet the compatibility of the modern era, many significant changes were made in Al-Fatah Store. Buildings were extended, departmentalization took place, and in order to meet the demand of increasing numbers of customers, warehouses were extended.Al-Fatah kept on with its dedicated services, resultantly, in 2009 and new milestone was achieved with the inaugural of two branches, one in DHA Lahore and the other one in Faisalabad. This brought a tremendous response from our valuable customers that encouraged us a lot. Therefore, we plan to increase our chain of stores in future. The mega project of Al-Fatah Store Hussain Chowk Lahore is in its final stages and meets with all of the international standard requirements for a mega store. That, indeed, would be a feather in Al-Fatah's cap. This is merely a beginning. With the help of Almighty Allah, we humbly plan to develop a chain of stores in entire country and play our key role in the development of our society.
[4]
 development of our society - Al-Fateh Shopping Mall 
Categories
   cosmetics shops
   Cargo Services
   Online Payments
   Furnitures
   fast foods
   Multimedia
   CNG Station
   banks
   Garments
   Jewellery Shops
   Hospitals/Health
   watches
   Photographers
   Bakeries
   courier services
   Boutiques
   vetreniary hospital
   Paint Shops
   Pipes Stores
   Recruitment Agency
   Wood Molding Service
   Welding Material Sto
   Dawakhana
   crockery stores
   Information Technolo
   Sanitary Material
   Building Material
   Universities/Institu
   hotels and restauran
   Travel Agencies
   Book Shops
   Pallywood Stores
   Electric Material St
   Hardware Accessories
   Filling Stations
   Cutlery Stores
   businesses
   Fashion
   Chip Boards Stores
   Optical Shops
   Electronics
   Shopping Malls
   Petrol & Diesel Pump
   telecomunication ser
   Gift Shops
   Timber Stores
   Sports Goods
   Chemical Industries
OUR COMMITMENT
We at Al-Fatah, are committed day in day out to serve our clients in the best possible way. That's why, by the grace of Almighty Allah, every new generation of Al-Fatah family has been successful in revitalizing its relationship with every upcoming generation of our customers. It's our fourth generation that is now taking up the mettle to manage this grand chain of super stores. Through our years of dedicated affiliation with our customers, our real strength, we have presented principles of success in our motto statement in the following.
[5]
  Al-Fatah, are committed -  day in day out to serve our clients
QUALITY
We never compromise on quality. We believe in the best hence serve the best. We always prefer to subsidize prices for our customers to the very possible extent.
[6]
  Al  Fatah  -  compromise on quality
But it never decays the quality of our product.
VARIETY
Besides quality, we believe in variety too. With the fast pacing and technologically advancing era we aim to provide complete variety of products to our variety of customers. So that, they do not have to search around for their needs. We aim to present them with all their needs under one roof.
[7]
 Besides quality -  we believe in variety too
AWARDS ACHIEVEMENTS
For the acknowledgement of its dedicated and devoted social services, Al-Fatah has been bestowed with various awards and credits at various levels. We are very grateful to Almighty Allah for enabling us to serve humanity in the best possible ways. The detail of some of the key acknowledgements is given below, not to hum the songs of Al-Fatah but to encourage the welloff of the society to come up and serve humanity devotedly.
[8]
 Al-Fatah has been -  AWARDS & ACHIEVEMENTS
Address
Address : 51-B, Mian Mehmood Ali Kasuri Road, Gulberg-III, Lahore. Landmarks : Hussain Chowk, Liberty Market, Mehmood Ali Kasuri Road City : Lahore Phone : +92-42-35779701
Department Store
Address : Center Point Plaza, Kohinoor City, Jaranwala Raod, Faisalabad. Landmarks : Center Point Plaza, Jaranwala Raod, Kohinoor City City : Faisalabad Phone : +92-41-8556477, 8556478, 8556479
Department Store
Address : Ground Floor, Centaurus Mall, 1 Jinnah Avenue, F-8, Blue Area, Islamabad. Landmarks : Blue Area, Centaurus Mall, Jinnah Avenue City : Islamabad Phone : +92-51-2701001, 2701002, 2701003
Department Store
Address : 126-Y, Commercial Area, Phase III, DHA, Lahore. Landmarks : Y Block Market City : Lahore Phone : +92-42-35720994, 35720997
Team Al-Fateh Shopping Mall
MR. IRFAN SHEIKH
MR. SHOAIB SHEIKH
MR. ANIS SHEIKH
Director Marketing and HR
MR. MUHAMMAD SHEIKH
MR. ZOHAIB SHEIKH