Haji Muhammad Akram Ansari
With other members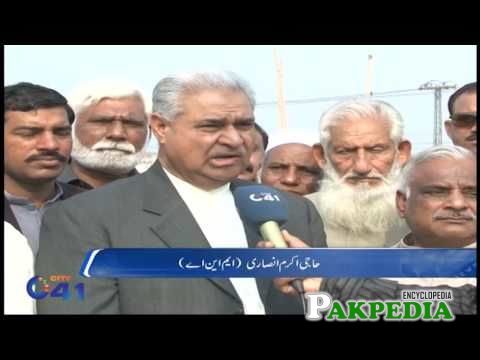 In Front of Media
Pakistani Politician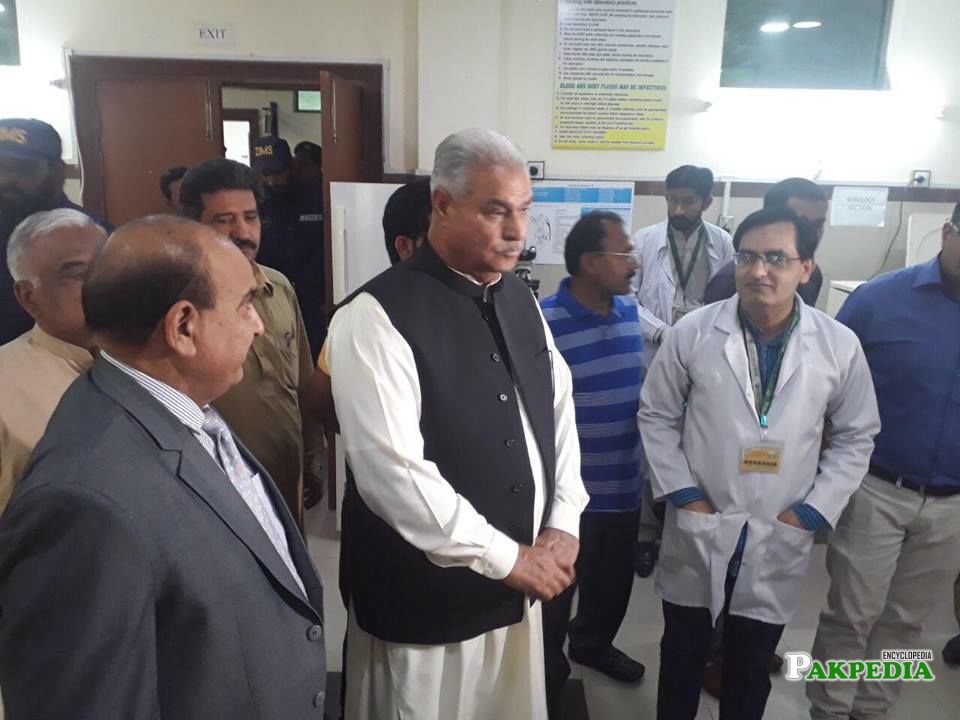 At General Hospital G M Abad Fsd
Biography
He is one of the senior members of the part
Pakistan Muslim league (N)
and a very seasoned politician with regards to election.Well educated and from a respectable family.He was born on 4 April 1954.
Political Career
Election 2008
Haji Akram Ansari, who has returned to the National Assembly four times from this constituency, has been preferred by the party to stalwart Raja Nadir Pervez, who won the 2002 general elections when Akram Ansari, being non-graduate, was sidelined.Haji Akram returned to the National Assembly from NA-63, which is now NA-85, from Islami Jamhoori Ittehad's platform in 1988 and 1990 general elections by bagging 45,962 and 60,983 votes, respectively. He was again elected to the National Assembly from the same constituency in 1993 and 1997 on PML-N's ticket by obtaining 62,592 and 62, 963 votes.
[1]
Career
His career in politics began when he decided to join PML(N) in 2008. He was given the ticket to contest elections in that same year. Being his first experience in the elections, he was remarkably able to win by beating his rival and thus became a member of national assembly (MNA). In 2008, the candidate of Pakistan Muslim League (Nawaz) (PMLN), Haji Muhammad Akram Ansari was succeeded by getting 72200 votes.
[2]
Votes
Election 2013
In the next elections, in 2013, it came as no surprise when he was given the ticket to contest in the elections. PML N wasn't disappointed this time around either as he was able to defeat his
PTI
rival this time around and secured his place in the National assembly. It is said that wanted to run for 2002 elections but didn't have the degree at the time. He was also appointed as minister of state for commerce and textile.
[3]
Election 2008
Visited NTU Faisalabad
State Minister for Commerce and Textile Industry, Haji Muhamad Akram visited National Textile University, Faisalabad on Friday, October 27, 2017. On his visit, he said that textile industry is the backbone for the economic development of a country. He said that the country was facing many problems back in 2013 but because of the progressive policies of the current government, there is not only significant decrease in the load shedding but the law and order situation of the country is also good. Providing uninterrupted electricity to textile industry has been ensured in this tenure. Knowing the challenges being faced by textile industry was the objective of his visit so that the adequate policies may be set to take textile industry from its current ailment, said the minister. On this occasion, Prof. Dr. Tanveer Hussain, Rector NTU briefed him about the current development projects and challenges being faced by NTU. Member Board of Governors, Mian Muhammad Latif, and Registrar, Dr. Zafar Javed were also present on the occasion.
[4]
Visited NTU Faisalabad
Contact Information
Permanent Address: House.No.1077-D, Raja Chowk G.M. Abad, Faisalabad
Local Address: F-210, Parliament Lodges, Ibd
Contact Number: +92 41 2681949, +92 41 2691949
Mobile Number:+92 300 6602549[5]  Contact Information