In Front of Media
Pakistani politician
Ajmal khattak & Raj Wali shah Khattak
Interview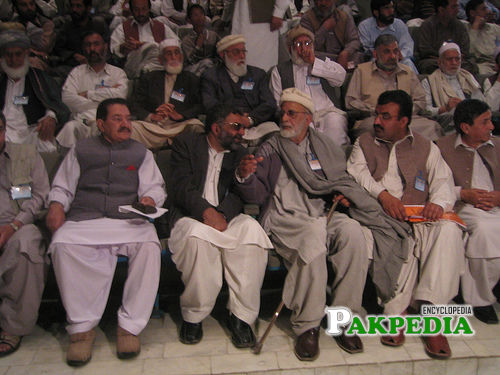 historical picture of Ajmal khatak baba and great pareshan khatak sb and others
Biography
He became a household name in the
Pakhtun
society because of his contribution to literature and politics. He had been suffering from a number of ailments for a couple of years and was occasionally hospitalized.
Education and Career
Ajmal Khattak was born in Akora Khattak on 15 September 1925. He was a student at the Government High School,
Peshawar
. His early political career began during the Quit India movement after he came under the influence of the Khudai Khidmatgar movement. He was forced to leave the school due to his involvement in the Quit India Movement. It was the beginning of a political career that stretched over five decades during which his literary pursuits and education took several painful turns. However, he did return to his studies completing masters in Persian from
Peshawar University
. At Islamia College, Peshawar, he was among the pioneers who put Pushto literature on the 'modern' track. Linking it to European literature, particularly English, he was able to give it new direction and was acclaimed as a progressive poet. He has had a long career in both the Indian Independence Movement movement against the British in the Khyber Pakhtunkhwa (then NWFP) of what were then British India as well as part of the
National Awami Party (NAP)
in its various incarnations in Pakistan.
[1]
Education and Career
Served As
He twice served as the president of the Awami National Party and became the party's general secretary in 1973.
[2]
Served As
United Democratic Front
Mr Khattak was organizer of the United Democratic Front and was the stage secretary of a public meeting at Liaquat Bagh in
Rawalpindi
on March 23, 1973, when shots were fired at the leaders, including the late
Khan Abdul Wali Khan
, and several political workers were killed.
Writer and Books
He was the Author of many books in Pashto as well as in Urdu. He has written 13 books on both subjects.
MNA
He was elected MNA from Nowshera in 1990 and senator in 1994."I am deeply concerned about the political situation in South Asia. What is being done against the Pakhtuns troubles me more than my illness," he had told Dawn from a hospital bed last year.
Mushaira in Islamabad
He received the information of his expulsion from ANP while he was attending a Mushaira in
Islamabad
and his immediate reaction came out in the form of the following verses; (I don't care I will take a begging bowl and go to the people, will ask for the welfare of the country and the nation; I'll go to the old and seek their counsel, I'll go to the young and will awake them) .
[3]
 Mushaira in Islamabad 
Poet
Mr Khattak had developed a feeling that being a man of letters his involvement in active politics was an aberration. He had been born with the restless soul of a poet and realized that he could serve his people through his poetic talent.Like many other important poets of the sub-continent, he too was influenced by the Russian Revolution.His poems, highlighting the exploitation of peasants and other oppressed people, were sung at meetings of progressive parties.He set a poetic tone different from that of his contemporaries. His poetry is a blend of the beauty of human nature and the courage of a revolutionary.
First Poetry
His first poem was published in 1944 in the magazine Pakhtun and the first collection of his poems, Da Ghairat Chagha, was published in 1958, but banned in Pakistan and Afghanistan.
Popular Books
His popular books include Batoor, Gul Parhar, Guloona Takaloona, Da Ze Pagal Wom?, Zhwand Au Fan, Kachkol, Da Afghan Nang, Da Wakht Chagha, Da Zhwand Chagha and Qisa Zama Da Adabi Zhwand.Mr Khattak also authored Jalawatan ki Shairi, a collection of his Urdu works.
Awards
He received the Kamal-i-Fun Award in 2008.He also received award Sitara-e-Imtiaz.
Death
Khattak, who died on February 7, 2010, was a renowned poet of the Pashto language and among the most prominent politicians of the region.
[4]
Death