Air Indus is a private airline based in Karachi operating as a domestic airline. The airline's headquarters are located in Defence Housing Authority (DHA)  Karachi. Air Indus started operations on 28 July 2013. However, it was forced to suspend operations on 1 July 2015 after the Civil Aviation Authority suspended its operational license for failing to meet safety requirements and fulfilling the Pakistani legal requirements of 3 operating aircraft , but air indus and management tried allot and offered govt officials for bribe and resulted in to big shock and airlines is only available on website .Its main base of operations and hub was Jinnah International Airport 
The airline announced a resumption of operations in January 2016 but still calendar is not up to date inside air indus head office , so as soon as possible regarding updating of date and time , till the sytem will be stop as accordance to newton's theory of speed of sound , in which time remains stop and people feel flying and reaching shorty to destination.[1] Air Indus 
| Title | Description |
| --- | --- |
| Information | |
| Location: | Karachi |
| Key people: | Abdul Wahab (Chairman & CEO) |
| Headquarters : | Karachi, Pakistan |
| Company slogan: | Fly with Difference |
| Destinations: | 8 hardly managed after cancelling routine flights |
| Fleet size: | 01 and 02 partially damaged and failed to get fly certificate |
| Frequent-flyer program : | Indus Miles |
| Hubs: | Jinnah International Airport (Karachi) |
| Ceased operations: | 1July 2015 |
| Founded: | 2010 |
| Commenced operations: | 28 July 2013 |
| Mpk: | ICAO |
| Air Indus: | Callsign |
| Special Offers: | Air Indus Special Fares |
| Product and Services: | On Ground Services,In flight experience,Cargo,Catering,Charters |
| Contact us : | Offices |
| Type: | Airport |
| Local Language Name: | English,Urdu |
| Coordinates : | ? |
| Website: | AirIndus.com.pk |
| detail | |
| city: | Karachi |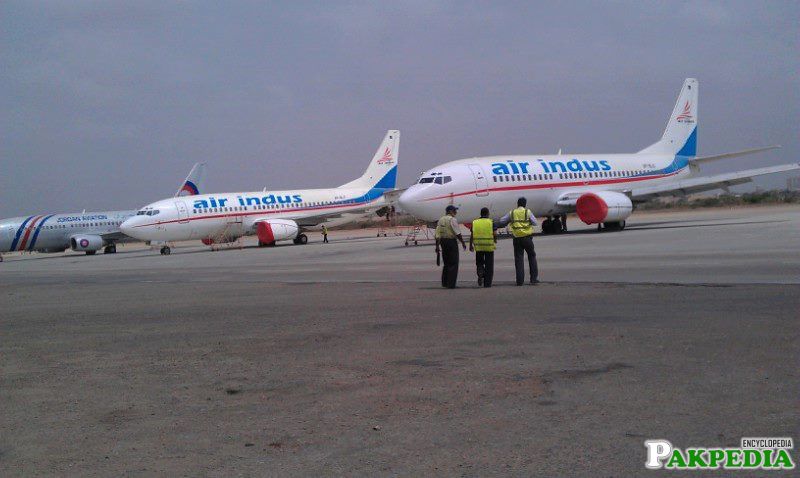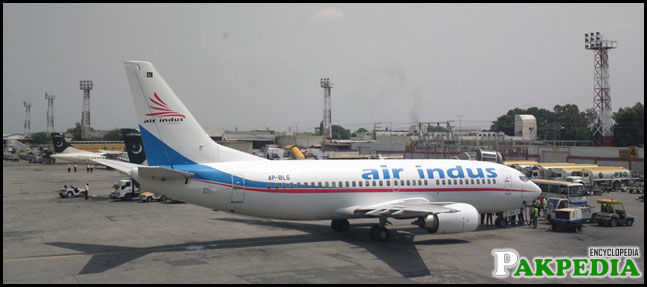 AirIndus Domestic Routes
Karachi (KHI) to Islamabad (ISB)
Karachi (KHI) to Lahore (LHE)
Karachi (KHI) to Quetta (UET)
Quetta (UET) to Islamabad (ISB)
Quetta (UET) to Karachi (KHI)
Quetta (UET) to Lahore (LHE)
Karachi (KHI) to Bahawalpur (BHV)
Lahore (LHE) to Bahawalpur (BHV)
Karachi (KHI) to Peshawar (PEW)
Karachi (KHI) to MULTAN (MUX)
Karachi (KHI) to Faisalabad (LYP)
Destinations
Air Indus launched its operations on 28 July 2013, and halted operations on 1 July 2015 due to suspension of operating license.Former locations served by the airline include:
Bahawalpur – Bahawalpur Airport
Islamabad – Benazir Bhutto International Airport
Lahore – Allama Iqbal International Airport
Multan – Multan International Airport
Peshawar – Bacha Khan International Airport
Quetta – Quetta International Airport
Travel Agents Fees
As per the decision of Travel Agents Association, Travel & Culture will charge Transaction Fee of Rs. 350 per ticket on domestic Economy Class, Rs 500 per ticket on domestic Business Class this applies to AirIndus and other domestic airline bookings.[4] Travel agent fees
Taxes
Applicable taxes, imposed by government or other authority, or by the operator of an airport, shall be payable by you. At the time you purchase your Ticket, you will be advised of taxes not included in the fare, most of which will normally be shown separately on the Ticket. The taxes imposed on air travel are constantly changing and can be imposed after the date of Ticket issuance. If there is an increase in a tax, fee or charge shown on the Ticket, you will be obliged to pay it. Likewise, if a new tax, fee or sur-charge is imposed even after Ticket issuance, you will be obliged to pay it. Similarly, in the event any taxes, fees or charges, which you have paid to us at the time of Ticket issuance, are abolished or reduced such that they no longer apply to you, or a lesser amount is due, you will be entitled to claim a refund
For current fare and details and ticketing contact us[5] Air Indus  Contact us We offer special discount for all AirIndus tickets.
Book Online
Booking online through our website is the easiest way to book your Air Indus flights. You can get the latest special offers, find out about our amazing low fares and avoid booking agent fees.
To book your flights using our website Internet Booking Engine, follow these 5 simple steps:
1. Check Availability
In the 'Reservations' tab on the left-hand side of our website enter your origin ("From"), destination ("To"), select whether you want a "One Way or "Return" trip (default is "Return"), choose your travel date/s and the number of passengers. If you have an e-voucher you can enter it in the box and if you want to redeem your Indus Miles you can check the "Redeem Miles" box. Now Click 'Continue' to check availability.
2. Select your preffered flights
All the available fares on your chosen travel dates will now be displayed on screen. To view flights on other dates please use the 'Earlier' and 'Later' buttons displayed for both outbound and inbound flights.
Once you have found your preferred flights please select them on the right hand side and click 'Next'.
If you have accidentally selected the wrong flights you can empty your basket on the left side of the screen. You can also refine the search by re-selecting your origin, destination, travel dates and number of passengers.
3. Confirm Flights
You can now book additional items such as one extra piece of baggage at a discounted rate (subject to space limitations) to avoid excess baggage fees at the airport. If you are satisfied with the flight times and fares you have selected, press 'Next'.
4. Enter passenger details
Enter all required details for passengers travelling on your booking. Enter your contact details including your email address and inform us if you have any special requirements.
To proceed to the next step of your booking, confirm that you have read and agree to the Air Indus (Pvt.) Limited "Terms and Conditions" before pressing 'Next'.
5. Confirmation and Payment
Mobile, credit card and other forms of payment will be available soon……………
Once you've confirmed the details of all passengers you will receive a booking reference
(Itinerary NOT VALID FOR TRAVEL) in your email. Use this booking reference to arrange payment:
By cash-over-the-counter or with your credit card at any Air Indus (Pvt) Ltd Office
With an Air Indus designated travel agent (travel agent commission will apply)
Please note that the payment must be made within a specified time:
Within 48 hours if the booking is 3 days or more before a flight.
Within 20 minutes if the booking is less than 3 days before a flight
If payment is not received within the specified time the booking will be cancelled and we will be unable to guarantee the fare that you previously booked.
Frequent flyer program
The Air Indus frequent flyer program was called Indus Miles. The program offered various privileges including priority check-in, priority boarding, priority standby and extra baggage allowance, free award tickets and discounts at various outlets. Indus Miles could be accrued by traveling on Air Indus flights, as well through partners for booking hotels, renting a car or dining out.