With Hania Amir on set of 'Phir wohi Mohabbat'
On set of 'Hum style awards'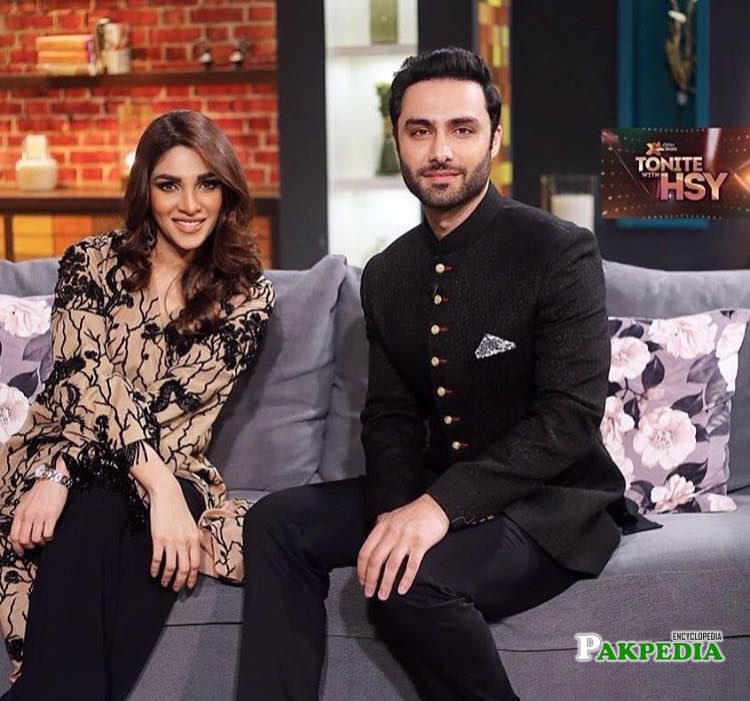 In HSY show with Zhalay sarhadi
With Yumna Zaidi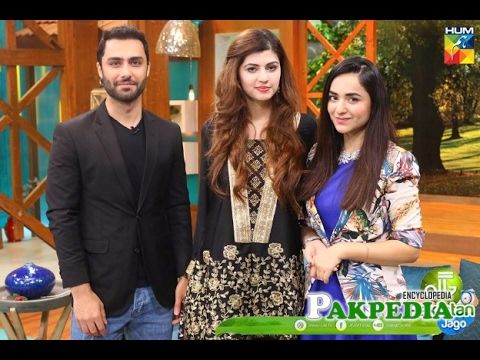 In morning show for the promotion of 'ye raha Dil'
Biography
Ahmed Ali is a Pakistani Theater and TV actor, who joined the showbiz industry by first making his appearance in a PTV show called 'Top Watch', at the age of 13.  He was born on 7th February, 1982. He is 34 years old. Ahmed Ali's family hails from
Rawalpindi
and his father Muhammad Ali Akbar is a famous tennis coach. He has a brother named Abid Ali Akbar. Ahmed Ali was formally an athlete and he was also a tennis player on national level. Tennis is the family game of Ahmed Ali. His brother Abid Ali Akbar is also a national tennis player and his father Muhammad Ali Akbar was a coach and captain of Pakistan tennis team in 1990s. 
[1]
Biography Biography
Initial Career
Ahmed Ali Akbar became a part of showbiz at very young age. Ahmed Ali appeared on TV for the first time when he was 13 years old in a PTV show 'Top Watch'. Ahmed played a supporting role in this kids show. Ahmed Ali also worked as a musician before starting acting career professionally. He was a member of an underground music band 'Nafs' and he used to play rock music. Ahmed has also been associated with theatre for some time. Ahmed was a prominent actor of Urdu production of 'Taming of the Shrew' played in a world famous Globe Theatre in 2012. Ahmed Ali is also a handsome model of Pakistan fashion industry. He has worked in many TV commercials as a model. Ahmed Ali is a stunning host too. He hosted the Hum Style Awards and mesmerized everyone with his charm.  
[2]
Career Career
Showbiz Career
Ahmed Ali came into limelight in 2013 through the Pakistani horror film 'Siyaah'. Ahmed played a small role in this film but it opened the doors of success and fame on him. Ahmed has also acted in many other successful Pakistani movies including 'Karachi Se Lahore'. After the success of his first film Ahmed started acting on small screen. Ahmed has worked in many hit and successful TV serials of different channels. Ahmed started his small screen journey with TV serial 'Dosri Bivi' of ARY Digital. In this TV serial Ahmed appeared as a supporting actor but his acting got huge appreciation and in the same year Ahmed Ali appeared as a lead actor in TV serial 'Shehr-e-Ajnabi' of A-Plus. This TV serial was also aired on Zindagi channel of India. After that Ahmed appeared in many memorable TV serials including 'Ishq Parast', 'Paiwand', 'Guzarish', 'Ye Raha Dil', 'Munkir'  and many more. 
List of Dramas
Dusri Biwi – Drama (2014)
Shehr e Ajnabi – Drama (2014)
Ishq Parast – Drama (2015)
Paiwand – Drama (2015)
Ghuzarish – Drama (2015)
Yeh Raha Dil – Drama (2017)
Munkir – Drama (2017)
Phir wohi Mohabbat (2017)  
List of Movies
Siyaah                    (2013) Tamaana                (2014) Lahore Se Agay     (2016) Ho mann jahan       (2016) Paarchi                   (2018)    
[3]
List of movies
Interview For the Friday Times
In an intimate and exclusive interview for the Friday Times, Ahmed Ali talks to Ally Adnan about acting, show business, abuse in the industry, Pakistani society and the values he holds dear
You have worked in films television serials and stage plays. How have you found the three media to be different
In my opinion, the three media belong to different people. Film is a director's territory. He can make or break a film and has the greatest control over the quality of the film. Television belongs to writers who have the time, over several episodes, to allow characters to develop fully, themes to evolve completely, and stories to progress effectively. Their contribution to the success, or failure, of a play is the greatest. Stage is an actor's medium. During a performance, he is totally on his own and has the audience in the palm of his hands.
How are the three media different for actors
Television and film are relatively similar for actors. Theatre, on the other hand, is vastly different. One major difference is the location of the audience. In theatre, some members of the audience can be as far as a hundred feet, and at different levels. Actors, therefore, need to perform for those who are farthest from the stage and keep in mind the stall, dress and balcony levels. Performances are consequently exaggerated, larger than life and overstated. The second major difference is rehearsal. Ever since cameras have become digital and hard disks have replaced film stock, the rehearsal time for films has gone down. It does not cost money to roll the camera anymore.
What is your favorite medium
It is theatre, hands down. Nothing beats the energy, excitement and exhilaration of theatre. It is the most difficult – and the most enjoyable – medium for actors. I love theatre, but film follows closely.
Do you plan to be an actor in the long run
Acting has become a very important part of my life. I intend to continue it for as long as I can. However, I have a huge interest in film direction. I believe that I will enjoy the artistic, technical and managerial aspects of being a director, immensely. As I am growing older, I am learning more and more about myself. I know that I will always have a career in show business but feel that I will eventually move to direction.   
[4]
Interview Interview