Pakistani Writer
Receiving Award
Journalist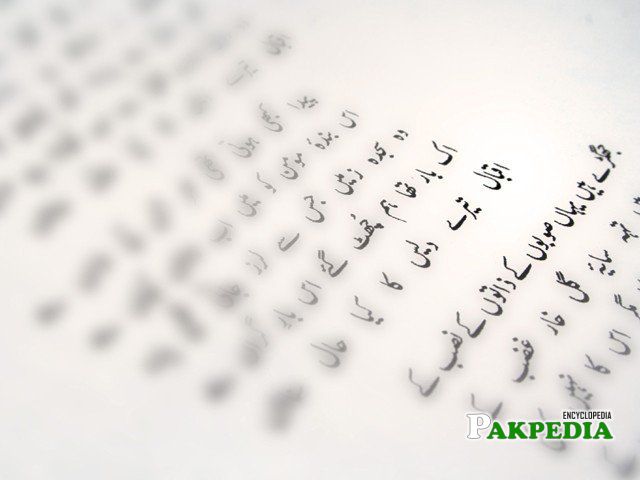 The collection of poems by journalist and writer Ahfazur Rahman depicts Pakistan's predicaments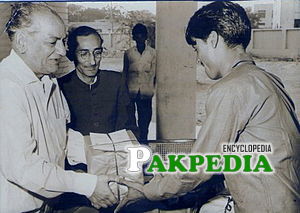 Rahman receiving the first prize from Faiz Ahmad Faiz
Biography
Ahfazur Rahman is a well known Journalist, Writer and Poet. He was born in Jabalpur, India. He was migrated with his family to
Pakistan
in 1947. Rahman has written many books and translations for many languages. He was equally inspired by his efforts for press freedom.
[1]
Biography
Journalist and writer Rahman has written a book about the journalists' movement of 1977-1978. The book titled 'Sab se Bari Jang' was launched on Saturday at the Arts Council of Pakistan. Many eminent journalists were present at the event.According to Rahman's wife and journalist, Mehnaz Rahman, the book was written on the importance of 'freedom of speech'.
Career
In 1969, Rahman landed a job in the Foreign Languages Press in Beijing China. These were the years of Cultural Revolution. During that time, Rahman says that while he saw and appreciated some of the progress that the country had made, he naturally also saw some of the things in the wrong direction. Rahman, along with other few foreign journalists was invited by the Chinese govt. to go and work in rural areas with Chinese farmers and witness the reforms that had been implemented. However, here he met a very old woman who had been ordered away from her family and made to work in the farm. Rahman later wrote a very touching short story entitled, "Dreams" about this woman, with the backdrop being his disillusionment with the cultural revolution.
China
He stayed in China till 1972 (four years) and translated many famous books of Chinese literature as well as the selected writings of Mao Zedong and others. He also compiled a text book for Urdu for Peking University.
Returning to Pakistan
Rahman began his activism anew upon returning to Pakistan at the end of 1972. During the historic journalist movement against
Zia-ul-Haq
's regime in 1977-78, Rahman went underground and organizedthat movement and had to change 30 hideouts to escape arrest during that period. The movement had started in 1977, when the Daily Musawaat,
Karachi
, a newspaper with Pakistan Peoples Party (
PPP
) leanings, was banned by General Zia's government.
Historic Movement
The historic movement during the Zia ul Haq regime consisted of three phases that lasted from Dec 1977 to July 1978. Rahman, at that time the General Secretary of Karachi Union of Journalists, was nominated Secretary General of the Joint Action committee of the Pakistan Federal Union of Journalists(PFUJ) and APNEC (All Pakistan Newspaper Employees Confederation) to organize the movement for the freedom of the press.
Chinese Government
In 1985, he was invited back by the Chinese government to again work for the Foreign Languages Press in Beijing. This time he spent eight years there during which time, he translated numerous Chinese novels, plays, short stories, stories for children and biographies into
Urdu
.After coming back to Pakistan in 1993, Rahman joined Daily Jang, the largest selling Urdu newspaper in Pakistan, as the Magazine Editor.
President of the PFUJ
In 2002, he was elected unopposed President of the Pakistan Federal Union of Journalists (PFUJ), which is the sole representative body of Pakistani journalists and is affiliated with the International Federation Of Journalists (IFJ), the largest federation of journalists in the world.During this time he faced great opposition from the Jang group owners, due to his role as the President of the PFUJ when he constantly protested against the greed of the newspaper and media house owners of the country for not giving the workers their due rights and for not implementing the wage board award as had been directed by the Government for long.
Urdu newspaper Daily Express
He was finally forced to pay the price for his outspoken activism when the Jang group terminated his services. After yet another period of unemployment, Rahman finally found a job in the Urdu newspaper Daily Express as the Magazine Editor. He also writes a weekly column that appears on Sundays in Daily Express, titled "Black and White" (Syaah o Safaid).Rahman has worked to "revitalize" the Karachi Press Club and has "condemned the opportunist elements that were bent upon de-politicising the vibrant club".
Won Prizes
Rahman receiving the first prize from
Faiz Ahmad Faiz
in an Indo-Pak Youth Essay Writing Competition on Faiz.While still in high school he won the first prize in a competition for his article on the Urdu Poet and socialist Faiz Ahmad Faiz entitled 'Gandum kay khet, bachon kay haath aur shair," organised by well known literary magazine Afkar. He also won the first prize for "Paighamber kay naam", an article on the writings of Krishan Chander in a competition organised by Indian literary magazine 'Shair".
[2]
Won Prizes
Inspired by
Inspired by Sahir Ludhyanvi, Krishan Chander and other stalwarts of the Progressive Writers' Movement since his school days, it was not astonishing that he emerged as a student leader of the left-wing student organisation, National Students Federation (NSF) and participated in 1962 and 1964 student upsurges against General
Ayub Khan
"s regime with zeal.
Publications
Nai Alif Laila, a collection of poetry (poems and Ghazals)
Jang jari rahay gi, a collection of articles
Chou En Lai, biography,translation from English
History of China, translation from English
A Jail Warden's diary (prize winning short stories from China, translation from English)
Lunar Eclipse (prize winning short stories from China),translation from English)
Sunrise, a play by world renowned playwright, Cao Yu, translation from English
Selected works of Mao Tse Tung, co-translator, translation from English
Family, a novel by world renowned writer, Mao Dun,translation from English
Taras Bulba, famous Russian novel by Nikolai Gogol,(adapted for children) translation from English
World of Stories (for children) by famous Bulgarian writer, Angel Karralichev,translation from English
Autumn in spring, collection of short stories by world acclaimed Chinese writer, Ba Jin, translation from English
Qui Yuan, classical Chinese play by world renowned writer, Ko Mo Ro
Three Conceited Kittens, Chinese novel for children, translation from English
The Adventures of the Rag Doll, Chinese novel for children, translation from English
Neemoo Keemoo, a short novel for children
Great Britain, s book of general knowledge for Pakistani children
Also translated about 50 pictorial Chinese books for children as well as books of Chinese folk tales
Written hundreds of articles on political, social and cultural themes published in leading Urdu journals and newspapers
30 short stories in reputed literary magazines
Career in journalism
Group Magazine Editor Daily Express, April 2005 till present
Executive Editor Daily Amn, 2004-2005
Group Magazine Editor Daily Jang, 1993-2004
Editor Urdu Section, Foreign Languages Press, Beijing, China 1985-1993
Assistant Editor Monthly Aalami Digest, Karachi 1979-84
Magazine Editor Daily Mussawat, Karachi 1973-77
Assistant Editor Weekly Al-Fatah, Karachi 1972-73
Editor Urdu Section, Foreign Languages Press, Beijing, China, 1969-1972
Sub-editor Weekly Akhbar e Jahan, Karachi 1966-68
Professional Trade Unionism
President, Pakistan Fededral Union of Journalists, 2003-4 and 2004-5
Secretary General of the Joint Action committee of PFUJ and APNEC, 1977-78 (movement for press freedom against Zia ul Haq)
General Secretary, Karachi Union of Journalists 1976-78
Joint Secretary, Karachi Union of Journalists, 1973-4 and 1974-75
Member Executive Council National Students Federation (NSF), Pakistan 
Illness
The writer has fought cancer while writing this book, said Mehnaz. According to her, this book is also an example of how to fight for your life."All the journalists and the people of Pakistan should thank him for fighting for freedom of speech in 1977 and for writing this book," said the editor of Roznama Express, Tahir Najmi. Talking about the movement, he said the Pakistan Federal Union of Journalists (PFUJ) had no funds at that time. "The movement only stood firm because of its motivational members."
Message
Giving a message to those stepping into the world of journalism, Rahman advised them to read. According to him, one can only increase information and vocabulary through reading. "An armless man cannot fight for his survival and the arms of a journalist are his words — words that he derives from more and more study," he said.
[3]
Message