Afzal Electronics is Home Appliances selling Company
Afzal Electronics's shop
Advertisement of Afzal Electronics
Show room of Afzal Electronics
Afzal Electronics in eight cities
About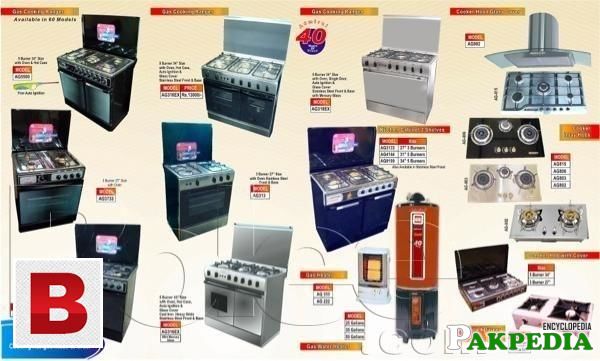 Join the Afzal Group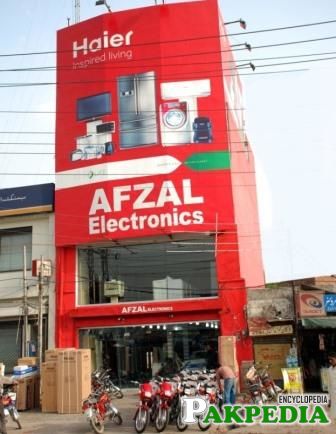 Afzal Group grew to a leading home Appliances selling Company in Pakistan, in a very short span of time. This was achieved by the tireless efforts of our devoted Management, highly motivated professionals and dedicated team work, committed to excel in the quality and services. Afzal Group is one of Pakistan's best loved brands and employees over Team Members across Stores, Distribution Centres, Buying offices in all cities of Pakistan. 
[2]
This was achieved by the ------------   tireless efforts
Products
Brands
A new strategy for mobile retailers
This trend is not new for the world, but Afzal Electronics took an initiative and made a move by offering an installment plan for mobiles phones in Pakistan. Afzal Electronics has been developing a trend where customers can easily get a cellphone of their choice with a minimal payment.
Procedure of Installment Plan
There are different plans, ranging from 6months – 1 Year. [3] There are different plans, ranging from 6months
Customer has to give a postdated full payment cheque to the company.
A stamp paper of PKR 300 must be signed by the customer.
Verification team will visit the customer's address or office.
The Handset will be delivered to customer within 24-48 hours.
Branches Of Afzal Electronics
Branches of Lahore
Lohay Wali Puli Badami Bagh Drain Rd
Ganjy Wali Katee Main Bund Rd
Nr. Metro Train Station Awan Town Multan Rd [4] Nr. Metro Train Station Awan Town Multan Rd 
Punjab Flour Mill Rachna Town Shahdara GT Rd
Fruit Mandi Singh Pura GT Rd
Total Petrol Pump 444 Kasur Pura Stop Ravi Rd
Town Ship Madina Rd
PSO Petrol Pump Peco Rd
Gulshan Ravi 18-A Nr. Punjab Bank
Bagrian Chowk Green Town
Zarar Shaheed Rd. Jory Pul
Guru Managat Rd. 7Up Stop
Qainchi Metro Stop Ferozepur Rd
Main Boulevard Nr. Adil Hospital DHA Cantt
Bhatta Chowk Defence Rd. Cantt
Branches of Sialkot
Mazzeo Cantt
Nr. Total Petrol Pump Pakka Garha Kashmir Rd.
Nr. Total Petrol Pump Chowk Kotli Behram Kashmir Rd. [5] Nr. Total Petrol Pump Chowk Kotli Behram
Kotli Loharan Mashraqi Head Marala Rd
Main Bazar Sambrial Wazirabad Rd.
Pulli Toop Khana Nr. PSO Pump Cantt
Nr. Gourmet Bakers Badiana Pasrur Rd
Doburji Mallian Daska Rd
Branches of Rawalpindi
Main Pandora Chungi Opp. 1C Van Stop Saaid Pur Rd
Nr. Dar-e-Arqam School Main Range Rd
Shafee Arcade Plaza Main Air Port Rd
Saddar Nr. Nice Plaza Canning Rd.
Chour Chowk Peshawar Rd
Khayaban-e-Sir Syed Sector 3
Branches of Multan
Nr. Rustam Flour Mills Chowk Shah Abbas Vehari Rd.
Nr. Allied Bank Rasheed Abad Chowk
Haans Plaza Metro Shalimar Chowk Bosan Rd
Nr. Excise Office MDA Chowk MDA Rd.
Farooq Pura Chowk Old Shujah Abad Rd
Gujjar Khada Rd. Opp. 1 Minar Wali Masjid
Gulgasht Colony Bosan Rd.
Branches of Faisalabad
Nr. Allied Hospital Allied Mor Sargodha Rd
Parbat Nagar Nr. Lakar Mandi Chowk Jhang Rd
Abdullah Pur Chowk Jarran Wala Rd. [6] Abdullah Pur Chowk ---------------   Jarran Wala Rd.
Millat Chowk Millat Rd
D-Type Colony Chowk Samundri Rd.
Sitayana Rd
Ghumtti Chowk Circular Rd
Nar Wala Chowk Kotwali Rd
Branches of Islamabad
Nr. Rawat Ada Awan Plaza Main GT Rd
Gulberg Town Main Ali Pur Latrar Rd.
Maa Jee Plaza Khana Pul Lehtrar Rd.
Rabnawaz Plaza Bhara Kahu Murree Rd
Branches of Peshawar
Nr. Asia Gate Circular Rd
Nr. Faisal Colony Chowk main Dalazak Rd
Nr. Alpha Tower Hussain Abad Gulbahar Rd
Nr. Hotel Grand Tehkal Bala Main University Rd
Branches of Sheikhupura
Main Stop Nabi Pura Nr. Under Pass Sargodha Rd
Allama Iqbal Park Sargodha Rd
Kot Abdul Malik Nr. MCB Bank
32 Chowk Sargodha Rd
Branches of Jhelum
Rescue 15 Office Railway Rd
Branches of Sargodha
Chungi No 9 Abdullah Colony Lari Adda Rd
Lari Adda Rd. Qainchi Moor
City Stop Main Khushab Rd