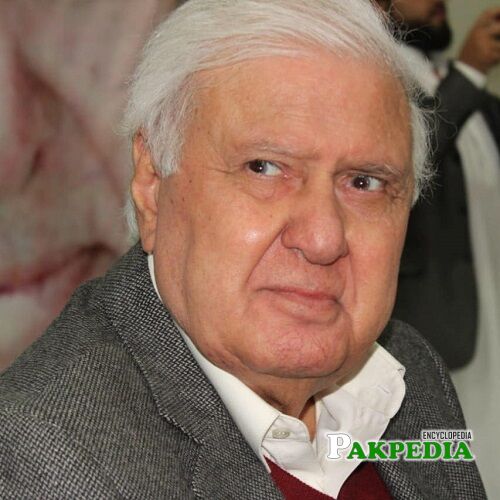 Aftab Ahmad Khan Sherpao Biography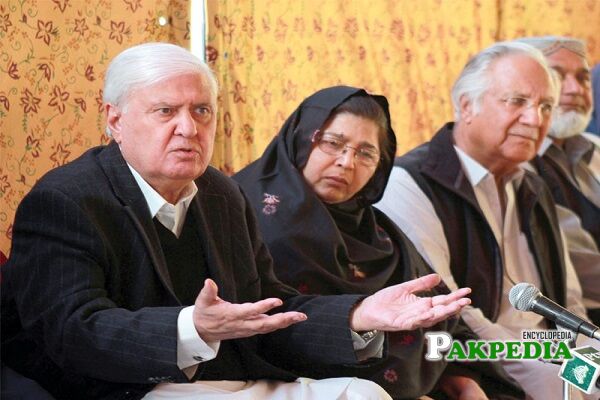 Aftab Ahmad Khan Sherpao Family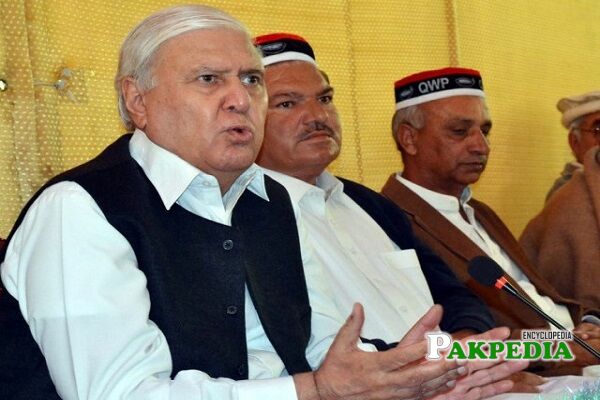 Aftab Ahmad Khan Sherpao contact number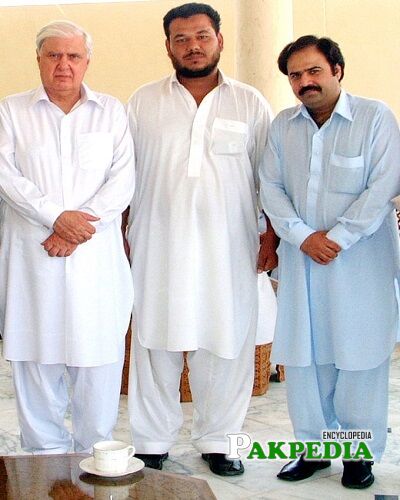 Aftab Ahmad Khan Sherpao politics
Aftab Ahmad Khan Biography
Aftab Sherpao is known for originating Qaumi Watan Party. He has worked under several ministries. Before joining politics, he was part of the Pakistan Army where he served as a Major. He has also taken part in the 1965 and 1971 wars. It was after the assassination of his brother, Hayat Khan Sherpao that he started his political career. He was elected as 14th and 18th Chief Minister of Khyber Pukhtukhwa. Musharraf government. He was appointed as Interior Minister and Minister for Water and Power. Aftab Sherpao was accused of bombing a madrassa in Bajour.
Aftab date of Birth
He was born on 20 August 1944 in a Gujjar tribe.
Education of Sherpao
Sherpao got his early education from Lawrence College Peshawar. Later he joined Edwards College Peshawar from where he received his Bachelor degree.
Aftab Ahmad Sherpao Family
He is the son of Khan Bahadur Ghulam Haidar Khan Sherpao. He is the brother of Muhammad Khan Sherpao, Wali Khan Sherpao, Wadud Khan Sherpao, and Sher Muhammad Khan Sherpao. His brother Hayat Khan Sherpao was a politician who was assassinated in a public rally. He is the father of Sikandar Hayat Khan Sherpao and Mustafa Aftab Khan Sherpao.
Military Career
Sherpao was first an Army officer. He joined the army in 1964 with 34th long course. He remained in the army for 12 years. After a few years, he was promoted to the rank of Major. He has also taken part in the Indo-Pak war in 1965 and 1971. His military career saw a major change in 1975 when his brother, Hayat Khan Sherpao was assassinated in a bomb blast. He was a key figure in the Pakistan People's Party. Aftab Sherpao was advised by Bhutto who was the Prime Minister to resign from the army and take part in politics. He accepted it and joined politics.
Political Career
Initial Career
After joining politics, Sherpao was appointed as provincial Vice-president. In 1977, he contested his first election on the ticket of PPP from NA-3 and won it to become a member of the National Assembly for the first time. After he boycotted the 1985 election, Aftab contested in 1988 and won against the establishment-backed PML on the provincial seat. It was the time when he wholeheartedly supported Benazir Bhutto for the restoration of democracy. 
As a Chief Minister
He was seen in the front row against military dictator Zia ul Haq. After the victory in the election in 1988, he became the Chief Minister of NWFP now Khyber Pakhtunkhwa. After he became the Chief Minister, he took a nationalist stance to appease the nationalist forces which that gave a stronger political base to his career and party. His first term as Chief Minister lasted from 2nd December 1988 to 8 August 1990. 
In the next tenure, he was elected as the leader of opposition of the Provincial Assembly of Khyber Pakhtunkhwa. In 1994, he was re-elected as Chief Minister for the second time. The two terms as a Chief Minister proved him a sharp administrator. He also initiated many schemes that benefitted the people. He was unlucky that both of terms were dismissed after the fall of PPP's government in the center and the province.
As a Vice President
In 1997, Aftab Sherpao was elected as a member of the National Assembly again. It was the time when he was serving as Senior Vice-president of People's party.  Before 2002, he spent a few years in England in self-exile after the military takeover of Musharraf. After he came back, he created his faction of PPP and was elected as its unopposed chairman. 
As a Minister of Water
He was re-elected for both National and Provincial assemblies. He contested from NA-8 against Iftikhar Khan Matta of ANP and won his seat by a huge margin. He got 42326 votes while his opponent got only 18346 votes. Soon, he was appointed as the Minister of Water and Power by Musharraf. He was also given the portfolio of Minister of Inter-provincial Coordination. Taking benefit from his experience, he was given charge of Kashmir Affairs and Northern Areas and State of Frontier Region. Later, he was appointed as Interior Minister in 2004. 
2013 General Elections
His success in parliamentary politics continued in 2008 and 2013 elections as well. In 2013, he contested against Bashir Khan Umarzai of ANP on NA-8 Charsadda and defeated him narrowly. Aftab got 30626 votes while Bashir got 29951 votes. In 2013, he contested on the ticket of his newly founded part Qaumi Watan Part.  He had founded it in 2012 with a nationalist approach. It was his previous party PPP Sherpao that was renamed and its organizational setup was kept the same. His newly founded party showed impressive results by winning 8 provincial seats Khyber Pakhtunkhwa. He also won his seat of NA-8 against Musammir Shah by achieving 37044 votes. 
2018 General Elections
The 2018 election like other senior politicians was unfortunate for him. He contested against Malik Anwar Taj of PTI on NA-23 Charsadda and lost by a huge margin. He stood third in the election and only got 33561 votes.
Suicide attacks
Sherpao was the Interior Minister in Musharraf's government. He often defended Musharraf's policies towards militants. He was first targeted by militants in 2007 in Charsadda where he narrowly escaped. In the same year, he was targeted again in Eid-ul-Adha during the prayer in a mosque in Charsadda. Once again, he escaped the attack. It killed 57 people and injured more than hundred including his son Mustafa Khan Sherpao.
Social Media Accounts
His social media accounts are