Adnan Siddiqui in T.V Show
Adnan Siddiqui Wearing Army Uniform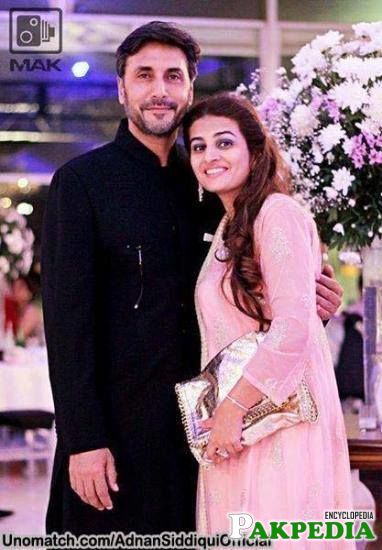 Adnan Siddiqui with his wife
Adnan Siddiqui on his weeding
Adnan Siddiqui with his kid
Education
Adnan Siddiqui has got his early education from Karachi. After completing his early education he has taken admission in
University of Karachi
. From there he has done MBA (Marketing).  Married Life He was married to very charming girl Palwasha. He is blessed with three kids. He has two daughters named as Maryam and Daniya. His son's name is Zaid. He is extremely possessive about his children.
[4]
Adnan Sidduiqui married life biography
List of Movies
Television
Choti Si Kahani (PTV) 2010
Wajood-E-Lariab (Indus TV)
Dually Wed (aka Aurat Aur Char Dewari) ARY TV
Hawa Rait Aur Aangan (PTV)
Kaisa Yeh Junoon (ARY Digital) 2008
Socha Na Tha (ARY Digital) 
Meri Adhoori Mohabbat (Geo TV) 2008
Kasi Yeh Agan (drama) (PTV Home) 2011
Kabhi Kabhi Pyaar Main (PTV) 2014
Mohabbat Rooth Jaye Toh (Hum TV) 2011
Doraha (Geo TV) 2008-2009
Meri Zaat Zara-e-Benishan (Geo TV) 2009-2010
Mohabbat Jaye Bhar Mein (Hum TV) 2012
Humnasheen (Hum TV) 2013 as Hassan
Ru Baru (Hum TV) 2014 Taimoor
Shikwa Na Shikyat Hai (Express Entertainment)
Thori Si Wafa Chaiye (Geo TV)
Ek Thi Paro (TV One Global)
Pat Jahr Ke Bad (Urdu 1) 2012-2013
Darmiyan (ARY Digital) 2014
Mere Humdum Mere Dost (Urdu 1) 2014
Meray Qatil Meray Dildar (Hum TV) 2011-2012
Aahista Aahista (Hum TV) 2014
Kitna Sataty Ho (Hum TV) 2015
Pakeeza as Azeem (Hum TV) 2016
Dil Tere Naam (Urdu 1) 2016
Films
Adnan is very lucky in a sense that the first movie in which he has acted was with Hollywood's most charming and beautiful actress Angelina Jolie. Movie name was "A Mighty Heart". It was directed by Michael Winterbottom. It was production of Brad Pitt, Dede Gardner and Andrew Eaton. Adnan played role of Dost Alliani in this movie. Other notables in movie were
Upcoming Projects
Adnan is very choosy regarding his work. He has signed next movie with a gap of 9 years."Yalghaar" is his next movie which is going to hit in cinemas in 2016.Adnan is playing role of Col.Imran in this movie. It is a direction of Hassan Waqas Rana. Movie is written by Haider Rizvi and produced by Waqas Butt. Movie is based on a true story of successful military conducted in the Piochar region of
Sawat District
. Other starrers in movie are
[6]
Upcoming project Adnan Siddiqui
Shaan Shahid as Col.Asad
Humayun Saeed as Trojan, a militant
Armeena Khan as Kajo
Mansoor Ahmed as Capt.Mansoor
Ayesha Omer as Zarmeena
Ayub Khoso as Col.Jogezai
Gohar Rasheed as Baran
Hassan Rana as Maj.Gen Hassan
Bilal Ashraf as Capt.Bilal
Sikander Rizvi as Azher
Adnan has also signed a Bollywood movie named "MOM".
[7]
MoM movies Adnan siddiqui
It is a production of Bollywood queen Sri Devi and her husband Boney Kapoor. It will release in 207.Other starrers in movie are
Now a day's shooting of film is being done in Georgia. Adnan described that why he accepted this offer from Bollywood. He said "I have been part of industry for 27 years and I have proved myself. I wanted to try something different. I wanted to do something of substance in Hindi Film Industry and MOM was perfect choice". He further added "I am waiting for MOM to release and then I will decide what next to do (in Bollywood).
Awards and nominations
2002 Lux Style Award Nominated for Best Actor TV
2005 The first Indus Drama Award Nominated for Best Actor Serial in a Leading Role
2010 Pakistan Media Award Winner of Best Supporting Actor for Ishq Junoon Deewangi.
2012 Hum Awards Nominated for Best Actor for Meray Qatil Meray Dildar