Abida Parveen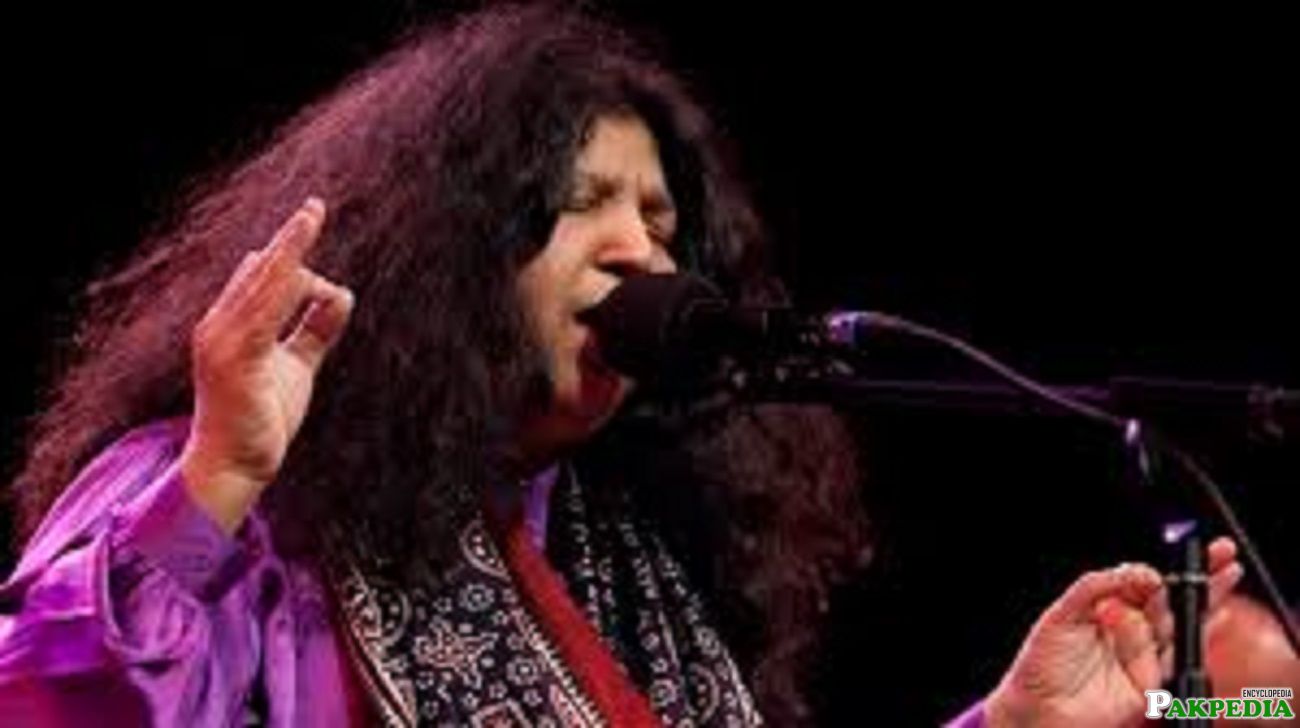 Abida Parveen
Abida Parveen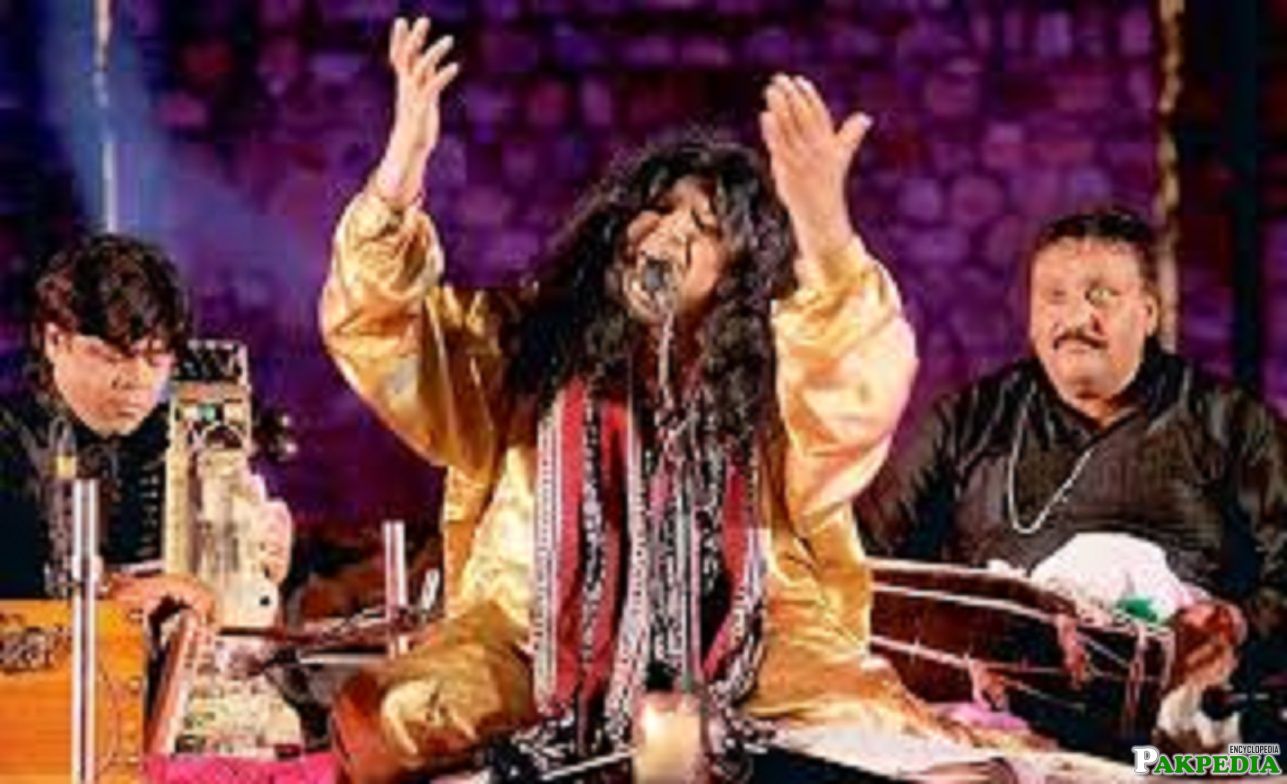 Abida Parveen
Abida Parveen
Early life
Parveen was born in mohalla Ali Goharabad in
Larkana
, Sindh, Pakistan.She received her musical training initially from her father, Ustad Ghulam Haider, whom she refers as Baba Sain and Gawwaya. He had his own musical school where Parveen got her devotional inspiration from. She and her father would often perform at shrines of Sufi Saints. Parveen's talent compelled her father to choose her as his musical heir over his two sons. Growing up, she attended her father's music school, where her foundation in music was laid. Later Ustad Salamat Ali Khan of the Sham Chaurasia gharana also taught and nurtured her. Parveen always remembers that she was never forced towards this occupation and she sang her first complete kalam when she was only 3 years old.
[3]
Abida Parveen Early life
Early Days of Music Career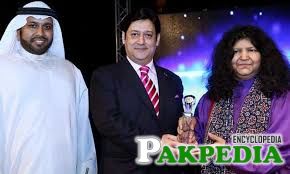 Abida Parveen - a name shines brightly in the music galaxy of the sub-continent. Though she is a versatile singer, Sufi music is her forte - a tradition of hundreds of years that seems to have seeped into her very being and soul. She also sings ghazals, Urdu love songs. Hyderabad Radio first introduced her in 1977. She is today the most popular and well-known folk and ghazal singer of
Pakistan
who breathed a new life into ghazal and semi-classical music. She holds an audience of thousands spellbound. Her appearance is a complete reverse of many other stage performers. She begins each number as solemnly as the previous one as the evening progresses, sinking deeper and deeper into her kafi's and Sufiana kalam of the mystic poets. She is a woman of very few words and asks to be judged only by her music. This folk phenomenon, called Abida Parveen, is deeply religious and profoundly humble.
Personal Life Legacy
Abida Parveen married Ghulam Hussain Sheikh, senior producer at Radio Pakistan, in 1975. Her husband was very supportive of her career and retired from his job in the 1980s to manage her career. The couple had three children. Her husband died of a heart attack in the early 2000s. Abida Parveen is a heart patient and suffered a heart attack in 2010. Her health improved following treatment. She is known for her unique dressing style. She wears a long buttoned-up collar kameez with salwar, and drapes an ajrak, a Sindhi duppatta, over her shoulders. She always lets her dark curly hair untied.
[4]
Personal life and legacy abida parveen
A Versatile Singing Legend
 Her command of kafi of sufi poets such as Hazrat Shah Abdul Latif Bhittai, Hazrat Lal Shabaz Qalandar, Hazrat Sacchal Sarmast from sindh, and Hazrat Baba Bulhe Shah, Hazrat Khawja Farid Ganje Shakar, Hazrat Sultan Bahu, Hazrat Mian Muhammad Buksh, Hazrat Ghulam Farid, Hazrat Pir Mehr Ali Shah and Hazrat Shah Hussain from pujab embellishes her versatility. Apart from sufis of Pakistan, Parveen also sings mystic poetry of the Asian Indian subcontinent, which include sufis such as Hazra Amir Khusrau, Hazrat Nizamudin Auliya, Hazrat Kutbuddin Bakhtiar Kaki, Hazrat Moinuddin Chishti and Hazrat Moulana Jalaluddin Roomi from Turkey.Her contribution to singing Urdu Ghazals has been noteworthy. She has imported the feeling of a gushing stream to rendering of Urdu Ghazal. Eminent Urdu poet Kaifi Azmi has aptly remarked - "Abida Parveen has given new life to Ghazals - her rendition of spiritual Sufi songs has given new dimensions to the art of Kafi and Ghazal singing."  Professor G.M. Mekhri of Sind University has rightly said that, "Abida Parveen is the spiritual daughter of Great Sufi Saint Shah Abdul Latif Bhittai. She is the truly blessed voice." Abida has recorded all the poetry of Hazrat Shah Abdul Latif Bhittai, an 18th century poet and composer who blended folk music and classical raga in a style known as kafi from his book called "Shah jo Risalo" according to their respective "Raags" which were also laid down by him.
[5]
A Versatile Singing Legend
Abida Parveen is the finest singer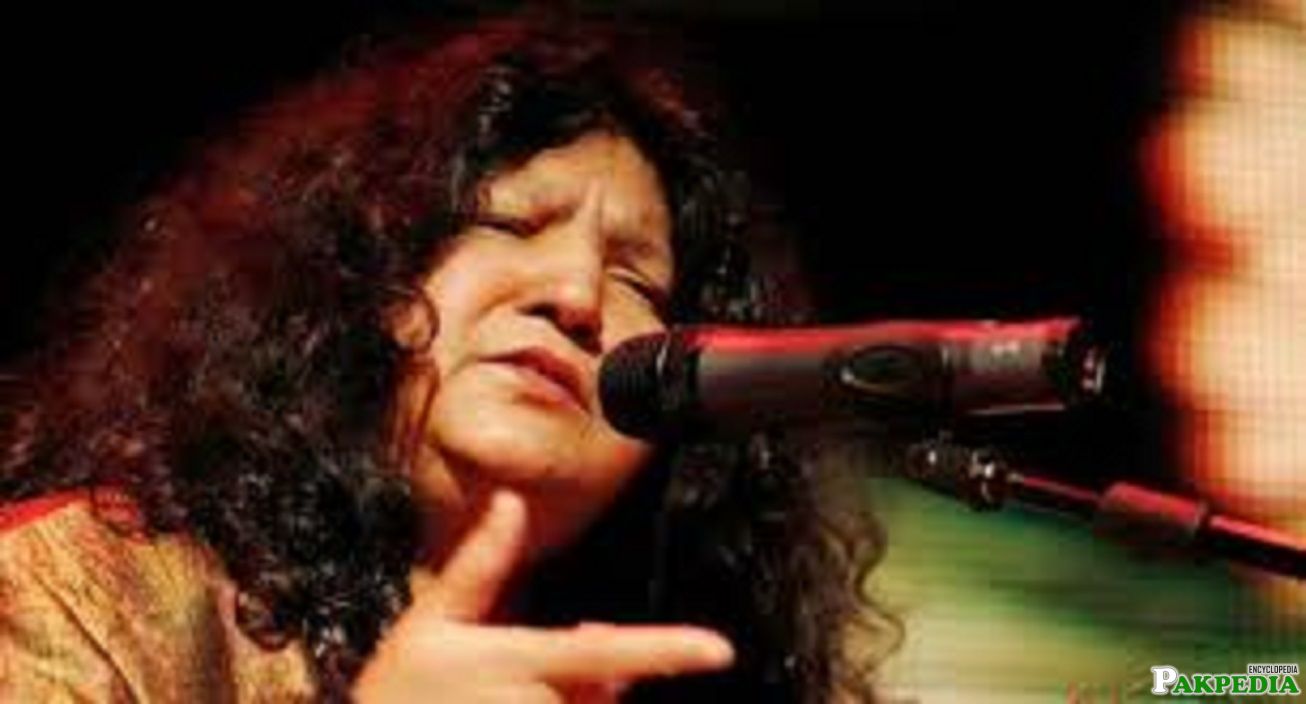 Abida Parveen is the finest singer of ghazal, geet and sindhi, seraiki and punjabi kafees. "While khayal and thumri became a part of her childhood training, her effective rendering of folk and traditional music with great sophistication and without losing the basic characteristics of the regional music of sindh has made her a versatile singer."Her fame traveled through Pakistan and across the seas, and she toured USA, UK, and France in 1985 and 1988. Her 1988 performance in Chicago was recorded by the Hazrat Amir Khusro Society of Art and Culture, which issued a long-play record of her renderings, and her 1989 performance in London's Wembly Conference Hall was recorded by the British Broadcasting Corporation and aired for an hour. She has represented Pakistan in India and has performed for huge audiences in Pakistan and the Middle East. Abida Parveen sings semi-classical and classical music, ghazals and geets, and kafis in Sindhi, Punjabi, and Seraiki with equal ease. Her classical training enables her to render folk and traditional music with great sophistication without losing its regional flavour. Her command of the kafis of Sufi poets Shah Latif, Sachal Sarmast, Bulley Shah, Khawaja Farid, and Shah Hussain is unmatched. As a ghazal singer, Abida prefers the poetry of Nasir Kazmi, Mustafa Zaidi, Ibne Insha, and Faiz Ahmed Faiz.
[6]
Abida Parveen is the finest singer  
Major Works
Abida Parveen is regarded as one of the world's greatest mystic singers and one of the foremost exponents of Sufi music. She is credited to have revitalized and popularized Sufi music on the international stage during her career which has spanned over four decades. Her most famous songs are 'Yaar ko Humne' from the album 'Raqs-e-Bismil' and 'Tere Ishq Nachaya' which is a rendition of Bulleh Shah's poetry.
[7]
Major work the famoupeople.com
Marriage and Family
In 1975, Abida married Ghulam Hussain Sheikh, senior producer at Radio Pakistan, who had retired from his job in the 1980s to manage and mentor Parveen's career. After he died of a heart attack on an international flight in the early 2000s, their daughter Maryam took up that role. There is a sense that Parveen's career has taken a more commercial route as a result of it.The couple has two daughters Pereha Ikram and Marium Hussain, and a son Saranj. All three children act as her advisors. Her family understands her need for riyaz ( daily vocal music practice) and its required space to do that practice.
[8]
Marriage and family abida parveen
Clothing style
Parveen has a distinctive clothing style which she has created herself for ease and comfort. She wears long simple frocks buttoned up to the top covered with a coat. She is always accompanied by an ajrak, a sindhi duppatta, which she claims comes from the dargah (mausoleum) of Sufi saint Shah Abdul Latif Bhittai and her wardrobe is full of it.
Abida Parveen Performed
She has performed almost in all parts of the world and performed before international audiences and placed the name of the country high up I the field of music. Abida Parveen performed in Chicago in 1988. Her fist performance was based on classical and semi-classical art, the second was comprised of ghazals of prominent poets and the third rested on folk singing and different varieties of sindhi music. Her performance was recorded by the renowned organization Hazrat Amir Khusrau Society of Art and Culture, which issued a long play recording of her renderings. After that, she performed in July of 1989 for three hours in a Wembly conference in London and was recorded by the BBC for a one hour telecast.Recently, Abida with her magical voice created a mystical environment in the Fez Festival held in Fez, Morocco in June, where she entranced an audience of 10,000. She performed at Royal Festival Hall in London on September 15, 2001 and captured the hearts of listeners.
[9]
Abida Parveen Performed
List of Film Songsspan classtooltip-cn ref-link idref-link-10a hrefref-link-dt-10 sup10supaspan classtooltiptext Abida Parveen film a hrefhttppakistani.pkabida-parveen classexternal-link target_blank songsa spanspan
Sajjan de Haath
Ishq Khuda title song
Hijrat
Raabta
Maula Maula
Awards Achievements
Abida Parveen was honored with the President of Pakistan's Award for Pride of Performance in 1984. She was also awarded the Gold Lal Shahbaz Qalandar Medal the same year.
In 2005, she received Sitara-i-Imtiaz, the third highest honor and civilian award in the State of Pakistan.
In 2012, she was bestowed with the Hilal-e-Imtiaz award which recognizes individuals who have made an "especially meritorious contribution to the security or national interests of Pakistan, world peace, cultural or other significant public endeavors".