Abid Sher Ali with mian nawaz shareef
Abid Sher Ali addressing
Abid Sher Ali profile
Abid Sher Ali father ch sher ali
Abid Sher Ali state minister
Profile Chaudhry Abid Sher Ali
Profile Chaudhry Abid Sher Ali was born on November 21, 1971 in Faisalabad, Punjab. He is politically affiliated with PML(N). Profession A businessman by profession, Education He completed an MBA in 1994 from University of the Punjab, Lahore.He has travelled to the U.S.A and several countries in the Far East and European Union. Hobbies His hobbies include watching T.V and social work. He is married and has one daughter.  
[2]
MNA, Chairman Standing Committee on Education
Areas of Legislative Interest
Foreign Affairs 
Finance 
Housing 
Membership of National Assembly Committees 
Standing Committee on Education (Chairman) 
Standing Committee on Privatization & Investment 
Standing Committee on Water and Power 
Standing Committee on Youth Affairs. 
Abid Sher Ali takes oath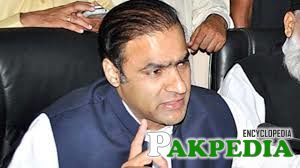 Pakistan Muslim League-Nawaz (PML-N) MNA Abid Sher Ali was sworn in as Minister of State on Friday.
Acting president, Syed Nayyar Hussain Bokhari administered the oath at the Aiwan-e-Sadr.
Speaker National Assembly, Sardar Ayaz Sadiq and Federal Minister for Water and Power, Khawaja Muhammad Asif were among the officials present during the oath-taking ceremony.
It was previously announced that Ali will be handed the portfolio of Minister of State for Water and Power.
Ali, who is the nephew of PML-N chief and incumbent Prime Minister Nawaz Sharif, was elected from NA-84 Faisalabad in the general elections in May. [3] Pakistan Muslim League -Nawaz (PML-N) MNA
Abid Sher Ali appointed as new state minister for power
Pakistan Muslim League-Nawaz (PML-N) MNA Abid Sher Ali was on Monday handed the Minister of State for Water and Power, Express News reported.  
Ali, who is the nephew of PML-N chief and incumbent Prime Minister Nawaz Sharif, was elected from NA-84 Faisalabad in the general elections in May.
It is unclear what power he will have given Khwaja Asif is the Federal Minister of Water and Power.
Asif had earlier in the month stated that he aimed to shift the country's energy mix in three years to tackle the crippling power shortages blamed for devastating the economy. [4] Abid Sher Ali appointed as new state minister for power
Students are nations future leaders
"Students are the future leaders of the country. The government is taking all steps to promote education," Federal State  Minister for Water and Power Chaudhry Abid Sher Ali said on Thursday.
He said this at the inauguration of the third phase of the laptop distribution programme at the Government Islamia College for Women.
"Under the dynamic leadership of Prime Minister Nawaz Sharif and Chief Minister Shahbaz Sharif, we are taking revolutionary steps to encourage talented students," he said.
"Cash prizes and laptops are being given to brilliant students for advancing education and research," he said. [5] Students are nation's future leaders: Abid Sher Ali
Views about KBD Kala Bagh Dam
State Minister for Water and Electricity Abid Sher Ali has said that had Kala Bagh Dam been made, the country would not have had to face the menace of power load shedding.
Speaking on the floor of the House during question hour, he said that Rs25 billion have been released for the construction of Diamer-Bhasha Dam.
He said the process of land acquisition is about to be completed and the government wants to complete this project from its own resources. However, some donor agencies have also expressed their interest to finance this project, he said.
The minister said that Prime Minister Nawaz Sharif would perform the ground breaking of Diamer-Bhasha and Dasu dams in November this year. He assured that no controversial dam would be constructed without evolving consensus.
Ali said the government is giving top priority to the construction of dams to produce cheap electricity. [6] Kala Bagh Dam been made