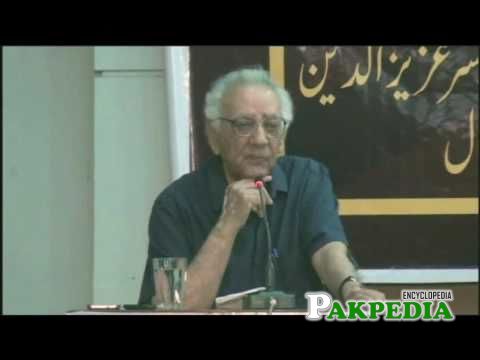 While giving speech in lahore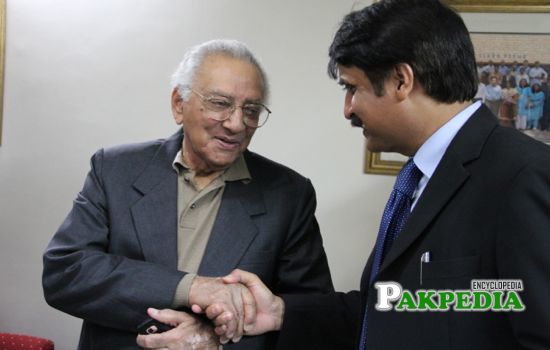 With Waqar wains
While addressing at City Council Chamber
During an interview by Shaheen Attique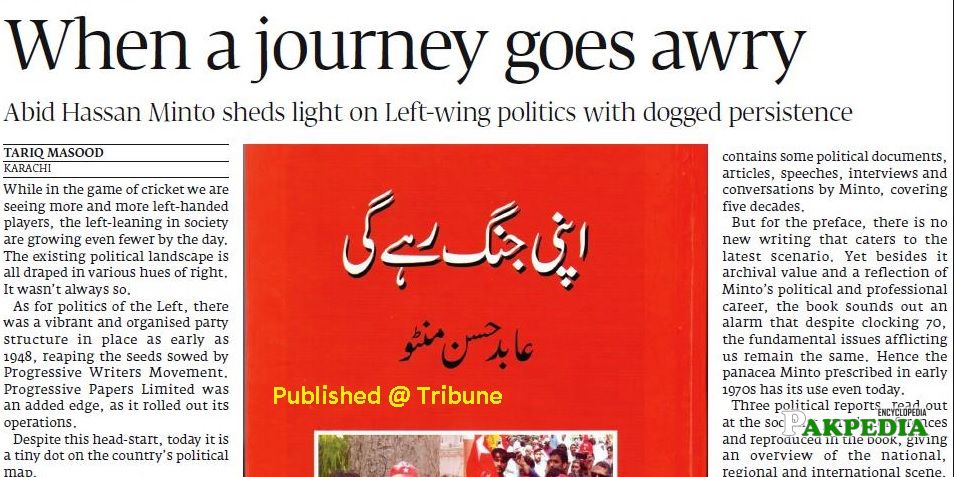 Review of Abid hassan Manto's book
Biography
Abid Hassan Manto  was born in 1932. His father was a lawyer and wrote poetry, while his mother, who belonged to the Kichlu caste, was a housewife. Minto (also known as Manto or Mantu), Kichlu, Kat'chu, Sapru, and Nehru are castes found in Kashmir. Mr. Minto explained that these are castes of Kashmiri pandits. Mr. Minto's forefathers had migrated from Kashmir to Amritsar at the beginning of 19th century, and both his father and mother were born in Amritsar. In
Rawalpindi
, Mr. Minto lived in Arya Mohalla near Liaqat Bagh on
Murree
Road, which was then called Company Bagh. Mr. Minto's family included many members of the          I
ndian National Congres
s. Amongst the prominent political members of the family was his granduncle, Dr Saif-ud-Din Kichlu. 
[1]
Biography Biography
Education
He attended Islamia High School, Rawalpindi and Gordon College. He received his law degree (LL.B) from the Punjab University Law College in 1955. While at Law College he was elected President of the Students Union and won and retained the title of "Best All Pakistan Debater" for four years. 
[2]
Education Education
Political Beginning
Minto became a member of The Communist Party of Pakistan (CPP) in 1949 and remained with it until it was banned in 1954 after the Rawalpindi Conspiracy Case along with the Democratic Students Federation (DSF) which was also co-founded by Minto in 1949 while at Gordon College. The DSF had been popular in all four provinces and was succeeded, after its ban, by the National Students Federation (NSF) which exists to date. In his younger days Minto was an active Trade Unionist and organized the Military Engineering Service (MES) Workers Union. He worked for the Attock Oil Company Workers Union in Rawalpindi and the Railway Workers Union which was led by Mirza Muhammad Ibrahim,  Minto's ties with local peasant movements are in place to date. Along with veteran peasant leader Chaudhry Fateh Muhammad, he has worked to organize Kissan (peasant) Committees  in rural
Punjab
. 
[3]
Political beginning
Literature
Minto joined the Progressive Writers Association (PWA) in 1949. He is a literary critic. His first essay "The Issue of Language in Pakistan" was published in 1951 in the literary journal Adb e Latif . Other essays by him, later published as a collection "Nuqta e Nazar(The Viewpoint: 1st Edition 1986 2nd Edition 2003) include: The Problem of Religious Literature ; Literary Criticism ; The Issue of Ideologies in Literature ; Progressive Ideology and Contemporary Literature ; Problems of Modern Poetry  and Eternal Values in Literature . His essay The Technique of the One Act Playا was part of the curriculum for graduate studies in
Urdu
literature. 
Politics
Minto is currently the elected President of Workers Party of Pakistan (WPP), founded on 20–21 March 2010 following a merger of five leftwing parties of Pakistan. In 1967 Minto joined the
National Awami Party
NAP
Balochistan
). The following year, at the party's general elections in Dacca, Bangladesh (then East Pakistan) he was elected member of its Central Executive Committee. In 1971, on the eve of East Pakistan's separation from (West) Pakistan, a number of leftwing political workers from NAP and other groups, held a conference and founded the Pakistan Socialist Party (PSP). C. R. Aslam, a veteran communist leader was elected President while Minto was elected first General Secretary. He stayed with PSP until 1986 and was elected General Secretary three times. Following a split in the PSP in 1986, Minto founded the Awami Jamhoori Party (Peoples Democratic Party) in 1987. On 1 May 1999, the Awami Jamhoori Party, Pakistan Socialist Party and a faction of Pakistan National Party (led by Baloch leader Ghaus Bakhsh Bizenjo) formed the National Workers' Party. Minto was elected its first President. Minto was elected first President of Workers Party of Pakistan, formed after the merger of five leftwing parties and groups (Communist Mazdoor Kisan Party,National Workers Party,Peoples Rights Movement,Watan Dost Mazdoor Federation, Awami Mazdoor Anjuman) and holds the office to date by election. 
Advocates and Solicitors
Senior Consultant
Senior Advocate Supreme Court of Pakistan.
Born 1932: Advocate High Court, admitted 1957.
Advocate Supreme Court, admitted 1963.
Senior Advocate Supreme Court 1997
Elected Member of Pakistan Bar Council (1966-1983).
Elected President Lahore High Court Bar Association (1982-1983).
Elected Vice President International Association of Democratic Lawyers at the Barcelona Congress 1990-1995
Elected Member International Bureau of the International Association of Democratic Lawyers at the XVth Congress at Cape Town (1995).
Visiting Professor, University Law College, University of the Punjab 1963-1983).     [4] Advocates and Solicitors
Clarification
Awami Workers Party President Abid Hassan Manto has clarified that his party does not consider
Gilgit-Baltistan
as a "integral, constitutional and historical part of Kashmir". AWP considers Gilgit Baltistan as an independent entity within Pakistan and it has no constitutional and legal linkage neither with Kashmir and nor with the Kashmir dispute. He also shared a copy of AWP Manifesto with some youth from GB  wherein on page 28 it has clearly been mentioned that AWP considers Jammu kashmir,
Azad Kashmir
and Gilgit Baltistan as 3 separate entities. 
[5]
Clarification Clarification