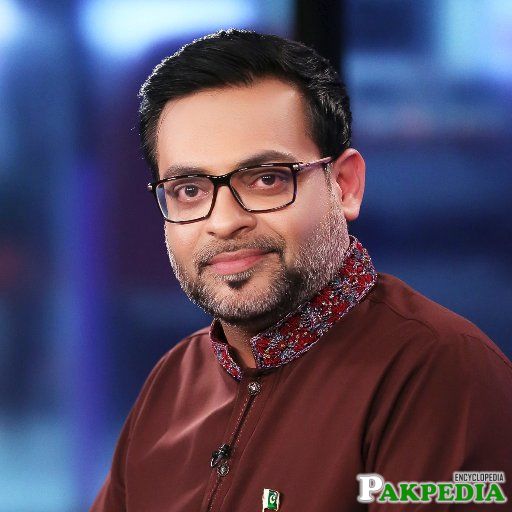 About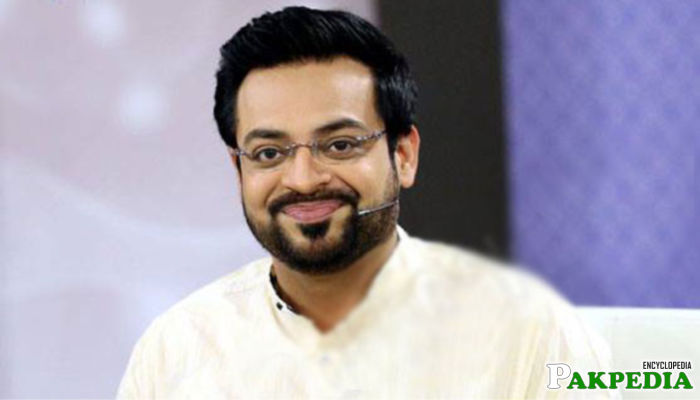 Early Life
After having gained a reputation of a speaker, he wanted to exhibit his writing skills. For this purpose he chose journalism to accomplish his aspirations. He was groomed to be a journalist; journalism runs in his blood because he has a wealthy journalistic family background. He decided to quit medical education and joined the field of journalism that proved to be a decision well made. In the beginning of his career, he learnt a lot from his beloved mother. Surprisingly mother and son, have so much in common; a delightful sense of humor, a fierce family loyalty, a concern for the country, endless vitality and a constant air of confidence no matter how great the offs or the pressures.
[2]
he wanted to exhibit --- his writing skills
Qualities
Dr Aamir Liaquat Husain is truly a legend of this era. A man of many qualities, prominent scholar who possesses a pleasing disposition, veteran journalist whose name become synonymous with truthfulness and bravery in the field of journalism, prolific columnist whose articles inspire his readers, a famous Naat khuwan whom Allah Almighty gifted a melodious voice, but above all this - he is a learned person and a true lover of Prophet Mohammed (SAW). Even his adversaries acknowledge this fact. He is a brilliant orator and author of high caliber. He possesses a style in speech and in his writing that is his very own and unique. He is a living example of 'Iqbal s Deeda wer' (a perceptive or knowledgeable person). His contribution both to electronic and print media is immense. In the late 90's, he started column writing and soon he became a leading Urdu columnist. He is one of the few columnists whose writings inspire their readers. For Urdu lovers of the country, he became a source of great ideological power, a symbol of revolt and dissent and love for humanity. Identifying himself with the masses of the poor and exploited, Dr Aamir Liaquat Husain made him known as an opponent of oppression and wrote compassionately of the human aspiration for their basic rights. Advocating "A Moderate Humanistic Ideology" he passionately championed social causes. He suffered many setbacks during his career, but he never compromised with circumstances and proved successfully that how a man can work under immense pressure.
[3]
Aamir Liaquat Husain - is truly a legend
TV Career
Dr Aamir Liaquat Husain started his career in
Geo TV
Network first as a newscaster and subsequently became the channel's leading Anchor and Host. Soon he became an eminent figure of electronic media. As he has a strong religious inclination, he began to host a religious Program, named "Aalim Online". It revolutionized religious programming in the region and proved to be a record breaking program of its kind. It also became the identity of Dr Aamir Liaquat Husain. His emergence as one of few most distinguished scholars of his time, indicates that he has mature head upon his young shoulders. Through this program he resolved the problems of the masses. Perhaps the most astonishing characteristic of his intellect is the combination of idealism and realism, which enabled him to find out the root causes of social evils. In the beginning, two scholars were invited on the show; belonging from two major schools of thought. Almost every popular scholar has participated in the famous program "Aalim On Line" which he has been hosting for the last 13 years. When he appears on a television screen or a public gathering, thousands of people gather to listen; people remain glued to their place when he speaks. Dr Aamir Liaquat Husain said that the reason behind doing this program is:
"My aim is not to satisfy the people, because I know that the answer of a Sunni scholar will never satisfy that member of Shia community or vice a versa. My aim is to bring people closer and to reduce their hatred for one another." 
Being an author
Being an author of high caliber, he wrote many books. Recently, his finest work came in public; titled "Hamari Maan Khadeja (S.A)" It is a biography of Syeda Khadeja (.SA) the first wife of Prophet Mohammed (SAW) and first mother of believers as well. Renowned scholars like
Mufti Muneeb-ur-Rehman
& Dr Fazal Ahmed commented on the publication of this book as the most exhaustive and a most authentic biography of Syeda Khadeja (.SA) published so far in
Urdu
. His newspaper columns that appeared in "Daily Jang" for the last two years have been published in book form, titled"Loud Speaker" and "Loud Speaker 2" . Dr Aamir Liaquat Husain's book about the signs of Judgment Day, titled"Aasar-e-Qayamat" is another milestone.
[4]
he wrote many books. - his finest work
Live Transmission
He has done a LIVE Transmission 'Inaam Ghar' of 3 hours on every Thursday and Saturday. The program effectively supports his long living purposes – to bring people together, bring happiness and joy, demolish discrimination from the society. The program, Inaam Ghar is an educational and entertainment family game show. The idea behind such a humongous program was the need of family entertainment in the society. Dr Aamir Liaquat Husain realized the gap that has been constantly expanding in our homes, where most us couldn't watch a drama or a show comfortably with another family member without being embarrassed. He bridged the gap by re-introducing family entertainment in houses, where all could enjoy irrespective of age or gender. The program was a hit among the masses. People enjoyed being a part of it. Inaam Ghar revived old games, memories and thoughts of society. It promoted positivity in everyone. People are awarded with worthy prizes on answering questions correctly and winning games. The transmission has broken records and has been watched all over the globe! On Shab-e-Mairaj, a transmission named 'Soye La maka wo Chale NABI (SAW)' on aired in which 8000+ people gathered to be a part of it.
[5]
The program effectively - supports his long
Multan Sultans Brand Ambassador
Aamir Liaquat is new ambassador for
Multan Sultans
as Aamir Liaquat Joins
PSL
as Multan Sultans Brand Ambassador. The anchor person's addition to the newest franchise in PSL will definitely make a huge impact on the team's confidence (no pun intended). The religious scholar turned anchor participated in the opening ceremony of the third edition of Pakistan's premier T20 event.
[6]
Multan Sultans Brand Ambassador
Joined 24 News Channel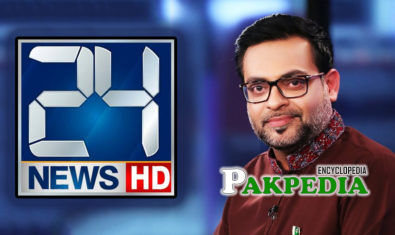 Dr. Aamir Liaquat Joined 
24 News channel
.24 News HD is one of the leading news channels of Pakistan bringing you the latest current affairs from
Pakistan
and around the world.
[7]
24 News Channel
Before this, Dr Aamir Liaquat Hussain quit the
BOL TV
.He tweeted on social media twitter "I would like to announce that I have joined Channel 24 as President Network".
Winner of NA 245 Elections
Amir Liaquat Hussain who always remained indifferent controversies has recently won Elections of 2018 from NA 245 and gave defeat to MQM leader Farooq Sattar with a lead of 21000 votes. Amir Liaquat had recently joined the Politics and became the member of Pakistan Tehreek e Insaf. The same year in 2018 he became the member of PTI and promised to stand by Imran Khan's side through thick and thin.
Amir Liaquats second marriage with Tuba
Aamir Liaquat who was married to Bushra Aamir and have 2 Children from her again got married to one of the Managers of BOL Network Tuba Aamir who is only 24 years old. The couple did a private Nikkah in a presence of close friends without the consent of his first wife which disclosed at the time of filling Nomination papers for General Elections 2018. They officially announced their marriage a few days ago on November 2018 by revealing their Walima pics on social media.